A Big Ballerz Secret? 🤫
The First Mint
Yo its LG Doucet here. Zach is on vacation (as if there's such thing in NFTs), so I'm here to chew bubble gum and write a newsletter to pump my bags. And I'm all out of bubble gum.

What's up fam, its LG in your inbox for the final newsletter of 2021.
Thank you to y'all (a term I've never used) for reading this year. It has been an honor to work with Zach on the newsletter and know that over 5,000 of you (holy sh*t!!) read our updates every week.
The new year will bring some changes at The First Mint, as well as a whole new wave of collectors to the NFT and Flow Blockchain scene. It's going to be quite the ride, so please strap in for this final edition. 🍾

Flash Challenges & Base Drops 📦
It's a busy day in Top Shot. I wrote this in the late PM yesterday, so you'll have to DYOR on the two flash challenges from last night's games.
But rumor has it you'll need some Top Shot Debuts to complete. Which will be challenging if LeBron is one of the required moments. gl gl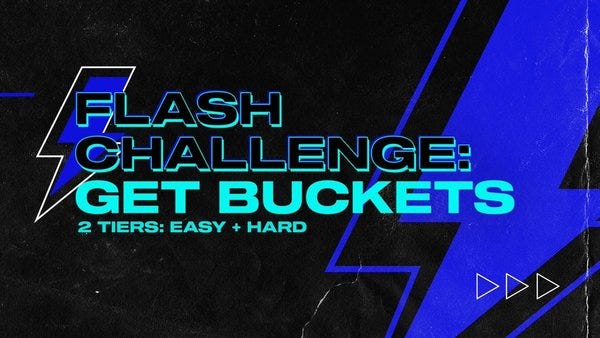 Tonight? ⚡️

With an easy track and a hard track, tonight's Flash Challenge is all about shooting your shot.

🏀💨 https://t.co/aO5HCenvdf https://t.co/vK6RuSeMUU
Speaking of Flash Challenges, it appears as though my hometown Raptors are severely lacking in the challenge inclusion department.
As per @TopShotMyck, the Raptors sit DEAD LAST in Flash Challenge count this season. And even with postponed covid games, we would still be tied for last. Why you do this Jacob??🤷

We all love Flash Challenges, but as a Raps fan I have noticed that the Flash Challenges never fall on Raptors games. I did a bit of research to see which teams have been included the most for Flash Challenges:
#NBATopShotThis https://t.co/RvDAfdDm4g
Also, two drops today:
#1. The S1 Reserve Packs @ 10am PST, if you're crazy enough to have 350x trade tickets and also secretly desire a Gary Harris /1000 LE.
#2. The 6th Drop for Series 3 Base @ 1130am PST, if you want to aspire to participating in drops like #1 and need more trade tickets.

Ballerz Alpha Leak?
Just when you thought that old LG was done with the leaks, he comes back with a hot new Phil-level theory 🌶️
This past week, we've seen at least five Dapper employees get a Baller and change their PFPs, with likely many more to go.
This comes on the heels of a Dapper promo and an ominous tweet from Kurt, the CTO of Ballerz/NFT Genius.
Are Ballerz PFPs imminent on NBA Top Shot?
Will Ballerz qualify for Baller Status?
Let the theories begin! 💣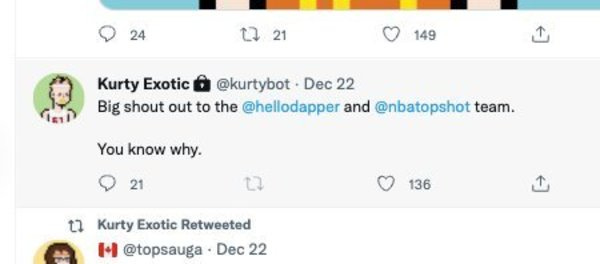 Is a @BALLERZ_NFT x @NBATopShot collab imminent?

Dapper employees who recently got a Ballerz
🏀@MegPatten
🏀@Coehmer
🏀@dbfeld
🏀@lewylew26
🏀@NaeemBawla

Also
🎅Santa Ballerz in Dapper Xmas promo
📺@QJBeat @ariivory going Ballerz
🔥This @kurtybot tweet last week

Whats next..🔮 https://t.co/Go8N90hYbB
Speaking of Ballerz, I also thought it would be cool to visualize their floor price in Ethereum. Which then makes you realize that a single Ballerz costs literally 0.57% of a Bored Ape.
Let that sink in.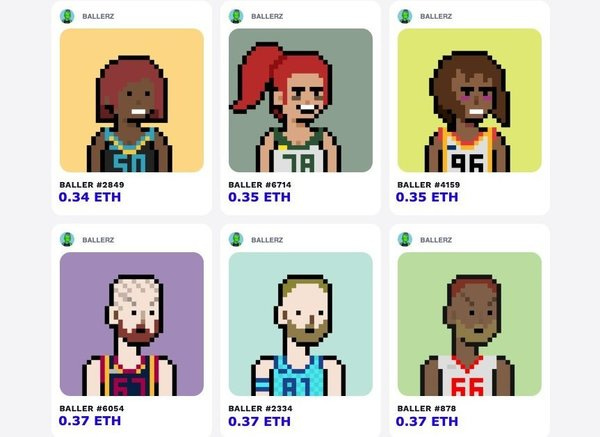 How long would the current @BALLERZ_NFT floor survive if it was priced in ETH?

Only 27 Ballerz listed under 0.4 https://t.co/1PTFfW6DzI

Flow Fest Packs: Last Call!🚂
We're almost three months removed from the start of Flow Fest, and we still got packs to give out!
Reminder that there are BALLERZ in these packs, as well as many other amazing Flow NFTs. Head on over to Flowverse for the full breakdown.
OR, simply jump on into one of the MANY contest we have going on right now in The First Mint community:
🚨CONTEST ALERT🚨

Courtesy of @flowverse_ & @TheFirstMint we've got packs!

🎁PRIZE: 10x Flow Fest Packs (10 winners)

HOW TO ENTER
🗣️Retweet & like this post
☑️Follow @flovatar (My PFP!)
📌Post a moustache meme/gif in the comments for @LgDoucet

Deadline⚠️10am PST Tomorrow
FungibleJon.eth (Catsablanca.pcc.eth)
🚨FLASH GIVEAWAY🚨

🏆10 #FlowFest packs🏆

To enter👇
✅Follow me and @TheFirstMint
🔁RT and❤️this post
🗣️Tag some friends

10 winners (1 code each)
Winners will be announced in 24 hours
All codes must be redeemed by Dec. 31, 11:59pm PST

#OnFlow
🎇Flash Giveaway!🎇
I have 10 @flowverse_ mystery packs to give away! I'm thankful to @TheFirstMint I'm in this position to share my love of NFTs with some of you out there. Rules...

1. Like + Retweet
2. Comment a '22 NFT resolution 🍾

*Codes must be used by Dec. 31st
Flash #NFT #giveaway! Giving away 10 @flowverse_ #Flowfest packs that MUST BE CLAIMED by the end of the year 👀

How to win:

1️⃣ Follow me
2️⃣ Cannot have already claimed your max (3) Flowfest codes
3️⃣ Like, RT, or tag some friends

#NFTCommunity #NFTs #onFlow @flow_blockchain
Around The First Mint & NFTs🗣
💰 Tax On Your NFTs: Catch up on how to handle your NFT taxes before the year is out. Here's a replay from last week's chat with CPA Max Minsker.
🧟 The Mega Mutant: Taylor Gerring spent $3.5 million on a Mega Mutant Serum two days ago and the result did not disappoint!
📺 Live Show Tonight: Oh we got a juicy one to wrap out the year! Join us and special guests at 5pm PST on Twitch.
Follow The First Mint on Twitter at @TheFirstMint.
Follow ME!! on Twitter at @lgdoucet.
In order to unsubscribe, click here.
If you were forwarded this newsletter and you like it, you can subscribe here.
Created with Revue by Twitter.
Vancouver, British Columbia, Canada