A Curious Football Tease 🏈
The First Mint
Featuring News From The Lab, Potential New Dapper Projects, Challenge Corner and More

Good Morning, NBA Top Shot Team! Happy Thursday, and happy September. If you aren't grooving to Earth, Wind and Fire this whole month, you're doing it wrong! Let's get into all the action from the last few days:
Programming Note. — No Live Show tomorrow, but we'll be back at our regularly scheduled time next week!


Maintaining an NBA Top Shot portfolio and researching new NFTs can be a challenging task. Evaluate.Market makes it easy to monitor your account value, discover market trends, and analyze NFT collections including NBA Top Shot, Bored Ape Yacht Club, Cool Cats, and more. Try it for yourself at Evaluate.Market!

News From The Lab 🧪
It is amazing the things that people can dig up on the internet. Like, for example, a recent patent issued to Dapper Labs for a 'system and method for creating, managing and displaying an interactive display for 3D digital collectibles". Via @paullesko: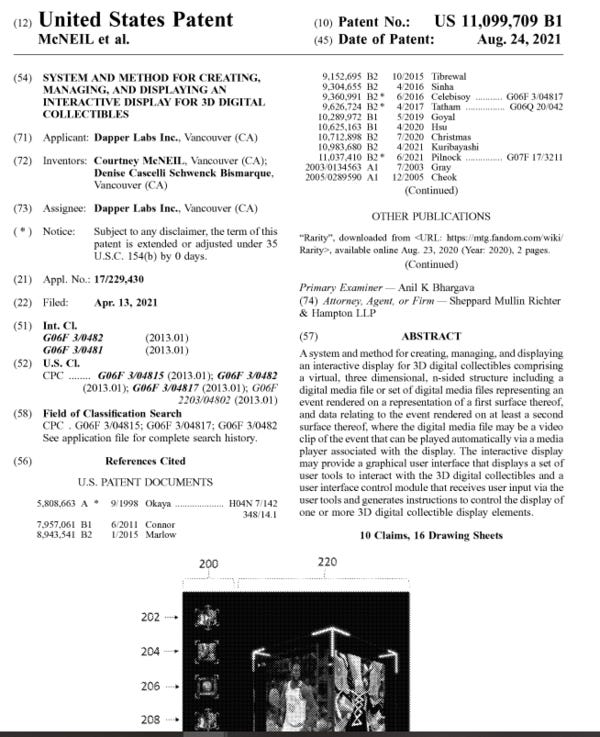 In #TheHobby IP happeningz, last week Dapper Labs received a patent entitled System and Method for Creating, Managing, and Displaying an Interactive Display for 3D Digital Collectibles. https://t.co/uJgxJdNJ4r
Deep dives into patents aren't really my thing, but from the looks of it, maybe Dapper is taking NFT display technology in-house? While we've seen several companies fill the physical display space during this NFT boom, it will be interesting to see what a company with huge resources can cook up. Especially considering Dapper's excellent attention to design/UI!
While we grew up with posters of athletes on our walls, I have no doubt that the next generation will go to bed watching their favorite highlight on a sleek wall display. The future is now, sheeple!

Reading Roham 👀
We got a curious quote-tweet from Dapper Labs' CEO Roham Gharegozlou on Tuesday (of recent podcast guest @CorporateTrash1), which contained some interesting emojis:
good news for #NFTs everywhere is @nbatopshot and dapper studios just getting warmed up 🏀🏈⚽️ https://t.co/IGQmeNJeRN
We saw a recent partnership between Dapper and LaLiga for soccer NFTs, which is set to launch in the summer of 2022. But that other emoji… Wen NFL moments?!?
For some reason, this is the first highlight that comes to mind when I think of my favorite potential NFL moment:

Challenge Corner 🏆
Last call on the first-ever WNBA Showcase Challenge, which expires today at 10 AM PDT. You'll need five WNBA moments to snag the A'ja Wilson Fandom reward — her first ever scoring moment on Top Shot. Get those submissions in, if you haven't already!

Around The First Mint 🗣️
🎧 The Run It Back Archive (Feat. MBL)
LG is still on vacation so this week we get a rare look at an older video from the archive with Michael Levy aka MBL. They get DEEP into the Run It Back Set, so take a listen and let us know your thoughts on Twitter!
📹The First Mint Live: Bring on the WNBA
🎧The Forgotten Sets On Top Shot (Feat. Corporate Trash)
🎧The Value of Finals Moments (Feat. Brandon Sowle)
Thanks for reading! — Zach @ The First Mint
Not Subscribed to The First Mint Newsletter? Let's change that.
Follow The First Mint on Twitter at @TheFirstMint.
Follow Zach on Twitter at @GhostOfGregOden.
In order to unsubscribe, click here.
If you were forwarded this newsletter and you like it, you can subscribe here.
Created with Revue by Twitter.
Vancouver, British Columbia, Canada