A February to Forget 📉
The First Mint
Featuring NFTs + Fundraising, A TS Market Tumble, Challenge Corner & More:

gm, NFT friends — hope you all had a good week, given the tough circumstances going on around the world. The news and images coming out of Ukraine are absolutely surreal and heartbreaking to see.
Being in the NFT space has brought me closer to so many people outside of the United States, a perspective I hadn't been exposed to much in the past — and my heart goes out to those living in fear right now.
But, in dark times have come some great stories out of our corner of the internet, with projects and collectors stepping up to help those in need.
One initiative, RELI3F, featured many of the artists we know and love — and raised over 1M for Ukraine in 30-seconds: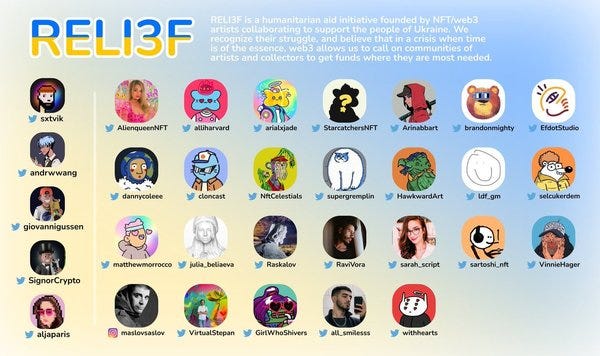 Announcing: RELI3F, a web3 initiative to provide global humanitarian aid. our first collection is in support of the people of Ukraine, and includes 27 of our space's most influential artists, some of whom call Ukraine home. https://t.co/b1lbUYHrLL
And smaller but impactful stories like this one, with the Wolf Game community rallying to help a fellow member move himself and his family out of harms way:
1/14 This is the story of how the @wolfdotgame community rallied behind @iambunya_ and how we're all seeing the events unfolding in Ukraine through the eyes of one our own community members.

This is an official submission to Wool Event 2, #pack10930.

Read below.
Amazing, and a shining example of the power of NFTs and Web3.
Let's get into all the action from the last few days:

February Fallout 📉
If you haven't checked your Top Shot account value in a while… You might want to continue avoiding that: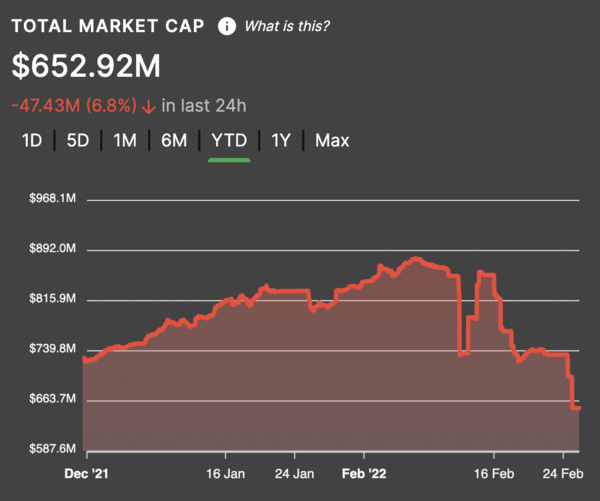 The (now annual) February bloodbath has come again, wiping away all our happy memories from the start of 2022. We were happy again, damn it!
What's behind the drop? A few things:
Supply not scaling with demand, a timeless Top Shot classic

The new mixed-pack format leading to high expectations and often low returns

A system that still isn't truly incentivizing buying over 'rent-seeking' — and a market that punishes those that do hold
Some good suggestions from Top Shot big brain @jonboybeats on potential fixes to the current state:
I think it's time for an update to the @nbatopshot roadmap!

I'm not talking sets, mint counts, player caps…that's set in stone from Oct

Would be beneficial to provide a 12 month roadmap about mechanics/features:

1. Trade Tickets
2. Bid/Auction System
3. Future of Gamification
While I am not a statistics/analytics guy, I have a few 'gut' suggestions to improve things:
BURN IT ALL (okay not everything, but a lot of moments)

Stop the printing press! Make moments more exclusive and scarce!
With current sentiment in the tank, it will be interesting to see the public updates of the data dive below: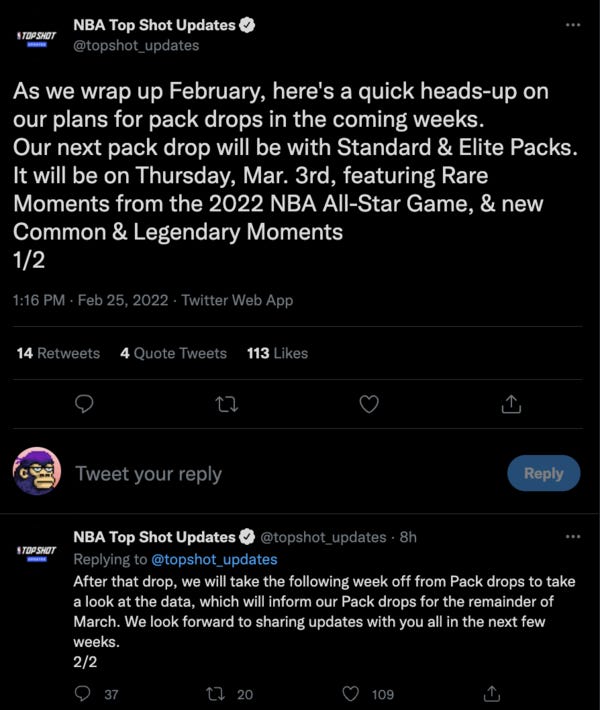 Need a pick me up after all that bad news? Top Shot Tony's got us: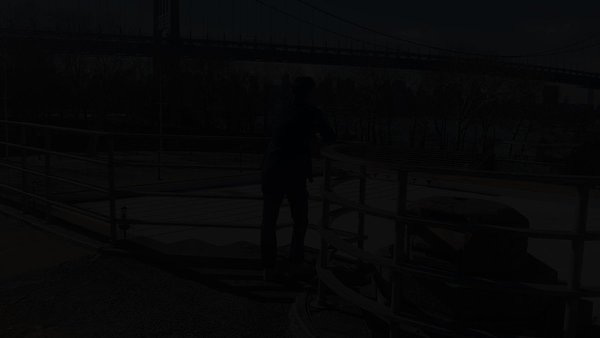 Dear Roham,

See below 👇

Love,
@TopShotTony1, very much 100% official #nbatopshot community spokesperson https://t.co/iGJ7hWsf0q
Also, remember Tristan?
The GM of Top Shot was introduced to the community via the blog post in June… And I don't think we heard from him again?
Word on the street is that he's moved on from Top Shot, making that ending paragraph sting. We hardly knew thee!
Looking forward to meeting you all soon! 

Challenge Corner 🏆
After a busy week of Challenges came to an end, we've only got a few on the docket live through the weekend:
Flash Challenge: Drain & Defend
Deadline: Monday, Feb. 28 at 1 PM PST

Reward: Fred VanFleet MSFE
Deadline: Tuesday, March 1 at 10 AM PST

Reward: Shaquille O'Neal All-Star Classics
Deadline: Tuesday, March 1 at 11 AM PST

Reward: LeBron James ASG
Deadline: Tuesday, March 1 at 12 PM PST

Reward: LaMelo Ball Rising Stars

BookMate x TFM 💸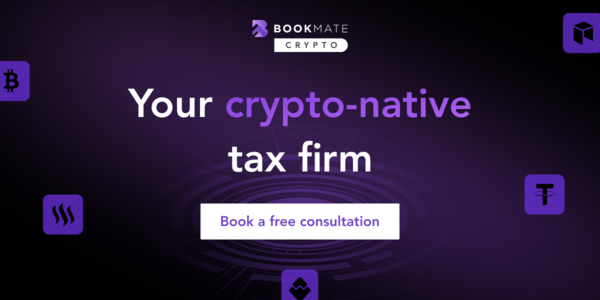 Trade NFTs? Bookmate is a full-service crypto tax firm that can help you file taxes. From DeFi, to trading, to NFTs, Bookmate can help you accurately report your crypto to the IRS (as well as any real estate, stock trading, or business income you have) while minimizing your tax burden. 
Bookmate is offering readers of The First Mint Newsletter a free 30-minute tax consultation to discuss your tax situation. Book a call today!

Around The First Mint 🗣
🎧 There Are Too Many NFTs to Collect
🐦 This Week In NFTs — NBA, NFL, UFC, Cameo
🐦 Basketball & Blockchain Week — Opening Ceremonies
Thanks for reading! — Zach @ The First Mint
Not Subscribed to The First Mint Newsletter? Let's change that.
Follow The First Mint on Twitter at @TheFirstMint.
Follow Zach on Twitter at @GhostOfGregOden.
In order to unsubscribe, click here.
If you were forwarded this newsletter and you like it, you can subscribe here.
Created with Revue by Twitter.
Vancouver, British Columbia, Canada