A Fresh LeBron Moment 👑
The First Mint
Featuring Hustle & Show Packs, New Moments, Market Movers & More

Good Morning, NBA Top Shot hustlers! Hope you had some excellent cold brew and a lucky queue spot yesterday in the 'Hustle & Show' pack drop! I am now officially a true believer in the magic of cold brew, as I scored my first non-rebound/pre-order pack since February!
Let's get into all the action:
New to Top Shot? Check out our Top Shot 101 section!
Score a pack? Send us a video of your pack opening and we might feature it on The First Mint!
Quick Hits 👊
🔹 We saw 12 new Base Series 2 Common Moments minted Monday night, including a fresh LeBron James, Luka Dončić, and Steph Curry.
And when new Base Moments are minted, we know that the same player's previous 35,000 CC+ moment will be retired (LE). In fact, it just happened this weekend with James Harden and Zach Lavine.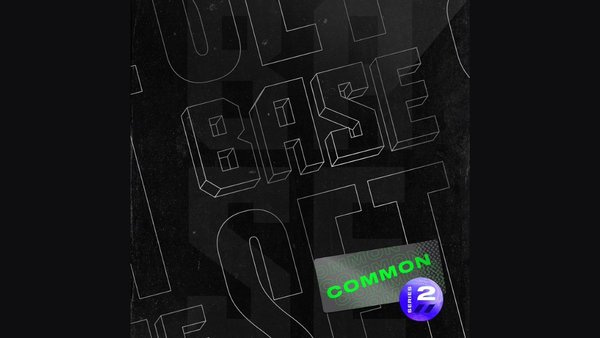 🚨NEW MOMENTS🚨

Series 2 Base:
♦️Luka Dončić
♦️Facundo Campazzo
♦️Mason Plumlee
♦️Steph Curry
♦️LeBron James
♦️Bam Adebayo
♦️Brandon Ingram
♦️Immanuel Quickley
♦️Michael Carter-Williams
♦️Harrison Barnes
♦️Pascal Siakam
♦️Bradley Beal

Their current 35,000 CC+ Moments will go LE https://t.co/G8ZRmuiVi4
🔹 The 'Hustle & Show' packs dropped yesterday, with 140,000 packs available to users who scored a lucky queue number. We also saw the release of the 'Hustle & Show' Challenge 1 requirements, with Giannis Antetoukounmpo as the reward.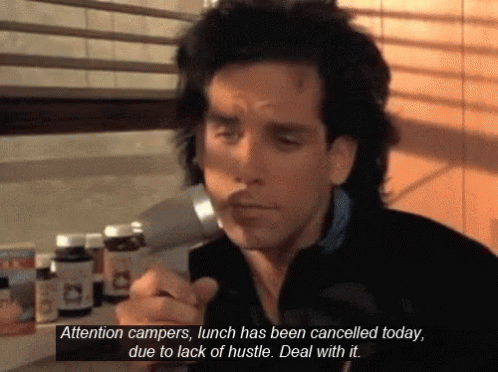 🔹 NBA Top Shot's Showcase Contest mercifully ends today at 12 PM PT. Our endless nightmare of seeing every Twitter post being spammed with millions of showcases is finally coming to a close. Is $20 of DapperBux really worth your dignity?!?
Market Movers 📈
We saw some green in portfolios for the first time in a while… And damn, it felt good! Let's check in on the weekly Marketplace Report, via @_GregMurray (click thread for more details):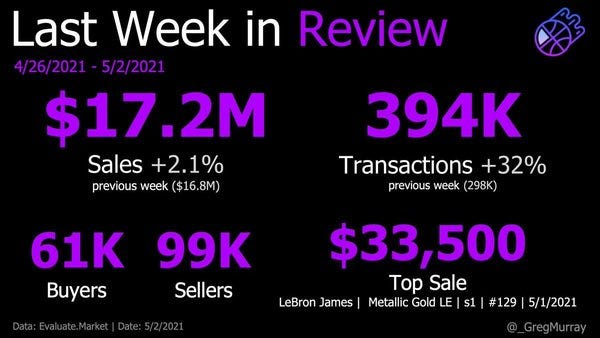 📋Marketplace Report📋 May 3

Last week on @nbatopshot, ~350,000 Packs📦 hit the Market. This resulted in:

🔺+2% Increase in Sales Volume
🔺+32% Increase in Transactions
🔹1:1.62 Buyer/Seller Ratio

Top Sale: 👑Lebron James MGLE👑
Bought by Benjamin23 https://t.co/j3Bu9AnyWK
Want more data? You got it. Check out this excellent deep dive from @taylor_stein on how the price of LeBron James moments fluctuate compared to the market as a whole:
📰🔥 Hot off the press! In this week's newsletter I analyzed just how closely LeBron tracks with the broader market, and set out to answer if investing in King James is simply a bet on Top Shot. Enjoy! https://t.co/U7Yq7pS5JB
Whale Watching 🐳
All rise for King Dingaling. First he came for the #1 moments… Now, he's set his sights on the perfect mints — snapping up over 60 last serials (#50/50, #2,021/2021, etc.) across the marketplace. What will he set his sights on next?
While most other whales were early adopters who saw their value grow exponentially in the boom, the collection that @DingalingTS has amassed entirely from the marketplace has been a unique sight to witness. We're not worthy!
Around The First Mint 🗣
🎧 NEW Podcast — Do We Need 10 Million Series 2 Base Moments?
After today's drop we'll have over 10 million series 2 base moments but what does that really mean? After recapping today's drop of a new base set, Hustle and Show, we dive deep into the possibilities for the 35k CC moments and explore the option of a moment with a 100k circulation count. 
📝 The Full List of Outstanding Series 1 Moments On NBA Top Shot
🎧   How Much For A Trade Ticket?
Thanks for reading! — Zach @ The First Mint
Not Subscribed to The First Mint Newsletter? Let's change that.
Follow The First Mint on Twitter at @TheFirstMint.
Follow Zach on Twitter at @GhostOfGregOden.
In order to unsubscribe, click here.
If you were forwarded this newsletter and you like it, you can subscribe here.
Created with Revue by Twitter.
Vancouver, British Columbia, Canada