A Legendary LaMelo Incoming 🧊
The First Mint
Featuring Holo Icon Details, Market Movers, Cool Cats In Memoriam & More

Good Morning, NBA Top Shot squad! Hope everyone's weekend is off to a fantastic start! Let's get into all the action from the last few days:
New to Top Shot? Check out our Top Shot 101 section, featuring everything you need to get started on the platform.
Quick Hits 👊
🔹 The Holo Icon list has been revealed, and there are some JUICY moments available. The three challenge rewards are big time — the first legendary moment for Kevin Durant, a Luka Doncic game-winner, and a stepback-three from Joel Embiid. Other highlights include Zion Williamson, LaMelo Ball (apologies Cool Cats owners, just the messenger 🙀) and Michael Porter Jr. (stock 📈). Full list threaded below: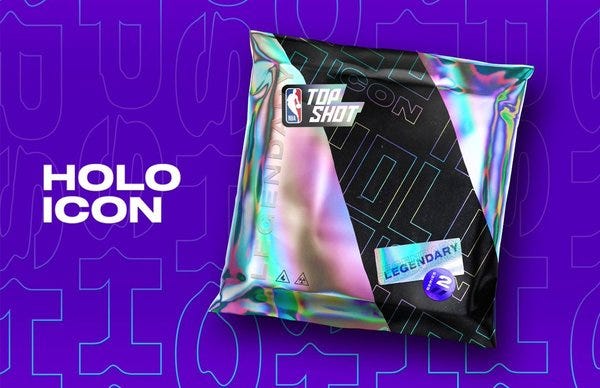 🚨LEAK: LIST OF HOLO ICON 3🚨

Not 100% confirmed, but these are the *likely* players in the next HOLO ICON drop:

🧊Christian Wood
🧊CJ McCollum
🧊Clint Capela
🧊Cole Anthony
🧊Darius Garland
🧊De'Aaron Fox
🧊DeMar DeRozan
🧊Devin Booker
🧊Fred VanVleet
🧊James Wiseman

More🔻 https://t.co/bgR8SF3Lci
🔹 Miss 'Office Hours' on Friday? We got some major details regarding both the Holo Icon drop and the state of the marketplace and platform. Full details in our live-thread below:
📔 5/27 Office Hours w/ @Eisenberg43 and @rudem00se

🔢 Collector Score
🔹Legendary Drop will have a collector score and/or marketplace spend requirement
🔹The required score will be announced before the drop and you will have a few days to achieve

🔽 Thread Below 🔽
Some things to note:
♦️The Collector Score needed to be eligible for the drop is expected to be high, with 2000 given as a ballpark figure by Community Lead Jacob Eisenberg. But as stated above, users will have time to become eligible for the drop.
♦️ Marketing from the May 22 reveal was a 'test', and the team is gathering data. Influencer marketing will be more targeted going forward (we'll always remember you, Alexa G.).
♦️ Roadmap of drops/plans a priority for the future — giving collectors a better idea of what to expect and info that will help influence decisions on building their collections.
Miss the The First Mint Live Show on Thursday? Guests included blogger Jelyn Hermosa (@topshotnoobie), New York Mets RHP and NFT artist Tommy Wilson, and several other community members. Catch the replay here, and join us every Thursday!
P.S. — This Cool Cats In Memoriam was hilarious. Bravo, @TopShotSnipes.
Market Movers 📊
After a mini-bump to start the week, things have been… Not great!
A market update from yesterday, via @SteefCrypto: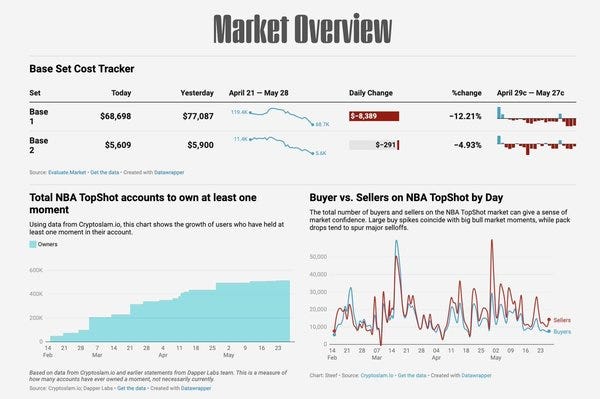 Your daily #NBATopShot market update.

No sugar-coating it, a really rough week for series 1 moments in particular.

We should get more insight into new users tomorrow, with packs expected to hit accounts this weekend. https://t.co/SZdakGSemF
The flip of the marketing switch on May 22 seems to have had minimal effect so far on the state of the marketplace. @TaylorStein dove into the marketing missteps in his most recent blog post, including a sobering chart on new collector purchases on the market: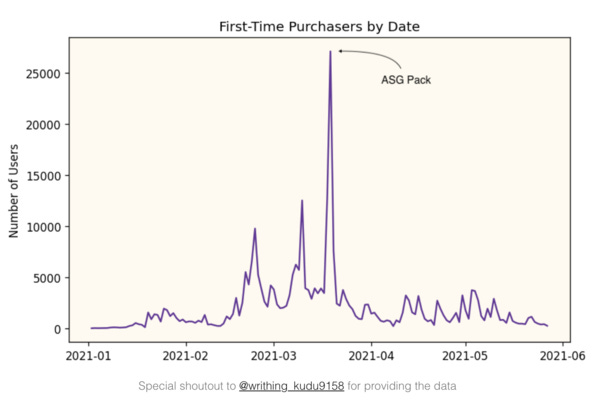 With the marketing power of a global league like the NBA, as well as players who are clearly fans of product, hopefully we will see more direct promotional tie-ins in the future. Messaging from players, teams and the league can resonate far more than a random IG influencer ever can, in my opinion.
Our next The First Mint Weekly Challenge is live! The reward this week is A S2 Damian Lillard moment. Details here.
Around The First Mint 🗣
Join LgDoucet, TheReelPhilD, and Special Guests as we dig into the past week in NBA Top Shot and NFTs!
ICYMI on The First Mint Podcast
🎧 Where is the Value on Top Shot?
🎧  Top Shot Goes to the Playoffs (Feat. J.E. Skeets)
📰 Miss an earlier edition of The First Mint Newsletter? Check out the archive here.
Thanks for reading! — Zach @ The First Mint
Not Subscribed to The First Mint Newsletter? Let's change that.
Follow The First Mint on Twitter at @TheFirstMint.
Follow Zach on Twitter at @GhostOfGregOden.
In order to unsubscribe, click here.
If you were forwarded this newsletter and you like it, you can subscribe here.
Created with Revue by Twitter.
Vancouver, British Columbia, Canada