Discover more from The First Mint
a web3 sports community: podcast. newsletter. events.
Over 6,000 subscribers
A New Dapper Project? 🎤🥊
The First Mint
Featuring Summer League Hype, Top Shot Kiosk, New Dapper Project, Market Movers and More

Good Morning, NBA Top Shot Summer Squad! Happy Tuesday — hope you all had an excellent weekend!
I enjoyed watching some Olympic + Summer League action over the past few days, and am already getting antsy for the 2021-22 NBA season. As a Bulls fan, we finally have some HOPE! Plus I get to use Lavar Ball GIFs at will now that Lonzo is heading to Chicago!
Let's get into all the action from the last few days: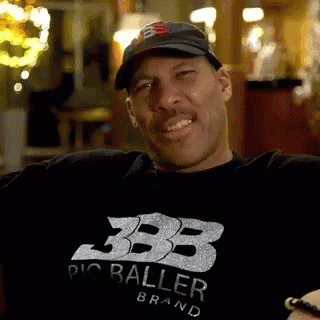 Ready to take your collection to the next level? The Evaluate platform features tools for Challenge Tracking, Account Valuation, and the ability to shape Top Shot Sales Data as you please.

Quick Hits 👊
🔹The Summer Series has begun. The Las Vegas Summer League experience is underway this week, and fans in attendance were able to visit the in-arena Top Shot kiosk to purchase the first moment in the set — a Killian Hayes assist: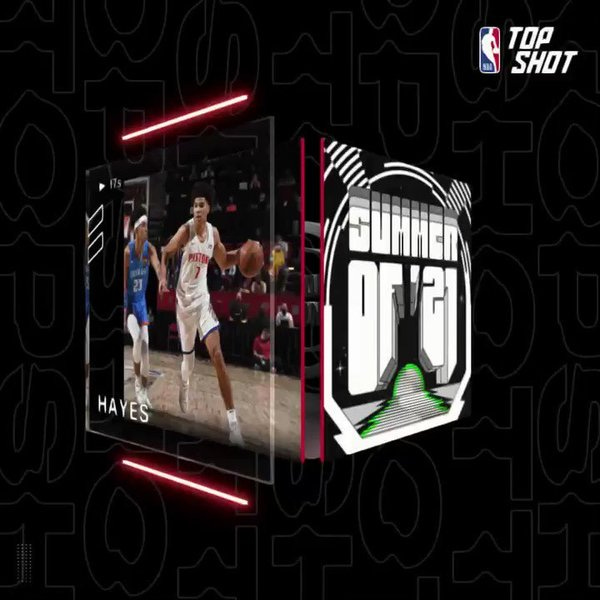 opening up the Summer of '21 set ...

the @DetroitPistons' Killian Hayes splits the defense off the dribble & hits the cutting Sekou Doumbouya with the leaping no-look dime 🔥

more on our 1st-ever in-arena Moments, with a new one on the way today: https://t.co/dWtZI0J4wc https://t.co/L1di4Qj8Me
This was also our first taste of the dynamic mint, with a total of 2776 Hayes moments being distributed.
🔹Speaking of the Top Shot Kiosk… Damn, that thing looks nice. Kudos to the team for a beautiful in-arena activation, which is sure to catch the eye of those unfamiliar with the platform. Behold: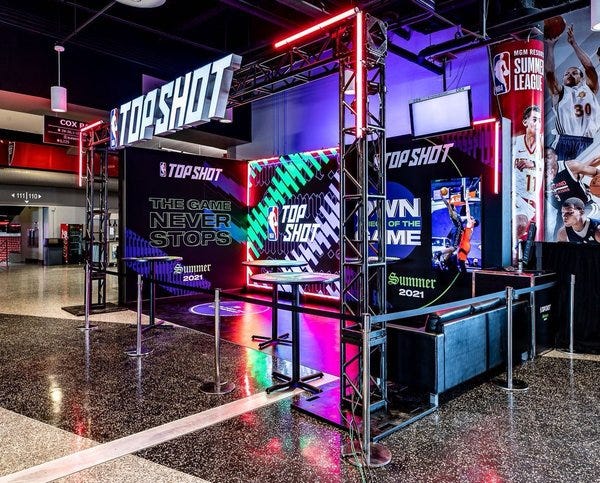 👋 from the 1st NBA Top Shot Kiosk. #NBASummer, Section 111 https://t.co/fHwANITViZ
🔹Is a new Dapper launch on the way? We know that a partnership with the UFC is coming, but there has been no official timetable for a launch. An interesting word change to the order emails (H/T @FaronLE) could mean we're getting closer:

New @dapperlabs product launch imminent?
I noticed the wording has changed in the order confirmation emails to indicate it is a 'Top Shot' order... 🤔
#NBATopShotThis https://t.co/bVZZnN3QY6
And don't forget — the additional perks for the Nine Lives Lounge included this spicy tidbit:
This group of collectors will be considered for early access to a variety of future projects from Dapper Labs.
Editor's note: Although UFC would be cool, it has been confirmed that the next Dapper Labs project will be Genies marketplace. But hey you never know…
Move over NBA Top Shot 🤪 @dapperlabs has a new pet project. The Genies Marketplace is on track for a beta release this summer⚡️
https://t.co/Oui29g1sqa

Market Movers 📈
We're seeing green, folks. The birds are chirping, account values are rising, and things are getting exciting on the Top Shot streets again. The data, via @SteefCrypto: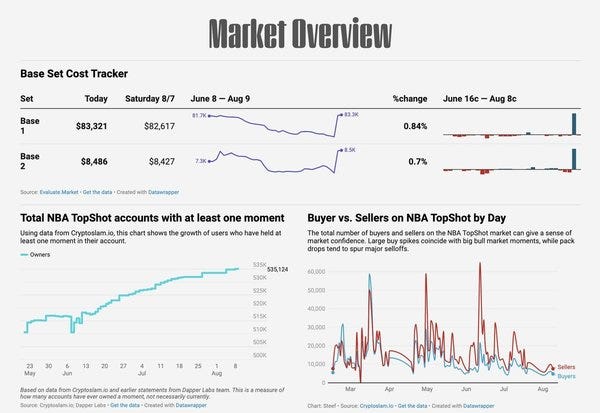 Your weekly #NBATopShot market update:

Holding after the 💥

🏀 Both sets hold nearly 40% gains after series 2 close.
🏀 Volume coming down a bit
🏀 New active users are *not* spiking. Same slow, steady drip up from last 2 months.

Data via @EvaluateMarket & @cryptoslamio https://t.co/CcEAcOO57y
More data, you say? Here's a great thread from our friend @chugsnbugs (missed these #fingerpainting sessions!):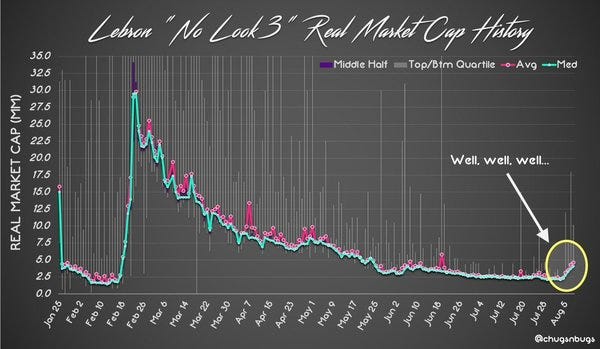 Let's do a little late night 🏀 #fingerpainting 🎨

Something is brewing in @nbatopshot and it's been long overdue to dive into it…

First, a history of the TS market as depicted by none other than the Lebron 'No Look 3' aka the gold standard of S2… signs of life lately? 👀 https://t.co/bVPk30US5s

Around The First Mint 🗣
The market is UP on NBA Top Shot. Through a series of very positive events and healthy conditions, buyers are returning to the platform and many premium moments have started to rise in value over the last week. But can these conditions sustain? We dive into what's causing the market surge and also look at the positive effects of the Cool Cats benefits announcement. Then we dive into the Vegas Summer League "kiosk", and what that could mean for the future of fan interactions with Top Shot. 
🎉 First Mint Fest — Full Replay
🎧 The Interview (Feat. Roham Gharegozlou)
Thanks for reading! — Zach @ The First Mint
Not Subscribed to The First Mint Newsletter? Let's change that.
Follow The First Mint on Twitter at @TheFirstMint.
Follow Zach on Twitter at @GhostOfGregOden.
In order to unsubscribe, click here.
If you were forwarded this newsletter and you like it, you can subscribe here.
Created with Revue by Twitter.
Vancouver, British Columbia, Canada