A New Moment Memento 🎤
Featuring Bear Market Blues, A Doris Burke Partnership, Moment Burning, Challenge Corner & More
Good Morning, NFT Squad! I'm back, baby!
For those who might have missed last week's newsletters, I was out in Arizona this weekend for my bachelor party. It was a great few days of unplugging, touching grass and not staring at JPEGs and virtual coins all day! And a big thanks to LG for his admirable job filling in on Saturday.
Unfortunately, this was what it felt like when I got back:
Yes, there is a lot of blood out there in the NFT and Crypto markets, and fear is rampant right now across the space. Hope you all are handling it OK — times like these can be extremely stressful.
But 'bear' markets are a time where incredible portfolios can be built — and also a great time to reflect on what moves to make in the next bull cycle.
I have strong conviction that both crypto and NFTs are here to stay — and while we all live in the moment, it's important to take a breath and not overreact to the day-to-day shifts. It's a marathon, not a sprint!
Let's get into all the action from the last few days:
Burke Bomb 💣
From narrations from Kevin Durant, Klay Thompson, Mike Conley and others, player voice-overs aren't new to moments in Top Shot. Another voice was added to the list on Friday, breaking the player mold in an interesting new way:
The best plays from the #NBAPlayoffs are on @nbatopshot, and I'm so excited to be a part of it!

Throughout the playoffs, I'll be revealing and breaking down my favorite Moments from each pack drop on "Mic Drop Days." Stay tuned!

➡️https://t.co/ZrfJ8QjsOK
Respected NBA analyst and broadcaster Doris Burke has entered the fray! 8 hand-picked moments from the regular season will now get the Burke voiceover added, in addition to moments throughout the playoffs.
It's a cool feature, albeit one that I don't envision moving the market on the selected moments. But from a collectible standpoint, I'm all for it.
I hope one day we get the full audio from the games — with the crowd noise from a playoff buzzer-beater, or even the broadcast audio featuring a Mike Breen 'BANG!' that would add to the excitement of rewatching the highlight.
But I also look at the partnership with Burke as a positive because of how well-liked and respected she is around the league. Her support of the platform is worth more than your average influencer (no offense to Alexa G).
It was also an announcement that was almost universally liked, a near-impossible feat in the Top Shot community. Everyone loves Doris!
Burning Brewing? 🔥
We got an interesting post from the main NBA Top Shot account this weekend, which was either a clever tease or just a shitposting-turn:
y'all hear something? https://t.co/dVIJ8bR6ZE
It'll be interesting to see what new features (like burning) could come in the Summer offseason. Much of the interest currently around TS feels centered around Flash Challenges — and the market is currently in the tank.
While there is likely less supply being added due to no game action in the Summer, there is also less of the gamified content that currently fuels much of the market. It's a delicate and difficult landscape for Dapper to manage.
Speaking of the TS market — I've certainly seen less complaining of late, despite the numbers looking the same. It turns out that when all your assets are down, you can't be as mad at Top Shot!
LG on today's pod like https://t.co/R4Z5lHEqSf
Challenge Corner 🏆
Flash Challenge: Welcome to the Jungle
Deadline: May 11 @ 1 PM PST
WNBA Flash Challenge: Rise & Shine
Reward: S4 Fandom Moment

Deadline: May 16 @ 1 PM PST
WNBA Player's Choice Challenge
Reward: Diamond DeShields Player's Choice (Rookie), 2x WNBA Best of 2021 Packs (Veteran)

Deadline: Tuesday, May 10 @ 1 PM PST
TFM x Hro 💥
The next Digital Exclusive Drop for Hro is around the corner, with 'Superhuman Strength' coming on Thursday, May 12!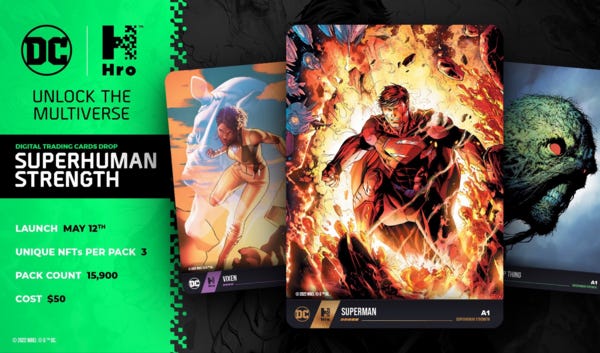 Pre-registration for the queue is open now for the public drop at 12 PM PST — and TFM will be live on Twitter Spaces at 11:30 AM PST to break it all down!
Learn more about Hro here and join the community on Discord.

Around The First Mint 🗣
NFTs are slowing. The economy is crumbling. The outlook is bleak, and we may be on the verge of another crypto winter. But that doesn't mean NFTs can't keep growing in the coming years ahead. Today we dive into the history of Crypto Winter, and what may drive the next major wave of adoption to crypto and NFTs.
🎧 From WoW Raids to Rumble Kongs (Feat. Marcus Blasche)
In order to unsubscribe, click here.
If you were forwarded this newsletter and you like it, you can subscribe here.
Created with Revue by Twitter.
Vancouver, British Columbia, Canada