A Record-Breaking Month In TS 📈
The First Mint
Featuring A Top Shot Milestone, A Healthy Market, Community Hires, Flash Challenge Fun & More

gm, NFT Weekend Warriors! Happy Saturday! Hope you've had an excellent week, and are staying warm (it's been FREEZING here in the US Midwest 🥶). Let's get into all the action from the last few days:
Programming Notes:
All that stuff about two separate podcast feeds? Scratch it. We've got the full assortment of content back under one roof now, clearly labeled to distinguish our regular podcasts from the Twitter Spaces/Live Content. Enjoy!

We've got an exciting Twitter Spaces with the Flovatar team on Monday at 10 AM PST. Hope to see you there!

A Juiced January in Top Shot 📈
We're coming up on the end of the month, and it was a big one for the Top Shot platform. After a VERY up-and-down 2021, the new year has seen a nice rhythm and an engaged user base (thank you, Flash Challenges).
Some numbers, including a new monthly-high for Marketplace transactions:
🤯 January 2022 at @nbatopshot...

🏀 Tens of thousands of new fans joined Top Shot

🕹 23,000 community members completed at least one Flash Challenge

🛍 Over 1.67 million marketplace transactions, a new single-month all-time record

https://t.co/2fOp6mNvNF
And unlike the parabolic rises and falls from early 2021, we've seen slow and steady growth — and it feels pretty healthy! A look at the market cap over the last month, via MomentRanks: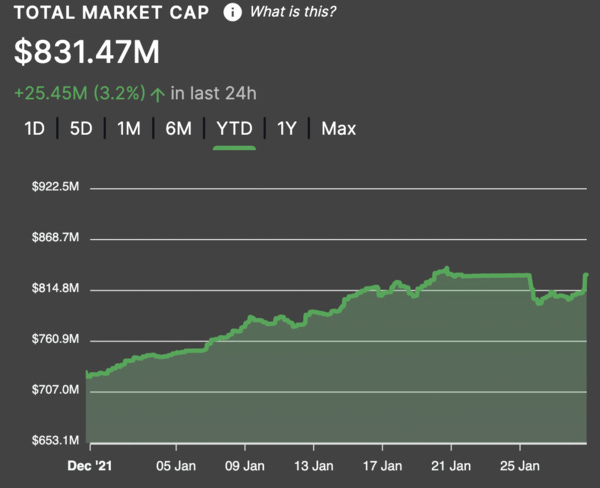 The market feels healthy, collectors are engaged, and we've got some real good vibes right now! Oh how much can change in just a few months!
One of my favorite developments has been Dapper's willingness to hire from within the community. We've seen many high-profile collectors snatched up (Packrip, Steve Ballers Blockchain, Brandon Sowle to name a few) — which is what Web3 is all about. Provide value and reap the rewards!
We saw another hire to the Product Design team on Thursday — someone who has been featured in this Newsletter before for their sick Top Shot concepts: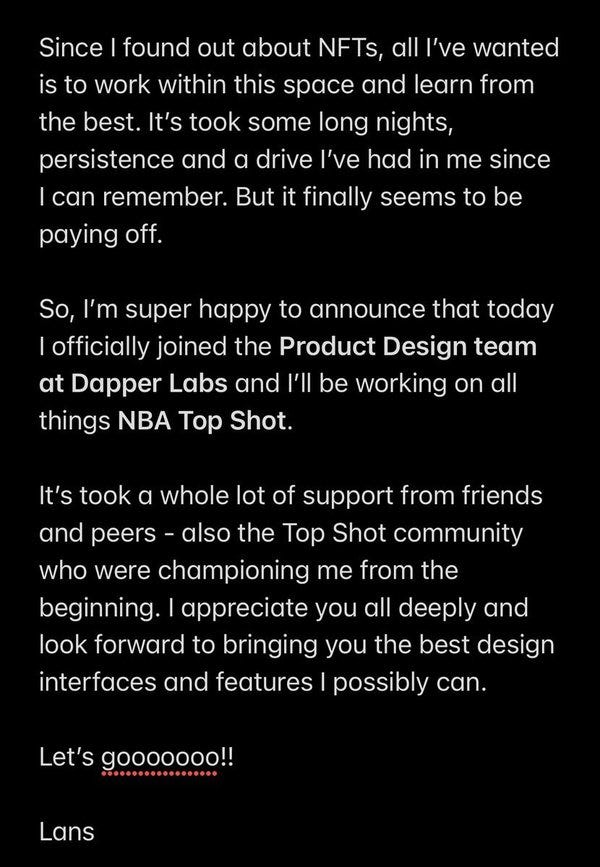 Real life announcement, brought to you by yours truly 📝 https://t.co/HygGAwA2yQ
The Top Shot community has consistently amazed with ideas, tools, data and more — and good on Dapper for recognizing the talent coming from within. Congrats to Lans!

Flash Challenge Fun ⚡️
We've got another tiered Flash Challenge to tackle, with an easy and hard option centered around the top rebounders of the weekend. Rewards include a Kevin Love MSFE moment (easy) and a Rare pack (hard).
I haven't thought about Love much recently, but seeing his name pop up on this challenge made me randomly think of the old State Farm 'Hoopers' commercials — delightful: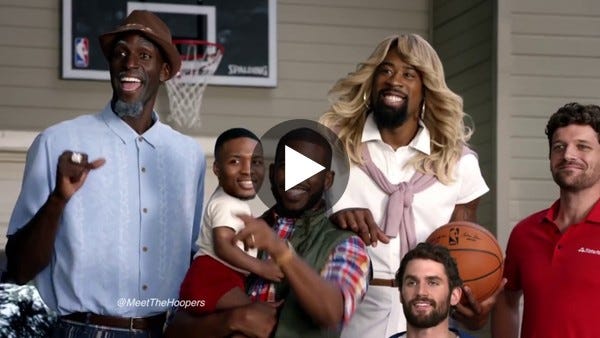 The Hoopers feat Kevin Love, Chris Paul, Deandre Jordan, Kevin Garnet and Damian Lillard
You've also got until Monday for both the Holo Icon and MGLE challenges — a look at where things stand, via Own The Moment:
Challenge | Low Ask To Complete | Total Completions
Holo Icon S3 Challenge | $10,475 | 41

MGLE S3 Challenge 4 | $2,441 | 264
Speaking of delightful things, this tweet from @dansusky got me good with this amazing pull: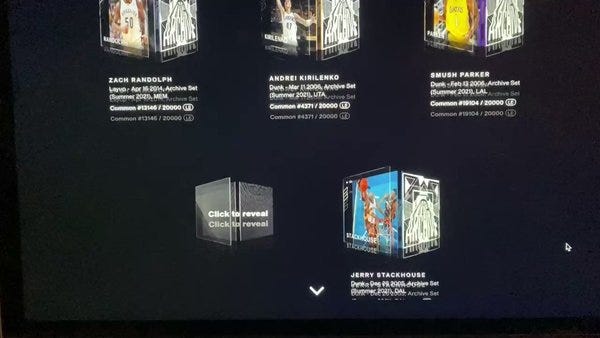 WOW. You never think it can happen to you and then it does. Just opened THE FIRST @nbatopshot Free-Throw Moment 🤯 Thank you @roham @Eisenberg43 @AustinKent @PackripEwing @brandonsowle and team!!! Seriously in shock. Track by @stillalive_band. https://t.co/5X6dFFkwSk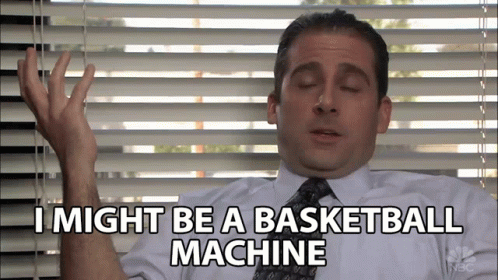 Around The First Mint 🗣
🎧 The Future of Crypto Influencers
🐦 The Best NFTs Under $1000 (.3 ETH)
Thanks for reading! — Zach @ The First Mint
Not Subscribed to The First Mint Newsletter? Let's change that.
Follow The First Mint on Twitter at @TheFirstMint.
Follow Zach on Twitter at @GhostOfGregOden.
In order to unsubscribe, click here.
If you were forwarded this newsletter and you like it, you can subscribe here.
Created with Revue by Twitter.
Vancouver, British Columbia, Canada