A Rising Market Tide 🌊
The First Mint
Featuring Market Movers, Premium Pack Drop, Upcoming Content and More

Good Morning, NBA Top Shot Premium People! Hope you had some luck in the queue yesterday for the MGLE drop (I sure didn't — first Cold Brew L for me). Let's get into all the action from the last few days:
New to Top Shot? Check out our Top Shot 101 section!


Together with Evaluate.Market
Ready to take your collection to the next level? The Evaluate platform features tools for Challenge Tracking, Account Valuation, and the ability to shape Top Shot Sales Data as you please.

Quick Hits 👊
🔹The third and final Premium MGLE pack dropped Monday afternoon, with 5,000-ish lucky collectors scoring a nice haul at a Series 1 price of $24. Over 20,000 users met the eligibility requirements (2500+ Collector Score), with rebound packs available to those who didn't get a winning spot in line.
The drop featured one of, if not the coolest moment of the season — this Kevin Durant dunk, the crown jewel of the MGLE set. I want it. Bad.
🔹If you weren't thrilled about the level of Collector Score needed to qualify for the MGLEs, you certainly aren't going to like the potential Legendary number. Dapper Labs Community Lead Jacob Eisenberg mentioned on the "1st Mint" (really?) Live Show that the Collector Score could potentially be 'double' of Monday's 2500 for the Holo Icon drop when it happens.
Completing Cool Cats might honestly be the cheapest method to qualify for those with smaller accounts (NOT FINANCIAL ADVICE).
🔹 Wondering what else is coming down the pipeline? The weekly rundown below. The Throwdowns Challenge #kkk5 was released Monday night, with Zach Lavine as the reward. Full list of what you'll need here.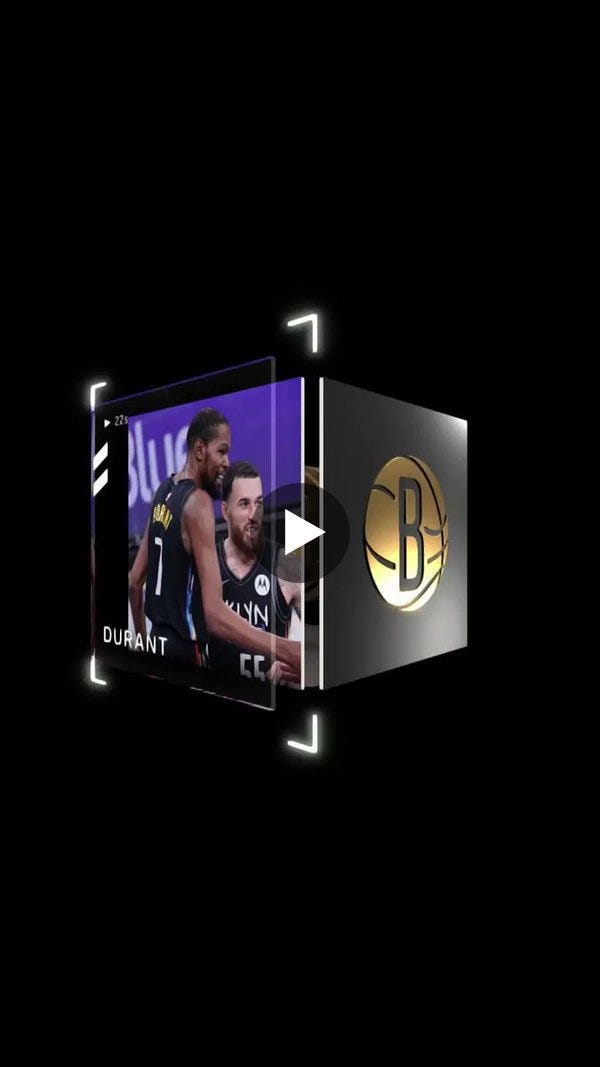 This Week on @NBATopShot🗓️

*Confirmed* Drops:
🪙Premium Drop #3 TODAY
🛡️Playoff Common RSVP Pack #1

Challenge Rewards:
🇺🇸Anfernee Simons

New Challenges
🏅MGLE #30
💥Throwdowns #5

⬇️New Metallic, Playoffs, Throwdowns #51⬇️ https://t.co/pSU6TSVnYx
🔹We saw some interesting new metadata tags for various play types for 'Hardcourt', the upcoming NBA Top Shot mobile game (H/T MomentRanks). Descriptors like 'Hot Streak', 'Intimidating', and 'Tomahawk Dunk' are featured — no word on game structure or how moments will be used.
There's also a '3-Point Fail' tag… How about a Run It Back Swaggy P — please and thank you: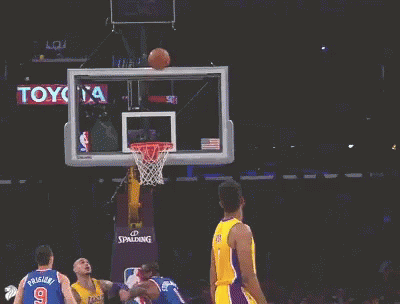 Market Movers 📈
Could the worst be behind us? Who knows. But damn it is nice to see some green in the market!
A marketplace update from yesterday morning (prior to pack drop), via @SteefCrypto: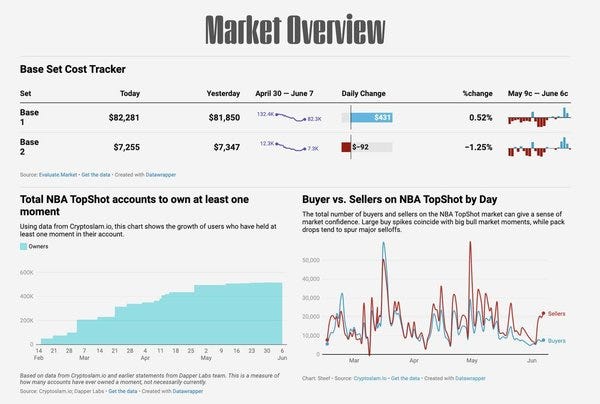 Your daily #NBATopShot market update

The rally slowed a bit. S1 keeps pumping but S2 falls off. New active users still static and volume still shows a small number of buyers moving through what is a marketplace with a lot for sale. https://t.co/NUwXw8AgxJ
While the surge slowed a bit during the weekend/Monday, the numbers from last week were by far the strongest we've seen in a few months. While the number of new users didn't drastically change, we saw a large amount of buying from existing collectors.
One factor may have been the low price point of the MGLE drop, enticing users to up their Collector Score to meet the requirements. But another factor may have been confidence.
Over the past few months, we've seen sentiment for the platform at an all-time low. However, the recent series of transparent blog posts and a thoughtful and a detailed 'Office Hours' session with CEO Roham Gharegozlou may have helped quell community concerns for the time being. The Dapper team is listening — and feedback from collectors is not going unnoticed.

Around The First Mint 🗣
Prices are up? Yes. Yes, they are. Since last Thursday night, the Top Shot Market has seen a boost. So what could be causing this positive influx of buying behavior? Could it be Collector Score updates or the Roham Office Hours? Or did we finally hit bottom two weeks ago and now its time for the playoff push we were all waiting for?
📹 The First Mint Live Show — Top Shot & Trees
🎧 How to Pick Your Next NFT (FEAT. SCALYNELSON)
📰 Miss an earlier edition of The First Mint Newsletter? Check out the archive here.
Thanks for reading! — Zach @ The First Mint
Not Subscribed to The First Mint Newsletter? Let's change that.
Follow The First Mint on Twitter at @TheFirstMint.
Follow Zach on Twitter at @GhostOfGregOden.
In order to unsubscribe, click here.
If you were forwarded this newsletter and you like it, you can subscribe here.
Created with Revue by Twitter.
Vancouver, British Columbia, Canada