A Triple Crown Week 👑
The First Mint
Featuring S1 Reserve Packs, Challenge Corner, Queue Concerns and More

gm, NFT people! Happy Thursday — hope you had some luck in the queues on Tuesday!
Yesterday was Bell Let's Talk Day, a great initiative supporting mental health causes in Canada. The pandemic itself has been an extremely difficult time for mental health — and the NFT space can present its own unique challenges as well.
Some good reminders from our man Phil D:
Today is #BellLetsTalk Day. Mental Health struggles are not a joke and very present in our space. Here is what you can do today and everyday:

❣️Be kind to others
😃Make at least one person smile
🌳Step away from screens
🧠Include #BellLetsTalk in tweets
♻️RT this tweet

💙💙💙💙 https://t.co/5GN4YiaiDS
Let's get into all the action from the last few days:

S1 Reserve Drop 🎟
Got your tickets ready? The next batch of Series 1 Reserve packs drops at 11am PST TODAY — with 500 packs up for grabs.
The deadline to gather the 350 necessary tickets was yesterday — best of luck to those who were able to grind em' out!
Wondering what's available in these packs? Looks like some star power in there, with three different S1 LeBron moments, Steph, Giannis, Ja and more. Full list here.
Can't wait to see the person who hits in the Top Shot Triple Crown this week (Holo, MGLE, S1 Reserve):

Challenge Corner 🏆
We saw the first Holo Challenge drop on Wednesday, with an epic buzzer-beater from DeMar DeRozan as the reward.
Moments needed (specific players are from S3 Holo set):
Kyle Kuzma

Marcus Smart

Shai Gilgeous-Alexander

Chicago Bulls Moment from Holo Icon S2 or Holo MMXX

3-Pointer Moment from Holo Icon S2 or Holo MMXX
We also saw the release of the next MGLE challenge, with a Chris Duarte moment as the prize. For those looking to complete (or if you're trying to cash in on the challenge bump), both timers expire on Monday, Jan. 31.
It's been a busy week in the Flash world, with the third consecutive night of challenges going live on Wednesday. Two difficulties (easy and hard) are available, featuring the players who made the most free throws in last night's action.
Rewards include a Shai Gilgeous-Alexander MSFE moment (easy) and a Rare Series 2 Pack (hard). Full details here.
If you don't pay close attention to challenges, you might be missing some opportunities to sell certain moments at a premium. It seems our friend Moment Nerd has come through once again, with a new feature that helps show which moments in your collection are featured in a challenge: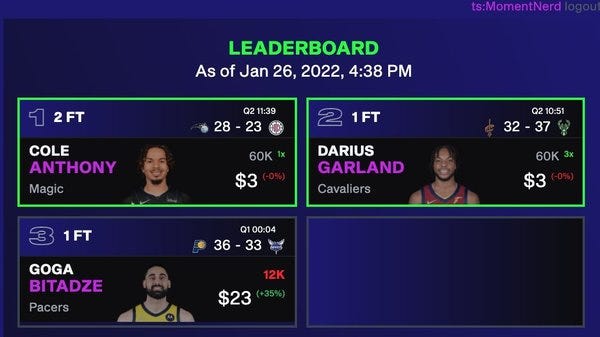 🤓🚨 NEW TRACKER FEATURE 🚨🤓

Want to know if the Moments you own are in a Flash Challenge? Just enter your Top Shot username and instantly see who (and how many) you own. Tonight is for easy only, hard coming soon.

Tonight's tracker is live now: https://t.co/D4cQUUzRms https://t.co/3kpzPa0QTV

Queue Concerns 🤔
Feel like you spend a lot of time in queues? You're not alone:
I am beginning to have real concerns with the @nbatopshot Queues.

It's not because I haven't landed a legendary pack. My number wasn't called. Thats life. Toughen up buttercup. Randomness can be a real bitch.

It's because middle of the work day drops are difficult 🧵
In Joey's thread above, he details an ask that would make for a great improvement — the ability to pre-pay and be on with your day.
Nobody likes waiting in lines — and even with the reminder emails, sometimes life gets in the way! If you're not careful, a queue spot can easily pass you by.
I envision an ideal process as:
Enter the queue

Check a box agreeing to the pack price should you get a lucky spot in line (and confirming you have enough Dapper/card on file)

Input email, and receive a confirmation either when you receive the pack or when the queue ends and you weren't selected.
Done! Time saved, less people mad about long wait times/delays, everyone's happy!
Our most valuable asset is time, so let's make the most of it!

Around The First Mint 🗣
🎧 The Future of Crypto Influencers
🐦 The Best NFTs Under $1000 (.3 ETH)
Thanks for reading! — Zach @ The First Mint
Not Subscribed to The First Mint Newsletter? Let's change that.
Follow The First Mint on Twitter at @TheFirstMint.
Follow Zach on Twitter at @GhostOfGregOden.
In order to unsubscribe, click here.
If you were forwarded this newsletter and you like it, you can subscribe here.
Created with Revue by Twitter.
Vancouver, British Columbia, Canada