A Very Top Shot Christmas 🎄
The First Mint

GM, NBA Top Shot Squad! Hope you all had a great week — the weekend is here! Let's get into all the action from the last few days:

A Very Top Shot Christmas 🎄
The holidays are inching closer — and Top Shot has some Christmas festivities cooked up for seven lucky winners in their latest experience: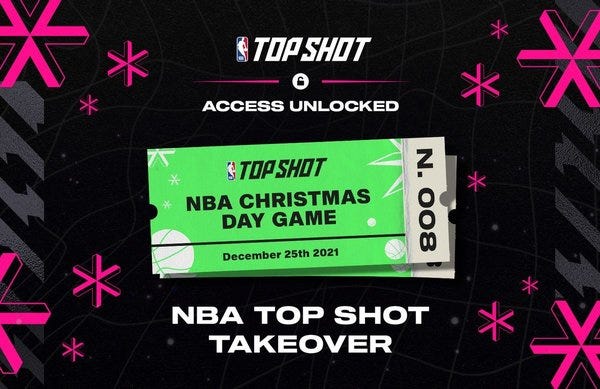 🎄@nbatopshot X-Mas Takeover🎄

7 collectors will be spending the holidays in the sun 🌞

DETAILS:
📸 Snapshot taken Dec. 7 of ALL users w/ CS > 1225
🗓 Winners revealed Dec. 14

PRIZES:
🎟 Tickets to Dec. 25 GS vs. PHX Game
✈️ Incl. Airfare + Hotel
🤗 Can bring 3x guests
+ More https://t.co/wljfEZndpj
Watching NBA all day on Christmas is one of my favorite pastimes, and this would certainly be a pretty awesome way to spend the day. Plus, Phoenix is amazing — give me all the sunshine please!
I saw a lot of "only 7 people?!" — and man, the Top Shot community can really find the negatives in any situation. We aren't entitled to ANYTHING as collectors — and while the perks and rewards are certainly nice and in the spirit of Web3, it gets grating to see the constant hate on literally every move.
I personally give Top Shot a lot of grief for many of their decisions — but things like this are 100% in the category of surprise and delight. They didn't have to do any experience for Christmas, but they did — so be happy for those lucky enough to get selected.
Don't be a grinch!

All Day (Literally) 🏈
Note — I was not selected for early access, so will just be commenting on surface level news regarding the launch. Dapper has asked those in the closed beta to keep details under wraps, so we at TFM are respecting that request!
Today was the first drop for the NFL All Day closed beta — and things seemed to go… Very slowly. We saw several hours of delays of the initial drop, which eventually launched with a small amount of packs available.
It'll be interesting to see the sentiment from the community around early access. Part of me thinks that many users are expecting a polished product (and fatigued by the Top Shot 'Beta' tag) — but stuff is going to go wrong.
I did make this while seeing the delays — memes and shitposting are my way of coping with the extreme FOMO I have of not having access: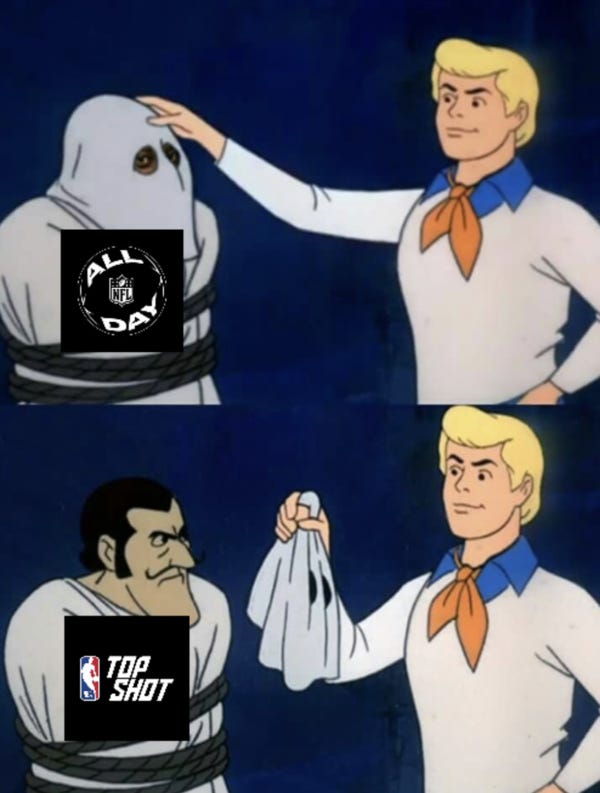 In all seriousness, it's exciting to have a new product — and I can't wait to hopefully get in and experience it myself!

Challenging Flash Challenges ⚡️
The Flash Challenges are getting spicier. And on the Scoville scale, Thursday's requirements were a Carolina Reaper.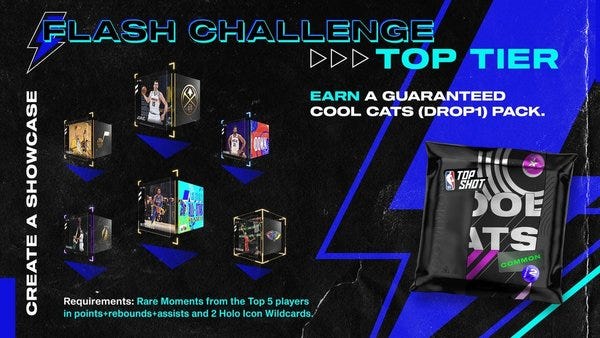 ⚡ FLASH CHALLENGE ⚡

🌶️ Difficulty: SPICY
🎖️ Reward: Guaranteed Cool Cats Pack

7 Moments needed from tonight's @NBA slate:
🟨 5x Rares of top PRA (Points + Rebs + Assists)
🧊 2x Legendary Holo Icon Wildcards

⏲️ Deadline: Friday, Dec. 10 @ 1 PM PST https://t.co/x9L4DC8lBV
Alright, two sides to this coin. On one end, I love seeing some wacky, out of the box requirements for some of these challenges. Making them unpredictable and difficult is fun!
On the other hand, they ALSO need to:
1. At least be possible for more than a couple people
2. The reward needs to be worth the potential speculation on buying moments. For some of the less challenging ones, it's been fun to follow along and speculate on buying a $5 moment on the chance they might be needed. But nobody is dropping thousands on Rares and Holo Icons for a Cool Cats pack.
Friday's challenge was much more palatable — despite pumping the Archive 3PT moments that were already controversial because of a previous challenge error: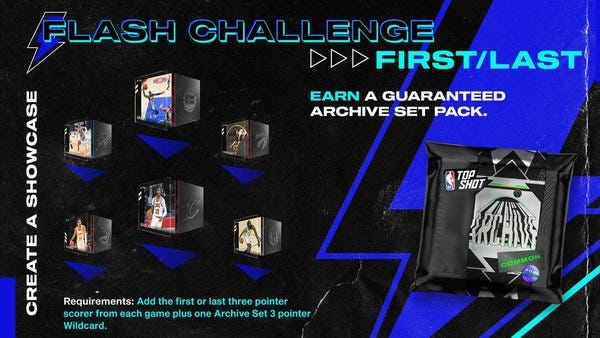 ⚡️ FLASH CHALLENGE ⚡️

🥇 Reward: Guaranteed Archive Set Pack

10 Moments Needed:
🏀 9x First or Last 3PT Scorer in each @NBA game
🃏 1x Archive 3PT Wildcard

⏰ Deadline: Saturday, Dec. 11 @ 1 PM PST https://t.co/MCQc4YGrzW
Outcomes like these requirements (wildcard aside) are fun because they are so random — so kudos to TS on that front.
Flash Challenges have been one of the best parts of Series 3, and hopefully we'll continue to see interesting new ones in the future that incentivize collecting and following the actual games!

Around The First Mint 🗣
The First Mint Live is back for another wild Thursday night, December 9th, 2021. We've got the debut of The Shill Tank, featuring two NFT projects (Swish Dreams and Spoiled Banana Society) presenting to our panel of guest judges (Lil Noobie and Awesemo). We also talk about NFL All Day and other happenings in the NFT space.  
🎧 The Key to the Metaverse (feat. Matty DCL)
🎧 Burn The Moments (feat. Justin Herzig)
Thanks for reading! — Zach @ The First Mint
Not Subscribed to The First Mint Newsletter? Let's change that.
Follow The First Mint on Twitter at @TheFirstMint.
Follow Zach on Twitter at @GhostOfGregOden.
In order to unsubscribe, click here.
If you were forwarded this newsletter and you like it, you can subscribe here.
Created with Revue by Twitter.
Vancouver, British Columbia, Canada