All Eyes on the Economist 📉
The First Mint
Featuring the NBA Playoffs, Economist Encounters, Legendary Packs Incoming, & More

gm, NFT Squad — hope you all had an excellent weekend! Are you ready for the NBA Playoffs!?!
My Bulls got the worst draw imaginable, with the Bucks falling into the 3 seed on the final day of the regular season… So it might be a short one for us with this guy looming: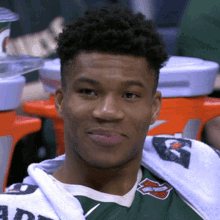 Let's get into all the action from the last few days:

Economist Encounters 😱
One of my favorite sagas in the Top Shot-verse has been the Top Shot Economist, who was hired this past summer but has been relatively absent from the usual channels we've come to expect from Dapper employees (Discord, Twitter).
Mr. Economist has stuck to the blog for his communication over the past year, but randomly waded into the volatile Twitter streets on Sunday — and it didn't go well.
Here is the thread of what stirred up the drama (screenshot displays better for multiple tweets):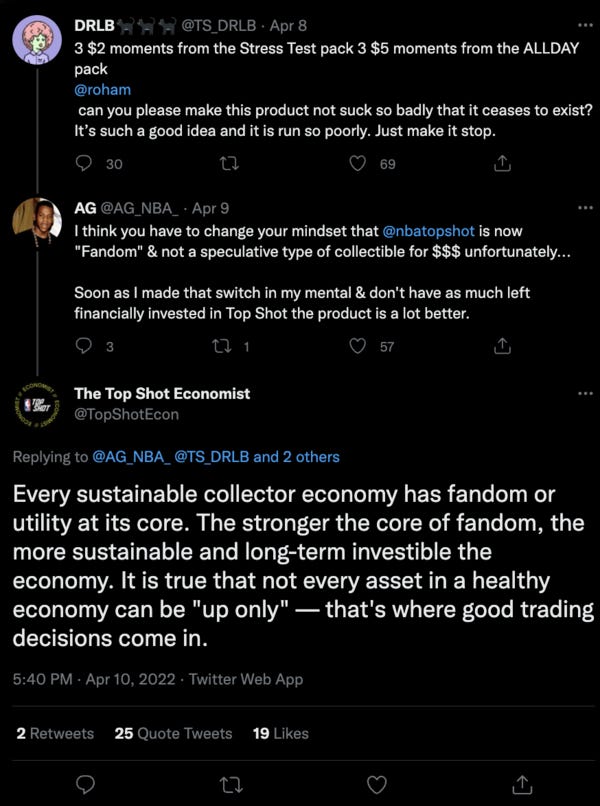 This might shock you, but the comments about 'good trading decisions' and assets not all being 'up only'… didn't play well with a user base that is mostly underwater on all things Top Shot. Especially coming from the person who was hired to fix a lot of the issues we still see present in the ecosystem today.
The response led to a flurry of clapbacks from angry collectors — a ratio'd mess of depressing market charts that accurately show the bleed that every collector has experienced over the last 1.5 years. This thread was a good breakdown of the economy issues:

1/21 Dear @nbatopshot users:

Despite what you were told last night, your TS collections have not been going down because you haven't made "good trading decisions".

There are many reasons, but the primary one is that Dapper has mismanaged the TS economy.

Let's dig in: https://t.co/LHykSfT5zF
We also got another response from the Economist, which seems to ironically bring up the exact problem @Jewish_Lettner addressed in his original comment: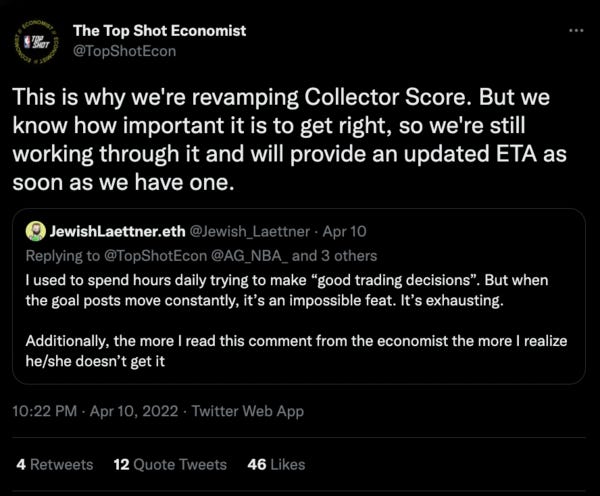 Revamping Collector Score (again) is the definition of moving the goalposts. A common criticism on Top Shot is that the market is at the mercy of Dapper's decisions — what players are needed for a Flash Challenge, who the bottleneck is for a particular set, etc.
But on top of that, you also have rules that are constantly changing. If you think of NBA Top Shot as a game, Dapper has been editing the rulebook on the fly — leaving collectors with no recourse when it comes to setting a strategy to 'win'.
A live look at Roham after seeing the Economist escape and fire off tweets for the first time in months:
We got an apology on Monday, but this exchange shows a clear disconnect between the Economist and the community. This was a frequent critique of Dapper in the past — and one I think they've genuinely taken to heart over the last few months with stronger communication. But as is often the case in Top Shot, it always feels like we take one step forward and two back.

And Now... More Packs 📦
If that drama didn't get you excited for more packs (at $999 a clip), I apologize (but I'm not that sorry):
Top Shot announced the next Legendary and Rare pack drops coming this Thursday, with both the Holo Icon drop ($999) and MGLE ($89) running simultaneously.
Details for the two drops:
Holo Icon
2,750 Packs | $999

9 Moments/pack, including one Holo (/99), one MGLE (/749) and 7 commons

3 Queues: PQ 1 (25K CS Requirement, 1,000 Packs), PQ 2 (7,500 CS Requirement, 1,450 Packs), General (0 CS Requirement, 300 Packs)
MGLE
20,000 Packs | $89

6 Moments/pack, including one MGLE and 5 commons

3 Queues: PQ 1 (15k CS Requirement, 3,500 Packs), PQ 2 (2k CS Requirement, 13,000 Packs) General Queue (0 CS Requirement, 3,500 Packs)
Honestly, the $999 price point feels eye-popping given the TS sentiment and current market conditions — and I'd much rather have seen a lower price that lets users feel good and recoup some value from getting lucky in the queue.
And, with a bunch more supply about to hit in the playoffs, we're likely looking at a continued bleed with no new major economy changes.
This was a good idea that probably won't happen, but let's manifest it:
Here's an idea: what if all @nbatopshot 2022 NBA Playoffs packs were distributed via playoffs flash challenges instead of pack sales? Dapper already seems comfortable giving away $9 base packs for "Rookie" challenges, why not just make those Playoffs packs instead of S2/S3 base?
On an interesting note, it appears that Top Shot has partnered with one of the NBA's big sponsors, Tissot, for this drop. Get your watches!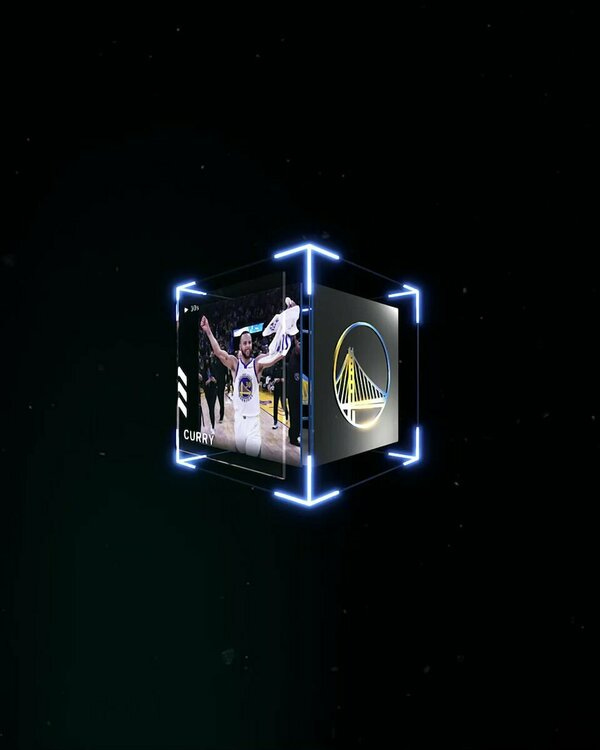 We got 5 epic #TissotBuzzerBeater Moments coming to Top Shot on Thursday 🔥

Sign up today and find out how you can win a @TISSOT #NBA75 Supersport Chrono watch by joining the pack drop queue.

➡️ https://t.co/G4WaxFXat5 https://t.co/rNwgBkvrng

TFM x Candy 🍭
Baseball is back, and so is TFM's partnership with Candy Digital!
The first drop of the season is TOMORROW, with the ICON Leadoff Series going live at 9 AM PST (7 AM PST for early access members).
Some more info for this season:
60k/packs per drop

8 total drops - each 2 drops, there is a new "lineup"

$50/pack

Max 100 Legendary NFTs for the entire season

Baseball is BACK⚾️✨

And so is @CandyDigital on @TheFirstMint!

We're excited to announce that we're running back our PARTNERSHIP to bring you coverage of:

📦All EIGHT Candy Drops
🎤Spaces for select drops this Spring
📊All Marketplace Action

Stay tuned friends! https://t.co/BZYMSlU73O
Full Drop Details here.
Not registered yet? Sign up here.

Around The First Mint 🗣
🐦 This Week in NFTs | NFL | NBA | Flunks | Alpha
🎧 The DC Comics Multiverse Comes to NFTs
Thanks for reading! — Zach @ The First Mint
Not Subscribed to The First Mint Newsletter? Let's change that.
Follow The First Mint on Twitter at @TheFirstMint.
Follow Zach on Twitter at @GhostOfGregOden.
In order to unsubscribe, click here.
If you were forwarded this newsletter and you like it, you can subscribe here.
Created with Revue by Twitter.
Vancouver, British Columbia, Canada