An All-Time LeBron Moment ⭐️
The First Mint
Featuring a Bustling Bull Market, A Legendary Challenge, Ghost's Corner and More

We'reeeeee back! GM, NFT fam! We're not just an NBA Top Shot squad anymore, so let's change up that greeting!
Happy New Year — hope you all had an excellent holiday break! I tried to unplug as much I could over my week-plus vacation, but MAN is it hard. The creeping fear of missing out or falling behind on NFT knowledge is real.
While I did have a healthier relationship with Discord/Twitter, I definitely kept a side-eye on the happenings. From $SOS and $GAS, the BAYC floors going absolutely bonkers, Opensea seeing some of the highest volume ever and a million other developments, there truly is no time off in the space!
Shout out to LG for gracing us with a few newsletters in my absence - but without further ado, let's get into all the action from the last few days:

A Bustling Bull Market 📈
As mentioned above, we've seen some WILD numbers in the NFT space to start 2022. Was everyone waiting for the new tax season? Here is a wild stat that shows how far we've come from this time last year:
The first three days of 2022 combined have seen a higher OpenSea sales volume than the entire first half of 2021.
And, like the rest of the NFT market, Top Shot has seen some gainz as well!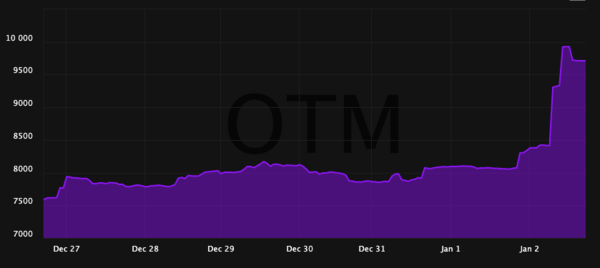 The @nbatopshot marketplace is heating up!🔥

SETS: 24h Floor %
📈+32% Throwdowns S1
📈+21% Throwdowns S2🐺
📈+10% In Her Bag S21
📈+7.5% Run It Back S21
📈+7.3% Summer '21
📈+5.4% WNBA Best 2021
📈+4.9% Hustle & Show S2
📈+4.7% The Finals S1
Data: @OwnTheMomentNFT

Top Sales⬇️ https://t.co/qDQUNtjIRb
It's extremely encouraging to see the market rising organically, and sentiment seems pretty high entering the new year!
Here's hoping for more good vibes and green in the marketplace as Series 3 rolls on!

Challenge Corner 🏆
We've got an exciting challenge completion happening TODAY, with a very high-end moment likely hitting the marketplace.
Deck the Hoops Challenge 2, featuring a reward for the ages, finishes up at 10 AM PST. A hyper-scarce LeBron James moment, his first in a Heat jersey, is about to hit the platform, folks. Buckle up!
The challenge currently comes in at a cool $59.5k to complete (or 16 ETH, if it makes you feel better) — and is sitting at only 26 (!) completions, per Own The Moment. Holy moly.
We asked around for some price projections for when this bad boy hits the MP, and got some good data. Some speculation, via @TuringCrypto:
@TheFirstMint @jonboybeats Based on current holders of challenge components, my projections https://t.co/nNDBYfqgn2
Getting one of the best moments in the history of Top Shot should make for some exciting whale watching tomorrow!
The second MGLE challenge also expires today, with Davion Mitchell as the reward. But with Deck The Hoops soaking up all the glory, it feels like the MGLE challenges haven't had the same hype. We've currently got 223 completions, at a $2,900 cost to complete.
In the non-showcase realm, we also got the first flash challenge of 2022 on Monday, with a Series 2 Base Pack up for grabs. You'll need the first player to score 15 points in each of the 10 games of Monday's NBA slate. Details here.

Ghost's Corner 👻
In this recurring Tuesday section I'll hit on a few non-Top Shot NFTs that have caught my eye of late, and general musings about the space. NOT FINANCIAL ADVICE!
I spent most of December reluctantly on the sidelines with worries about end-of-year taxes. But hey, it's a new tax year, baby!
With the calendar turned over, it feels like a good time for some big-picture thinking. Some projects that I'm extremely bullish on heading into the New Year:
All Things Bored Ape Yacht Club | ETH | Floor: On the Moon
Not a hot take. $APE token is coming, and 2022 might get wild.
Pixel Vault | ETH | Floor: Many different price points
If you caught one of the last Podcasts in 2021, LG sat down with G Funk, the man behind PixelVault — highly recommend listening. The team, the execution, the community and the vision are all there — and with some major developments coming soon, I definitely want as much exposure as possible to that entire ecosystem.
Wolf Game | ETH | Floor: Many different price points
The project that kicked off a seemingly new category of risk-type games, Wolf Game has been captivating to watch — and I'm excited for what 2022 holds. With innovative game theory, hype-man Beanie and the guidance of The Shepherd (project dev), I'm definitely woolish.
Plus, they have the best GIF maker in the biz right now. Always fantastic:
Around The First Mint 🗣
🎥 TFM Live: Ballerz, Phil Changes His PFP, Ben Mezrich
Thanks for reading! — Zach @ The First Mint
Not Subscribed to The First Mint Newsletter? Let's change that.
Follow The First Mint on Twitter at @TheFirstMint.
Follow Zach on Twitter at @GhostOfGregOden.
In order to unsubscribe, click here.
If you were forwarded this newsletter and you like it, you can subscribe here.
Created with Revue by Twitter.
Vancouver, British Columbia, Canada