And Roham Will Answer 🧙‍♂️
The First Mint
Featuring Roham in Office Hours, Premium Packs and More

Good Morning, NBA Top Shot Squad — Happy Weekend! Hope you caught some of the great NBA action this week (LeBron being eliminated in the first round felt SO weird). Let's get into all the action from the last few days:
Didn't get your bonsai fix during the Live Show on Thursday? Fear not — we're giving away a tree in our Weekly Challenge: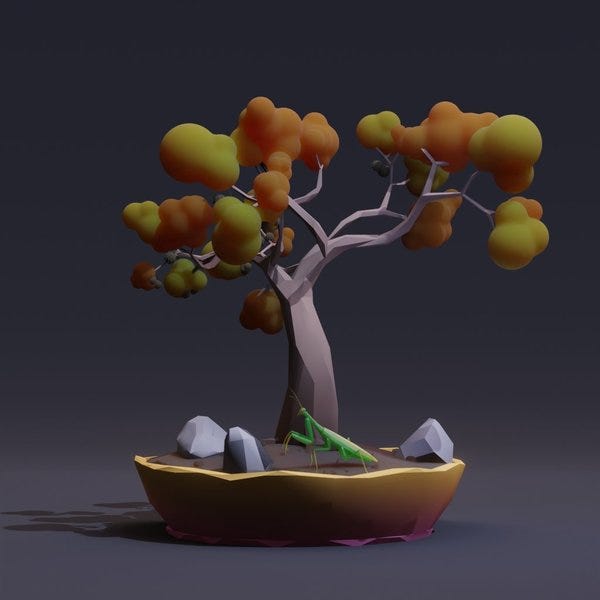 🏆@TheFirstMint Weekly Challenge #4

🎁Enter for a chance to win this @zenft_ tree. Yes, that's right, not a Top Shot Moment. A tree🌳

How to Enter
🗣️RT this tweet
✍️Tell us what else N-F-T stands for
❌Wrong Answers Only

Deadline⚠️ Monday 6pm PT https://t.co/fAnMuNNqnV
New to Top Shot? Check out our Top Shot 101 section!


Together with Evaluate.Market
Ready to take your collection to the next level? The Evaluate platform features tools for Challenge Tracking, Account Valuation, and the ability to shape Top Shot Sales Data as you please.

Quick Hits 👊
🔹 Do you love gold? Well get plenty of cold brew, because the next round of Premium Packs drop on Monday at 2 PM PST!
We'll be live for Club Cold Brew on Twitter Spaces prior to the drop — grab your coffee and stop by for some great conversation.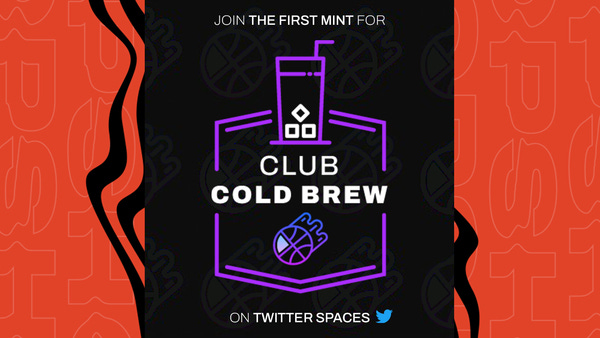 Details on the packs, via the NBA Top Shot blog:
Pack Cost: $24 as a one-time return to our Series 1 Premium Pack prices as a continuation of our #ThankYouFans campaign. 
Packs Per Collector: 1
Total Packs: 5,346*
Users will need to have a Collector Score of 2500 to be eligible for the queue (CS is now viewable on the 'My Profile' section on the platform).
At $24, you'll get one MGLE and five common base moments — a nice price point as a 'return to Series 1' thank you to fans.
Here's what's available:
New Moments being added.

*Likely* new Metallic Gold:

🏀Durant
🏀Kyrie
🏀Williams III
🏀Garland
🏀Josh Richardson
🏀Jokić
🏀Saddiq
🏀Draymond
🏀Sabonis
🏀PG13
🏀LeBron
🏀THT
🏀J Jackson Jr.
🏀Adebayo
🏀T-Ross
🏀Maxey
🏀Haliburton
🏀Trent Jr.
🏀Jordan Clarkson
🏀Bradley Beal
Also included — this ridiculous NBA Jam-style sequence from the Brooklyn Nets.
🔹 Miss The First Mint Live Show this week? LG & Phil chopped it up with collector Josh Ong, got some strange vibes rolling with the Bonsai by ZENFT crew, and formally said goodbye to Cool Cats. Check out the full replay here, and our Cool Cats Tribute video from the awesome community submissions below (shout out to our man @topshotsnipes for the editing skills).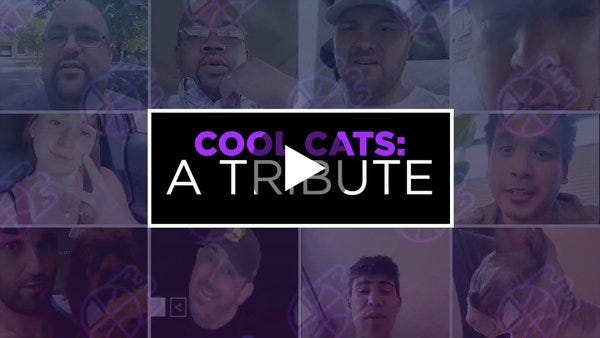 It's hard to say goodbye to Cool Cats😿

So we asked the community to help us make a proper Cool Cats tribute video📺

See you in the Lounge👋 https://t.co/mrEmYxQeBg
🔹Did you reserve your playoff pack? Collectors have until Wednesday, June 9 to register for the first playoff packs in Series 2, delivered via queue on Friday, June 11.

News From The Lab 🧪
What I think of every time i see the name Roham. Obscure Lord of the Rings quotes, anyone?
Roham has entered the chat (if you were confused about the subject line, it's from this scene in LOTR). The Dapper Labs CEO joined Community lead Jacob Eisenberg for 'Office Hours' on Friday, hitting on a variety of topics, developments and user concerns. Our live thread:
Office Hours w @Eisenberg43 @rohamg 📒

COOL CATS MASTER BENEFITS😼
▪️ Anyone can get in on benefits (Cat Lounge Discord)
▪️ Allows future collectors to be able to buy in
▪️ Will be able to tell WHO did challenge, WHO bought in, potential badges

⚡️Live Thread with the updates🔽
A quick breakdown of the most important tidbits:
😺 Cool Cats — Sounds like they really want to make the CC holders feel exclusive. Roham talked about the challenge being the "SoHo House" membership of Top Shot — with more functionality/perks to come in the future.
🏆Utility — We got lots of juicy info on potential uses for moments going forward, including the likely implementation of both staking and burning moments down the road. Closer is in-arena benefits for collectors, which will be experimented with 'relatively soon'.
🏦Marketplace — Lots of good insights here, including future plans for more withdrawal options (give us North Americans access to that FLOW token 🙏), the addition of an in-house economist to the team, and various platform improvements (ex: listing full sets).
Want to catch the full replay? Listen to the audio here.

Around The First Mint 🗣
📹 The First Mint Live Show — Top Shot & Trees
🎧 How to Pick Your Next NFT (FEAT. SCALYNELSON)
📰 Miss an earlier edition of The First Mint Newsletter? Check out the archive here.
Thanks for reading! — Zach @ The First Mint
Not Subscribed to The First Mint Newsletter? Let's change that.
Follow The First Mint on Twitter at @TheFirstMint.
Follow Zach on Twitter at @GhostOfGregOden.
In order to unsubscribe, click here.
If you were forwarded this newsletter and you like it, you can subscribe here.
Created with Revue by Twitter.
Vancouver, British Columbia, Canada