Are You Feeling Lucky? A Premium Pack Thursday 📦
The First Mint
Featuring Incoming Packs, Big Marketplace Sales, Baller Status & More

Good Morning, NBA Top Shot team! Happy Thursday — I only have one question: Are you feeling lucky?
We've got Premium Packs dropping at 2 PM PST / 5 PM EST, but more on that below. Let's get into all the action from the last few days!
New to the platform? Check out our Top Shot 101 section for all the resources you need to get started!
P.S. — Coming Soon — The First Mint Mailbag 📫
Have a question you want to ask the team? Shoot an email to mailbag@thefirstmint.com and we'll answer the best of the bunch in a recurring Mailbag feature! 📫
Quick Hits 👊
🔹 We saw a MASSIVE bundle purchase on Wednesday from @dingaling, totaling over a million(!) dollars.
It's done! New unofficial @nbatopshot record sale for 73 #1 moments and 7 Top #5 SN Holo MMXX for $1,055,000 by non other than @dingalingts!!! Congratulations to you my friend!

For those who haven't checked out his collection! Here you go...
https://t.co/zoBQPZqasa
Many of the whales we see at the top of the account value leaderboards arose from being early adopters in the platform. @Dingaling has been a rare exception, storming the Top Shot marketplace during the downturn to amass an outstanding collection. At this time of market uncertainty, is there anyone more bullish on Top Shot's future than @dingaling?
🔹 Baller Status – Fixed. Users should see their updated status rank and accrued point totals up-to-date. While we have yet to see it utilized, it would make sense to see Baller Status play a role in drop requirements in the future.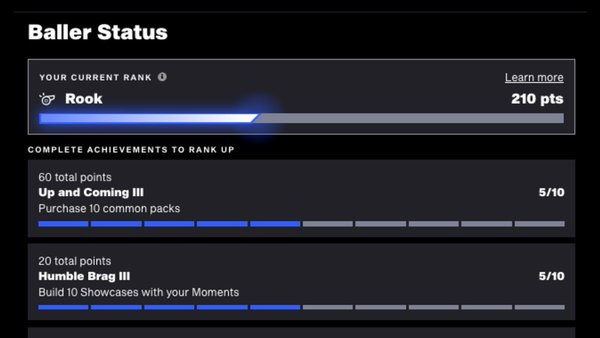 As promised in last week's Office Hours:

⭐️Baller Status⭐️ is now updated. https://t.co/Zfgu3VUFUB
📦 Premium Packs Dropping TODAY 📦
We've got another influx of moments hitting the marketplace today, with 17,427 Rare Metallic Gold Limited Edition (MGLE) packs and 50,000 Rebound packs dropping at 2 PM PST! Some more details:
🔹 Pack Cost: $99
🔹 Moments Per Pack: 6 (1x Metallic Gold LE Series 2, 5x Base Set Series 2)
🔹 Packs Per Collector: 1
Am I eligible? Check out the requirements, via the NBA Top Shot blog:
To join the queue for a chance to buy a pack, you must have fulfilled at least one of the following at the time of our snapshot on Tuesday, April 20 at 11 AM PDT:
Own 1+ Metallic Gold LE Moments; or Own 2+ Rare Moments; or Own 15+ Moments.
Additionally, you must also have spent at least $99 on the Marketplace, excluding pack purchases. This requirement had to have been met by the time of the snapshot on Tuesday, April 20 at 11 AM PDT.
With the blog also stating that there will be enough rebound packs for every collector that qualifies for the queue, we can expect no more than 67,500 users vying for the 17,427 rare packs. A ¼-ish chance feels like the best odds we've had in a long time!
Wondering what's available in these packs? We got you:
In Each Pack
⚔️x1 MGLE Rare Moment
♦️x5 Base Common Moments

Notable Commons
♦️x2,321 *NEW* ones (minted yesterday)
♦️x387 LaMelo 35000
♦️x194 Durant 35000
♦️x193 Lebron 35000
♦️x135 Zion 35000
♦️x116 Steph 35000

245 different Common Moments in there!
@nbatopshot https://t.co/oZ7dyiC4Sv
If you read the excellent thread from MBL267_NFT last week, you might be wondering what implications this pack will have on the market. I asked Taylor Stein and Snipes for their takes:
Taylor: I think this is the closest we've come to neutral EV packs in a while. The floor for MGLEs now is $200, and with some of these players being less than desirable, and diluting the overall series 2 MGLE pool, I think we'll see some closer to the $125-$150 range. Knowing that there's upcoming challenges gives them some extra utility, but I think it's going to be rough.
Snipes: Anticipating an initial surge on MGLE and new moments in the first hours, followed by days of just slogging back down into the muck of the rest of the market. Basing this on watching the Seeing Stars reward — including Conley, all appeared, shot up a bit, and are now the lowest they've ever been.
Market Movers 📊
A nice look at the serial number premium seen on the market from @chugsandbugs. Did we mention that @dingaling owns 153(!) #1 serials?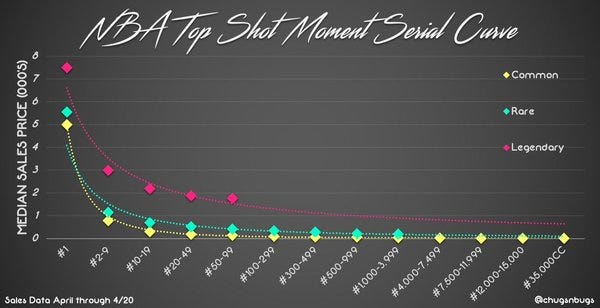 🏀 Evening #fingerpainting 🎨 ahead of tomorrow's MGLE drop

TS Serial Curve | April (through yday)

Pretty tight curve fits, but obvi lower overall values vs a month ago 😕

#1 serials showing serious separation, and the recent @dingalingts purchase should only bolster that 💪🏼 https://t.co/7tVcZ2tfor
Click on the tweet for more data in full the thread.
Around The First Mint 🗣
Have you ever seen Goran Dragic and LG in the same room? I certainly haven't 🤔
Via @adamsmoot: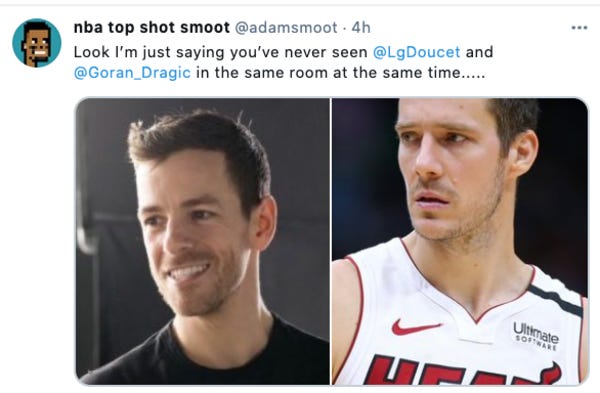 🎧 The First Mint Podcast — Your Next $500 on Top Shot (FEAT. CHUGS, SNIPES & THEREALPHILD)
🎧 The First Mint Podcast — Can Trading Cards Survive the NFT Hype? (FEAT. DJ SKEE)
📝 Taylor Stein  — Are Challenges Actually Worth It?
Thanks for reading! — Zach @ The First Mint
Not Subscribed to The First Mint Newsletter? Let's change that.
Follow The First Mint on Twitter at @TheFirstMint.
Follow Zach on Twitter at @GhostOfGregOden.
In order to unsubscribe, click here.
If you were forwarded this newsletter and you like it, you can subscribe here.
Created with Revue by Twitter.
Vancouver, British Columbia, Canada