Beating The Pack Odds 🎲
The First Mint
Featuring Major Pack Drops, All Day Hype, Brady Retirement, Mainstream Mania & More

Good morning, NFT team! Happy Thursday!
The calendar has finally turned over to February, and we just witnessed a historic month for the NFT market — with OpenSea shattering its monthly volume record with over $4 Billion in sales (when it was working). Can't wait to see what the rest of the year has in store!
Let's get into all the action from the last few days:

Major Pack Drops TODAY 📦
It's a special day in the Top Shot world, with the debut of a brand new pack format and player-curated set (detailed in Tuesday's newsletter).
The queue for 22,000 Elite Packs opens at 12 PM EST (must have a Collector Score of 10K+), and will include five moments (four S3 base set, one Game Recognize Game, MGLE or Holo).
Some details on the odds of scoring the coveted Rare or Holo moments, to temper your expectations. Via the pack page:
Within each Elite pack there is a 90.477% chance of one of your Moments being from the Game Recognize Game Set, a 8.030% chance being from the Metallic Gold LE Set and 1.491% chance of being from the Holo Icon Set.
But a lucky few will be feeling like this:
Following the Elite drop will be the Standard Packs, available at 2 PM EST. This one has no CS requirement, and features four moments (3 base set guaranteed). Odds on the fourth moment:
Within each Standard pack there is a 73.391% chance of the fourth Moment being from the Base Set, 23.974% chance being from the Game Recognize Game Set, a 2.554% chance being from the Metallic Gold LE Set and 0.079% chance of being from the Holo Icon Set.
Wondering what's available in these packs? Thread, via @NBATopShotTalk:
New Moments in Thursday's Packs

Game Recognize Game
🔹Donovan Mitchell
🔹Devin Booker
🔹Anthony Edwards
🔹Ja Morant
🔹Steph Curry
🔹Nikola Jokic

🏆Kevin Durant

MGLEs👇
In other pack drop news, we've got another NFL All Day drop on Friday, featuring moments from this past weekend's ridiculous games: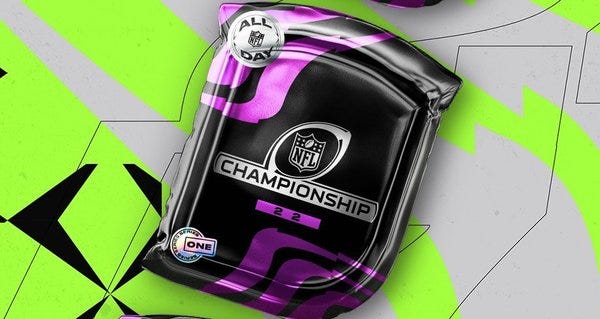 🔥NFL ALL DAY | CONFERENCE FINAL DROP🔥

Details
🔹Friday Feb 4
🔹1 PM PST
🔹37,984 packs
🔹$49 per pack

Featuring:
🏈Stafford
🏈Burrow
🏈Deebo
🏈Ja'Marr
🏈Donald
🏈Bengals

More CLOSED BETA access coming soon! https://t.co/lIg1V1cLWa
Also, can't wait to see the prices on the Tom Brady moments once the marketplace opens! I was just 10 when Brady entered the NFL, and it's hard to picture the league without him. Cheers to an absolute legend!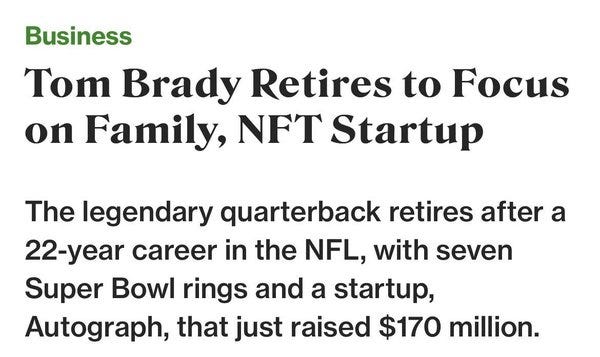 Everyone is quitting their 9-5's to degen full time it's insane https://t.co/GiJEYayQVr

Mainstream Mania 🌎
With a lot of hype around the Bored Ape Yacht Club's recent 100 ETH milestone and major celebrity buy-ins, we've had many reminiscing that the BAYC was a huge driver of mainstream NFT adoption.
Counterpoint:
You misspelled @nbatopshot https://t.co/W4MRYr7KP2
The BAYC has undoubtedly fueled a PFP revolution and risen to a massive pop culture status (pretty surreal to see Jimmy Fallon and Paris Hilton comparing apes on the Tonight Show last week). But for many of us who minted apes, we have Top Shot to thank for the on-ramp to the NFT world.
Top Shot walked so the BAYC could run!
Another mainstream piece of news on a project many of us love — the Pixel Vault/Punks Comic/Metahero ecosystem raising some serious cash:
Pixel Vault banks $100 million in funding to chase an NFT media empire – TechCrunch
The world of NFTs is bizarre, confounding and exhilarating. Detractors see a space full of capital-obsessed hucksters who want to choke all of the lasting value from popular culture, while boosters see a new technological revolution that can transform how value from online media is actually created and captured. This past year, institutional investors have […]
If you missed it, LG sat down with G Funk, the project's founder, in December on The First Mint Podcast — an insightful interview on how NFT projects can reward their communities.
With an Adidas partnership and now a major investment from institutional investors, Pixel Vault is primed to be one of the companies that helps bridge the gap between Web2 and Web3.
2022 could be a wild one, so buckle up!

Flash Challenge Fun ⚡️
We got another two-tier challenge on Wednesday night — with a S2 Base pack (easy) and a Luka Doncic MSFE (hard) as the rewards.
Easy Requirements:
The top player in each game who had the most combined made free throws and made field goals in the NBA games on Feb. 2, 2022
Hard Requirements:
the top player in each game who had the most combined made free throws and made field goals in the NBA games on Feb. 2, 2022, using Top Shot Debut Moments and/or Luka Dončić/LaMelo Ball Cool Cats Moments.
Full details here.

TFM x BookMate 💸
Trade NFTs? Bookmate is a full-service crypto tax firm that can help you file taxes. From DeFi, to trading, to NFTs, Bookmate can help you accurately report your crypto to the IRS (as well as any real estate, stock trading, or business income you have) while minimizing your tax burden. 
Bookmate is offering readers of The First Mint Newsletter a free 30-minute tax consultation to discuss your tax situation. Book a call today!

Around The First Mint 🗣
🎧 The Future of Comedy in Web3 (Feat. Alex DiNunzio)
Standup comedy hits the blockchain! In this partner podcast, Alex DiNunzio - co-founder and CEO of JAMBB - walks us through how they've managed to get names like Tom Segura and Hannibal Burress onto the blockchain in NFT format. Jambb drops their latest collection, YOUR MOM'S HOUSE, today exclusively on Flow.
🐦 Live: The World of Flovatar NFTs
🎧 The Future of Crypto Influencers
Thanks for reading! — Zach @ The First Mint
Not Subscribed to The First Mint Newsletter? Let's change that.
Follow The First Mint on Twitter at @TheFirstMint.
Follow Zach on Twitter at @GhostOfGregOden.
In order to unsubscribe, click here.
If you were forwarded this newsletter and you like it, you can subscribe here.
Created with Revue by Twitter.
Vancouver, British Columbia, Canada