Curator Klay 🎬
The First Mint
Featuring a TFM Meetup, Curator Klay's New Set, Hawks + NFTs, The State of Spice, Challenge Corner & More

Goooooood Morning, NFT Frens! It's the freakin' weekend! Hope you all had an excellent week, and safe travels to those heading back from NFT LA.
A group photo from the TFM outing, which looked like a great meetup with a bunch of our Day Ones: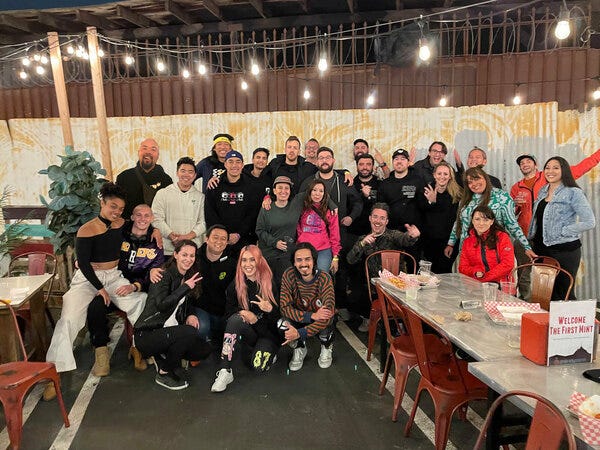 Let's get into all the action from the last few days:

Curator Klay 🎬
We got some breaking news on the next 'Game Recognize Game' curator on Thursday, via the company of the previous curator, Kevin Durant's Boardroom:
BREAKING: @dapperlabs has announced that it has partnered with Klay Thompson and his 941 Project to curate an all-new @nbatopshot "Game Recognize Game" NFT Pack.

Read more: ⤵️
https://t.co/CiWBTq4DBs
The next leg of the set will reportedly drop on April 7 (next Thursday), and feature moments from players around the league that have made returns from significant injury (give us a Greg Oden moment, please!).
"Named after the 941 days Klay endured in recovery after sustaining two-consecutive career-threatening injuries, the 941 packs will feature Moments handpicked by Klay from Derrick Rose, Paul George, Draymond Green, DeMarcus Cousins, Zach LaVine, and Gordon Hayward, who have all suffered debilitating injuries and through hard work and dedication have continued their careers in the NBA," according to Dapper Sports' Head of Communications Nate Nesbitt.
In addition to the packs, Dapper will also be giving away the shoes Klay wore in his first game back, and is making a donation of $94,100 to Klay's 941 Project.
It's a nice theme for the set, and a good initiative for Dapper to partner with. Specialized sets (like Extra Spice) help moments stand out from the base set, and avoid the overlap that can make many fail to stand out from the crowd.
The narration from KD on previous moments were a bit… Underwhelming. But Klay is a huge character, and would probably have some hilarious commentary to add some color to the chosen moments. Klay is the man.
Speaking of cool partnerships, this one between the Atlanta Hawks and Dapper Labs is nice to see: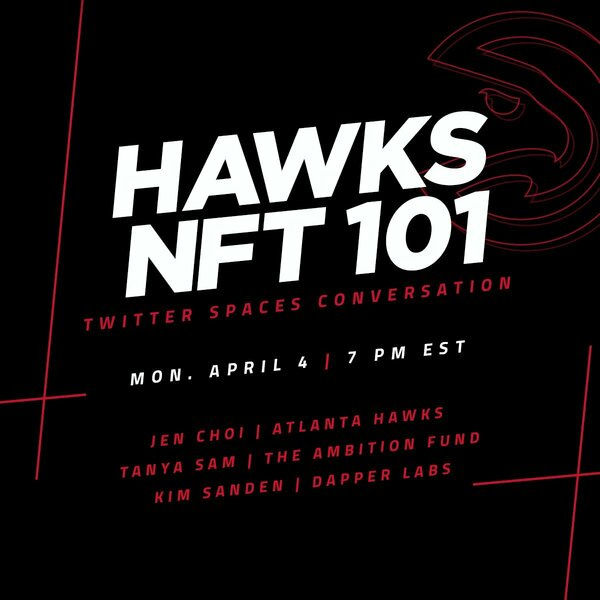 Join us for a Hawks NFT 101 to learn more about NFTs and the web3 world with @hellodapper & @nbatopshot!

📍: Twitter Spaces
⏰: Monday, 4/4 @ 7:00 PM ET

Set a reminder! ➡️ https://t.co/GF1zadGTe0 https://t.co/VAKhcPzwQM
Seeing teams and leagues dive further down the NFT and Web3 rabbithole is bullish, and hopefully leads to both more mainstream adoption and additional partnerships and opportunities for Top Shot. Kudos to the Hawks for helping lead the charge!

The State of Spice 🌶
Did you get some Extra Spice on Thursday? The lower-minted common set released to seemingly positive sentiment amongst the community — possibly due to the fact that it was hard to lose at the price point and market value:
Extra Spice EV Calcs are in...

Pack Cost: $19
Expected Value: $47

As of challenge announcement this AM, no loser packs

Bless up 🙏, happy Friday
Three players stand above the rest of the set as of this writing, with Steph Curry ($79), LaMelo Ball ($74) & Luka Doncic ($68) valued about $20-$30 higher than the next highest player.
We also saw the 'Extra Spice' bracket end on Friday, with Ja Morant taking home the fan vote over LaMelo Ball. Morant will be featured in an upcoming challenge, while LeBron James' Extra Spice Challenge went live on Friday.
One opinion of the set, which hits on a lot of ingredients to a successful drop (and a happy collector):
Top Shot returned to peak form with the Extra Spice drop. Went beck to OG pack format, kept mint low (6.5k), valuable challenge rewards (LeBron & Ja), made a highly collectible and quality set with a fun theme. A+ 🌶
#NBATopShotThis
This thread from moment curator Austin Kent is also a pretty fun look behind the curtain into how sets come to be:
Wondering how Extra Spice came to fruition and why I'm so bullish on Lance Stephenson's sensual shoulder gyrations?

Thread time. Grab your milk. Let's go 🌶️🌶️🌶️: https://t.co/zMi9l1yOqX

Challenge Corner ⚡️
Flash Challenge: Season High
Deadline: Monday, April 4 @ 1 PM PST
Reward: Jalen Suggs Throwdowns

Deadline: Tuesday, April 5 @ 10 AM PST
Reward: LeBron James Extra Spice

Deadline: Tuesday, April 5 @ 11 AM PST

Around The First Mint 🗣
🎧 The DC Comics Multiverse Comes to NFTs
🎧 The Future of Web3 Access (Featuring Recur)
Thanks for reading! — Zach @ The First Mint
Not Subscribed to The First Mint Newsletter? Let's change that.
Follow The First Mint on Twitter at @TheFirstMint.
Follow Zach on Twitter at @GhostOfGregOden.
In order to unsubscribe, click here.
If you were forwarded this newsletter and you like it, you can subscribe here.
Created with Revue by Twitter.
Vancouver, British Columbia, Canada