D-Wade Makes Top Shot History ⚡️
The First Mint
Featuring Thompson and Wade Mints, Market Movers, Trade Ticket Stress Test & More

GM, NBA Top Shot Team! Happy Weekend! Hope you had some luck in any of the multitude of queues we saw this week — it was a busy one!
Since this is the last newsletter before Oct. 31… HAPPY HALLOWEEN! Get your costumes out and your sweet tooth ready!
If we were dressing up as a moment from our Top Shot collection, D-Wade would be a popular one this year (You'll see)! Let's get into all the action from the last few days:

Minting Madness 🎰
We had the minting of two hotly anticipated moments on Friday, with both the Klay Thompson Showcase Challenge and the Dwyane Wade Fandom both appearing in the Dapper machine.
The Thompson Top Shot Debut (arguably the only major star yet to have a moment on the platform) had 9,702 completions, and was distributed Friday afternoon to those who completed.
The D-Wade moment started appearing on Top Shot Explorer soon after the Klay distribution, with the edition size finishing as the (as expected) highest minted moment in the history of the platform: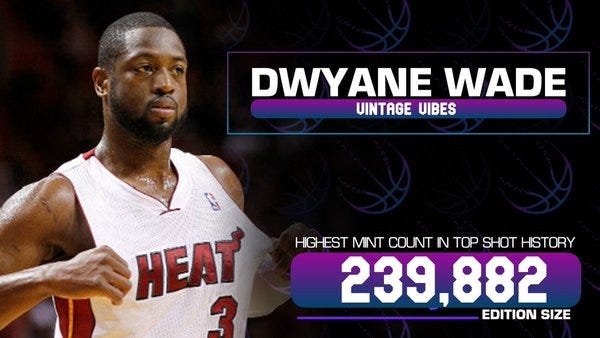 Biggest. Mint. Ever.🤯 https://t.co/a67tld7aX5
Thats… A lot of Dwyane Wades. Trade tickets! Get your trade tickets here! $1 Wades, hot off the press!
Maybe you love Wade and are excited about these — I commend you. Because man, I just can't get excited about it. 240,000!? It's like a penny in your pocket — what do you do with it?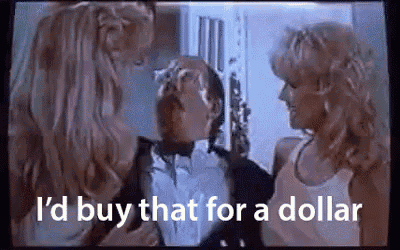 Market Movers 📊
During the Archive Set drop on Thursday, we asked what users thought would be the highest priced TS Debut from the new releases —  and Mario Chalmers was the overwhelming pick. Well, most of you were right! The hidden LeBron James Heat highlight was enough to push Chalmers ahead of the pack: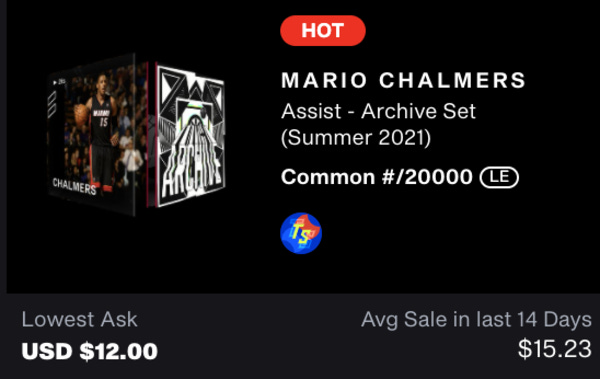 🏦 MARKET MOVERS 🏦

Some numbers on yesterday's TS Debuts:

Player / Low Ask / Total Sales 📊

📛 Chalmers | $12 | 2,733
📛 Walton | $7 | 1,758
📛 Szczerbiak | $6 | 2,009
📛 Finley | $6 | 1,443
📛 Francis | $6 | 1,430
📛 K-Mart | $6 | 1,411
📛 Camby | $6 | 1,405 https://t.co/LpFh374Glf
These numbers were lower than I expected to see for some of these new throwback moments — and this is for 12,000/20,000 edition sizes! What happens in Series 3 when we see 60,000+?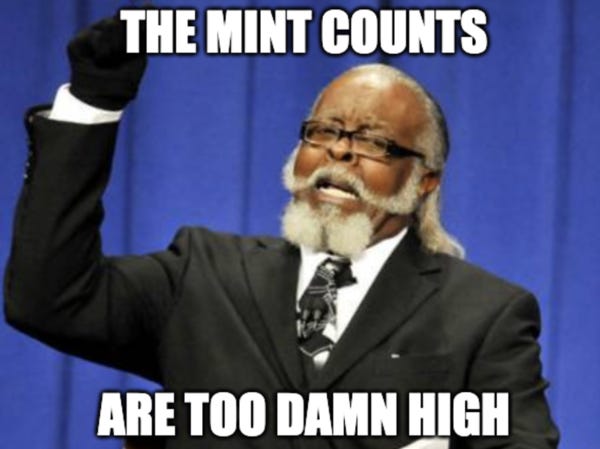 Some more Archive Set data, and some more endless proof that the platform is still ruled by King James: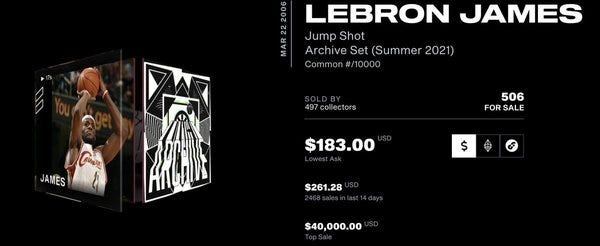 Top Moments from the full Archive Set:

Player / Low Ask / Total Sales 📊

🤑 LeBron | $183 | 728
🤑 Shaq | $98 | 2,471
🤑 KG | $80 | 822
🤑 D-Wade | $68 | 691

Data: @OwnTheMomentNFT https://t.co/DFmr6LZNwb

Third Ticket Test 🎟
Ready for another stress test? We've got the third one coming on Tuesday — with users able to trade in three tickets for a Locker Room pack containing three previously traded-in S2 base moments: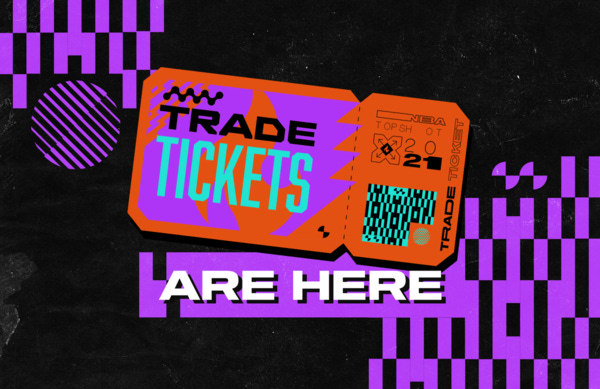 🔐TRADE TICKET: STRESS TEST #3🔐

Details:
🎟️Nov 2 @ 11am PT
🎟️3x Tickets = 3x Moments
🎟️Moments are S2 Base
🎟️Must trade tickets by 9am PT Monday

What's next:
🔹S1 Reserve Packs will be next trade in
🔹300-500x Tickets needed
🔹Date TBD

Blog: https://t.co/HAuqo5I56N https://t.co/fhch5OXRnk
The 300-500 tickets news in the above tweet seemed to ruffle some feathers on the interwebs, though Jacob Eisenberg and the Dapper Team have set expectations from the start that the totals would be very high.
At the moment, that sounds like a LOT of tickets — I consider myself to be a pretty large collector, and only have around 300 moments. So I can't imagine RIGHT NOW who has that much to trade in for a chance at S1 reserve moments. But in S3, when moments are 60,000 mints and $1, and not worth much towards Collector Score? That might make things a bit more interesting.
Around The First Mint 🗣
📹 TFM Live: Pack Cracking Mania
The First Mint Live is back for another wild Thursday night, October 28th 2021. Tonight we're talking DOODLE NFTS, Rob from Disrupt Art, and Apelicious who pulled the #1 Candace Parker in this week's Legendary drop! Plus, LG cracks his MLB Icons pack and TWO archive packs.
🎧 From Top Shot to DAOs (Feat. Kyloren)
🎧 A Big Week in Sports NFTs (Feat. Shane Small) 
🐦 Twitter Spaces: The Series 3 Roadmap
Thanks for reading! — Zach @ The First Mint
Not Subscribed to The First Mint Newsletter? Let's change that.
Follow The First Mint on Twitter at @TheFirstMint.
Follow Zach on Twitter at @GhostOfGregOden.
In order to unsubscribe, click here.
If you were forwarded this newsletter and you like it, you can subscribe here.
Created with Revue by Twitter.
Vancouver, British Columbia, Canada