Do We Need 60,000 Moments? 🛑
The First Mint
Featuring An Ode to Ja Morant, Market Movers, S1 Reserve Packs, Challenge Corner & More

gm, NFT Squad! Happy Tuesday — hope you had an excellent weekend!
My Bulls got Ja'd on Saturday (with a side of Steven Adams), and Morant had about four different plays that would be on the career highlight reel of most other players. The guy is unreal: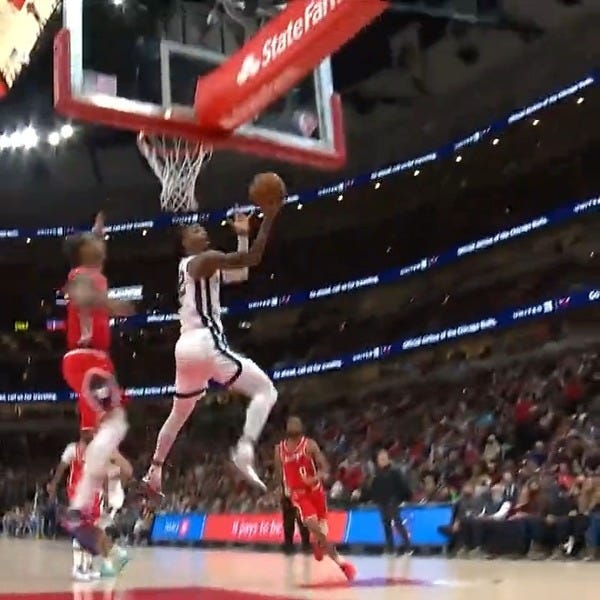 A special night for @JaMorant 🥷

🥷 46 points (franchise record for most points in a regular season game)

🥷 16th straight 20+ point game (franchise record)

🥷 15-28 FG. 3-4 from deep.

#GrzNxtGen https://t.co/wl6liVoz3a
While I am a vocal opponent of the amount of moments NBA Top Shot prints, Ja is one of the few players that makes things real difficult. Too many ridiculous highlights to pick from (Note: He already had several tonight since I started writing this)!
Remember the Bales Article that got many of us into Top Shot in January/February last year? That #1 Cosmic Ja purchase is looking pretty, pretty good right now!
Let's get into all the action from the last few days:

Market Movers 📉
Let's check in on the Top Shot market and OH GOD WE'RE BLEEDING OUT: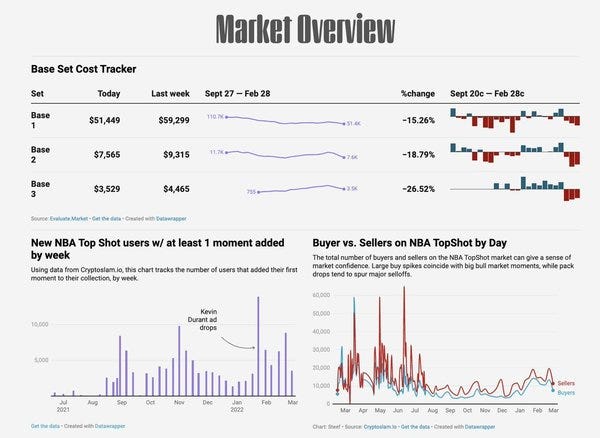 gm. Your weekly NBA Top Shot market update:

😱

🏀 All sets down for 3rd week
🏀 New user count drops sharply after ASG push
🏀 Engagement (buyers/sellers) falls off considerably after several strong weeks

Data via @EvaluateMarket & @cryptoslamio https://t.co/Yf7eMhWlPL
It's frigid on these streets, people. But for those of us who were around this time last February, it's feeling a bit like this:
And while there is more to the marketplace pain then the oversupply issue, presenting things like this really makes you wonder what the thought process is behind some of the mints:
The only reason to have 120,000 Bruce Browns on a platform is if you're able to burn them.

We have 80k active users. Are you telling me that every user can have one and we would still have 40k leftover? The roadmap has to change.
The tweet above is in response to the new mints on Monday, which saw many more S3 60k moments printed, presumably for the next Base Pack drop.
While Top Shot has consistently planned for a future of millions of fans eventually entering the platform, it certainly sometimes feels at the expense of the early adopters/current user base.

Series 1 Reserve Pack Drop 🎟
It was a quiet few days on the platform announcement-wise, with the only news being the Series 1 Reserve pack drop on Monday. We had a major W in our discord, with this nasty pull of a LeBron James Top Shot Debut (plus S1 Zion and AD aren't too shabby, themselves):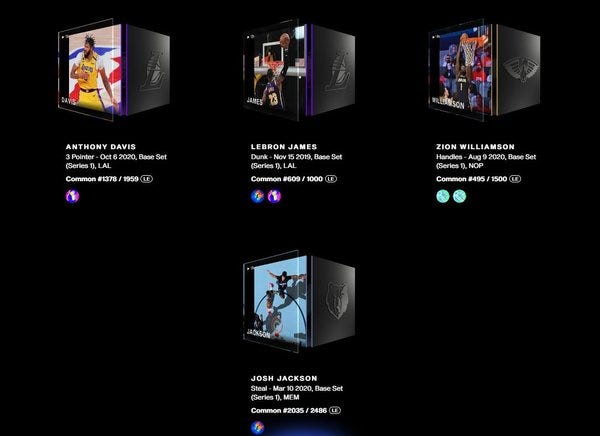 Opened my @nbatopshot Series 1 Reserve Pack. How'd I do? https://t.co/tTm2BG6ppl
With the amount of S3 junk that has piled up from the last few pack drops, I'm honestly debating finally dipping my toes in the S1 ticket waters… We'll see come the next drop!
And for every sick pack, there is one that will actually make you physically ill: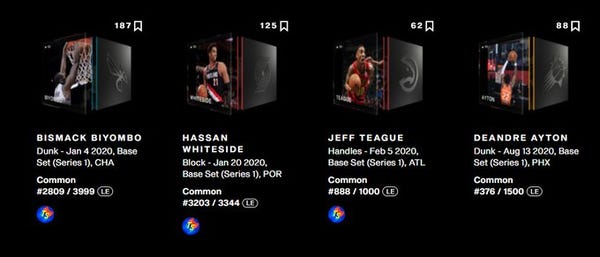 Pumped to get the Series 1 Reserve Pack.
The Pack: https://t.co/TCIyjNyu77

Challenge Corner 🏆
We've got several different challenges expiring today, including last night's Flash Challenge centered around the first players in each game to hit 7 FGs made.
The challenge also included a new 'Cheat Code' element:
"Cheat Code" is a new Flash Challenge format designed to reward members of our community with a deep collection around a specific player, giving them a faster path to earning Metallic Silver Fandom Edition Moments. We'll never use a "Cheat Code" for a pack-specific prize, and the "Cheat Code" player requirements will always match the player-specific Metallic Silver Fandom Edition Moment prize.
All active challenges:
Deadline: Monday, TODAY at 1 PM PST

Reward: Kyle Kuzma MSFE (Hard), Series 2 Base Pack (Easy)
Deadline: TODAY at 10 AM PST

Reward: Shaquille O'Neal All-Star Classics
Deadline: TODAY at 11 AM PST

Reward: LeBron James ASG
Deadline: TODAY at 12 PM PST

Reward: LaMelo Ball Rising Stars

Around The First Mint 🗣
🎧 We Are All Explorers (Feat. Jasmine Maietta)
NFTs are successful because they give us a new way to explore. Creativity, Brand, Metaverses, these are all experiences that will shape the future of how we consume and advertise our digital selves. Jasmine, Founder of round21, brings her extensive marketing experience to the table and talks about the potential for Explorers. 
🎧 There Are Too Many NFTs to Collect
🐦 This Week In NFTs — NBA, NFL, UFC, Cameo
Thanks for reading! — Zach @ The First Mint
Not Subscribed to The First Mint Newsletter? Let's change that.
Follow The First Mint on Twitter at @TheFirstMint.
Follow Zach on Twitter at @GhostOfGregOden.
In order to unsubscribe, click here.
If you were forwarded this newsletter and you like it, you can subscribe here.
Created with Revue by Twitter.
Vancouver, British Columbia, Canada