Flow Fest is HERE 🔥
The First Mint
Featuring Tip-Off Takeover Winners, Flow Fest, Run It Back Queue Odds and More

Good Morning, NBA Top Shot Legends! Hope you had an excellent weekend, and we've got an exciting week with some juicy Run It Back moments coming up and FLOW FEST! Let's get into all the action from the last few days:
It's Spooky SZN, so I'll be throwing some fun Halloween-themed GIFs to get us all in the spirit. Here's a terrifying one, so please shield your eyes if you scare easily:

Flow Fest Day 1 Schedule 🗓
Ready for Day 1 of our Flow Fest Content Series? We've got a jam-packed schedule starting at 9:00 AM PDT, featuring tons of amazing projects and NFT experts eager to share their knowledge with the community.
We're kicking off with Roham and Layne from Dapper.
Then we have the first ever appearance from Tristan Rattink, NBA Top Shot's General Manager!👔
That's followed by Sturdy, Chainmonsters, xtingles, Versus Auction, and MetaGood, the company behind On Chain Monkeys!🐵
To round our the panels, we have plethora of big brains like Kylo Ren (OG Top Shot collector), Josh Ong (cool NFT guy), Ronin The Collector, and Kelly DiGregorio (VP of Partnerships at Dapper Labs)🔥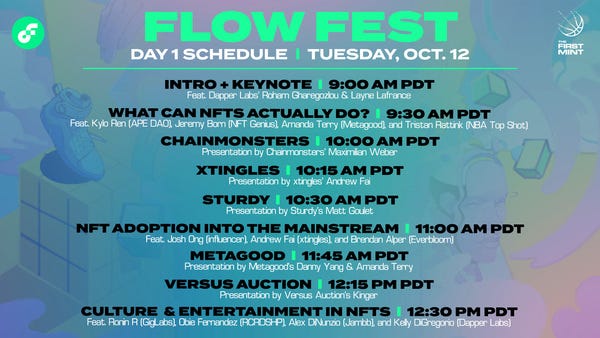 View the full schedule, streams, festival guide and more here.

Together With Evaluate.Market
Maintaining an NBA Top Shot portfolio and researching new NFTs can be a challenging task. Evaluate.Market makes it easy to monitor your account value, discover market trends, and analyze NFT collections including NBA Top Shot, Bored Ape Yacht Club, Cool Cats, and more. Try it for yourself at Evaluate.Market!

Winner Winner, Tip-Off Dinner 🍽
Excited for the start of the 2021-22 NBA season? Who isn't! But opening day just got a lot more exciting for several Top Shot community members.
The lucky winners of Top Shot's 'Tip Off Takeover' were selected on Monday, and shared via the Top Shot Blog. Check if your name is among those heading to Milwaukee below: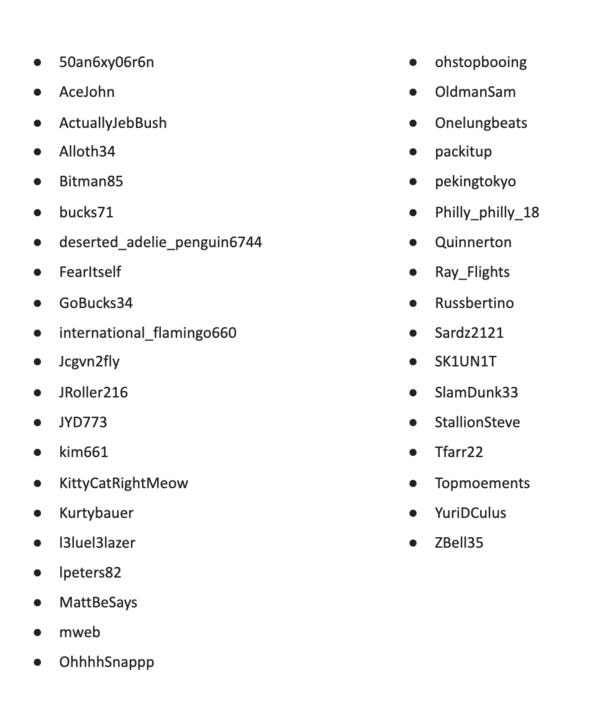 Side note — Dapper is revolutionizing the world with high-tech blockchain products, and yet we're still getting front-facing lists via Google Doc? Let me just edit that bad boy real quick and…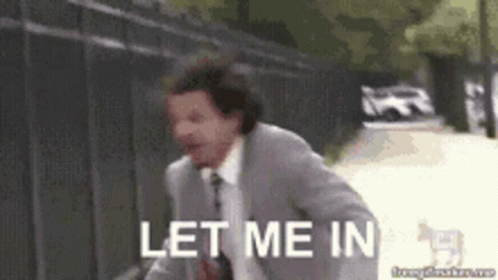 Wondering what the lucky few collectors will be experiencing, while us peasants are living vicariously through them via social media?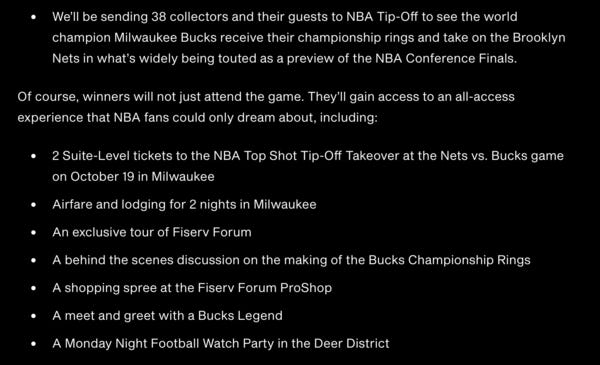 Sounds dumb! Psh, I didn't even want to go anyway!
Also me, waiting outside the Fiserv Forum on Opening Night:

Run It Back Rumblings 🍀
Arguably the most anticipated drop of the year is just days away, and your best chance at scoring a pack is through the Priority Queues via Collector Score.
Wondering how many collectors are eligible for each leg of the drop? A great breakdown, via @LiveTokenCo:
1/ Here's the current breakdown for the #NBATopShot RIB drop coming Thurs:

🏀 100+ = 370K ✅ GQ
🏀 2000+ = 43.8K
🏀 2500+ = 37.0K ✅ PQ2
🏀 9000+ = 9.4K
🏀 10000+ = 8.2K ✅ PQ1

This includes Drop Bonuses.

Join https://t.co/MTutkHhxZH for more info.
So, are the odds in your favor? If you're waltzing into either of the Priority Queues, you're probably feeling pretty good. General Queue? Not so much:
2/ Based on 22.5K packs being available in GQ, 16K packs in PQ2 and 6K packs in PQ1, here are the current odds:

🍀 PQ1: 88%
🍀 PQ2: 55%
🍀 GQ: 6.5%

This assumes all eligible show up, and takes into account that PQ collectors get multiple chances.

https://t.co/PBCwGxijVM

Around The First Mint 🗣
It's gonna be HISTORICAL week on NBA Top Shot and on the Flow Blockchain. We got the most anticipated drop ever, RUN IT BACK, right in the middle of FLOW FEST (which The First Mint is partnered on). This episode dives into what the future of RIB could look like (i.e. Legendary Set?), and then into how FLOW FEST will work.
📹Live Show: Tools of Rock, Christian Petracca
Did you know that Flow Fest was coming? Now you do! We're back in action on Thursday, October 7th for another episode of TFM Live. We're joined by JJ Lane from Tools of Rock for some updates on their project + a brand new tool is being released by Livetoken! Talking FLOW Fest!
🎧The Fate of Top Shot Experiences
Thanks for reading! — Zach @ The First Mint
Not Subscribed to The First Mint Newsletter? Let's change that.
Follow The First Mint on Twitter at @TheFirstMint.
Follow Zach on Twitter at @GhostOfGregOden.
In order to unsubscribe, click here.
If you were forwarded this newsletter and you like it, you can subscribe here.
Created with Revue by Twitter.
Vancouver, British Columbia, Canada