Google x Dapper Labs 🤝
The First Mint
Featuring Google Partnership, New TFM Pod, TFM Live and More

Good Morning, NBA Top Shot Squad — Happy Thursday! Not too much going on so far in Top Shot right now, but let's get into all the action from the last few days:


Together With Evaluate.Market
Maintaining an NBA Top Shot portfolio and researching new NFTs can be a challenging task. Evaluate.Market makes it easy to monitor your account value, discover market trends, and analyze NFT collections including NBA Top Shot, Bored Ape Yacht Club, Cool Cats, and more. Try it for yourself at Evaluate.Market!

Google x Dapper Labs 🤝
For all of our focus on Top Shot, it's sometimes easy to forget that Dapper Labs has grandiose plans for the entire Web3 space, not just our NBA digital collectibles.
A great reminder of that? A partnership with Google to help scale the FLOW blockchain. Yes, that Google.
Via Yahoo! Finance:
Google Partners With Dapper Labs to Power Flow Blockchain
Two respective industry giants, Google and Dapper Labs, came together in an effort for enhanced blockchain support as Web 3.0 approaches.
As resident Crypto/NFT guru @andy0852 noted on Tuesday's Club Top Shot, Google has many partnerships, and not all of them are earth-shattering in the grand scheme of things. However, it's certainly a positive, however you slice it. And Roham certainly seems excited about it:
Amped to welcome Google to @flow_blockchain 🌊

In <1 year since #onFlow mainnet:

- 2.2M unique wallets, less than half from @nbatopshot
- 248 mainnet contracts (cf @flowverse_)
- 18.5M blocks and 49.7M tx

Now with 3000+ new devs building, Google jumps onboard to help scale 💪 https://t.co/0QmEdvogXh
The real question on all of our minds — wen $FLOW in the US? Or better yet, wen $FLOW airdrop to NBA Top Shot collectors?

New TFM Pod w/ Jon Jackson 🎧
Did you catch the latest episode of The First Mint Podcast? LG had data guru, fantasy football fanatic and Top Shot collector Jon Jackson (@jonboybeats on Twitter) on to talk about the future of the marketplace. Give it a listen, if you haven't already!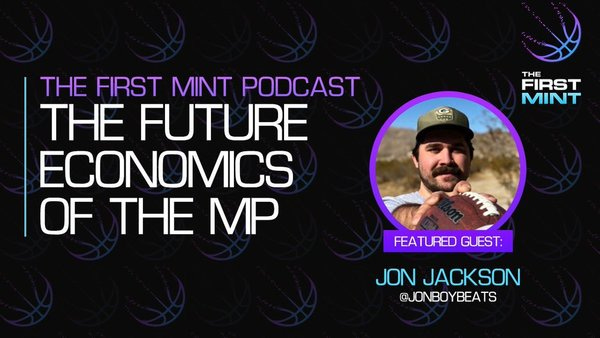 Episode 97 of @TheFirstMint🎙️

🔮The Future Economics of The Marketplace🔮

We got @jonboybeats on for a juicy one:

📈What Series 3 does to prices
🏪What the MP looks like at Series 10
🧠His collecting strategy

Apple▶️ https://t.co/AcCbcn4NAn
Spotify▶️ https://t.co/mRofRamnBk https://t.co/372AcZAlt5

A TFM Live Surprise 🎁
We've got a special episode of The First Mint Live Show tomorrow… But you'll have to tune in at 8 PM EST/ 5 PM PST for the surprise. See you then! Hopefully some of our TFM Day Ones can keep a secret!

Around The First Mint 🗣️
🎧The Future of the Marketplace (Feat. Jon Jackson)
What happens to the NBA TopShot marketplace once Series 3 hits? Once there are MORE base, metallics, throwdowns, and HOLOS? We're joined by analytics guru Jon Jackson (@jonboybeats) to preview what the economics of Top Shot will look next year and 10 more years down the line.
Thanks for reading! — Zach @ The First Mint
Not Subscribed to The First Mint Newsletter? Let's change that.
Follow The First Mint on Twitter at @TheFirstMint.
Follow Zach on Twitter at @GhostOfGregOden.
In order to unsubscribe, click here.
If you were forwarded this newsletter and you like it, you can subscribe here.
Created with Revue by Twitter.
Vancouver, British Columbia, Canada