Got Ticket? Series 1 Moment Plan — Revealed 🎟
The First Mint
Featuring Trade Tickets, Minting Mayhem, Alley Cats & More

Good Morning, NBA Top Shot squad! Happy Weekend! Hope you had some nice luck with your pre-register packs (more on these below), and have some moments ready to turn into tickets! Wait, what? You'll see.
We've had a flood of exciting action over the last few days, so let's get right into it!
New to Top Shot? Check out our Top Shot 101 section!
Score a pack? Send us a video of your pack opening and we might feature it on The First Mint!
Quick Hits 👊
🔹 We got some juicy details during Friday's Office Hours regarding future packs, upcoming plans, Cool Cats, and more. Check out the full thread below for all the information:
🗒️ @nbatopshot Office Hours w/ @Eisenberg43 & @mh10_k LIVE THREAD 🗒️

Pre-Reg. Packs 📦
🔹 Around 300K users registered
🔹 Could happen on weekly basis (as soon as next week!)
🔹 Gives new collectors opportunity
🔹 Synced w/ compliance on stopping bots/multi-accounts

cont'd🔻
🔹 Speaking of pre-registration packs… Community Lead Jacob Eisenberg hinted at these being a regular occurrence going forward, with another one happening as soon as next week! Queue haters, rejoice!
🔹 The next leg of the Cool Cats Master Challenge began on Thursday, with Zach Lavine as the reward. The theme was 'alley cats', with each of the common moments required featuring an alley-oop. Full details on what's needed here.
Minting Mayhem ⚡️
We had plenty of new moments minted over the past few days — including the next Common Set, titled 'Hustle & Show'. These will feature some of the flashiest and grittiest plays from the 2020-21 season, and are expected to drop in the next few weeks. Check out this thread for more details.
Prior to the release of the Cool Cats 6 Challenge on Thursday, community speculation went wild with a 'former dunk champions' theory. Which… Didn't turn out great. Check out the chart Derrick Jones Jr., one of the main moments involved in the hype. Via FlowMarketCap: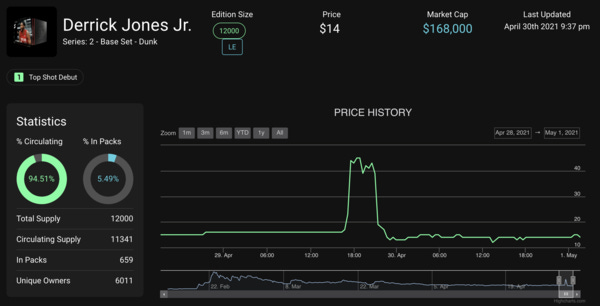 That is QUITE the pump. However, the theme tying the common moments needed ended up being 'Alley Cats', leading to a massive dump off of those speculated moments. Be careful out there in the speculation streets!
Also minted — several new common moments. Is the community ready for the first Goga Bitadze moment?!?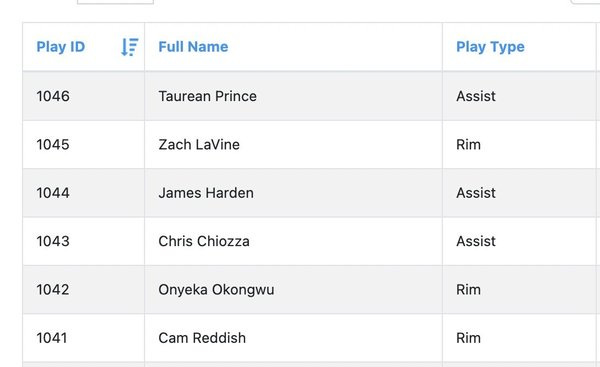 🚨New plays being minted (again!)🚨

🏀Cam Reddish
🏀Onyeka Okongwu
🏀Chris Chiozza
🏀James Harden
🏀Zach Lavine
🏀Taurean Prince
🏀Trey Burke

Looks like it will be 1-2x per team.
No info on the Set or Mint Total.

Standby for more details!
@nbatopshot https://t.co/3pGs9SIGgv
Season 1 Moment Plan — REVEALED 🎟
The much anticipated plan regarding the surplus of Series 1 moments dropped late Friday afternoon, and it could fundamentally change the Top Shot ecosystem. Full details, via the NBA Top Shot blog: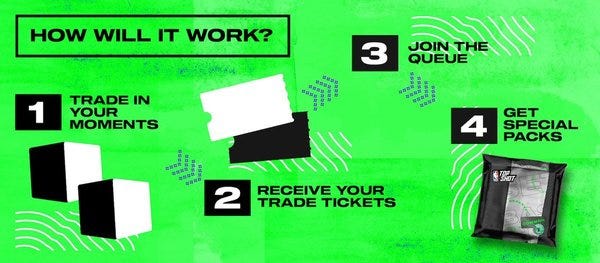 We're excited to preview a new feature to further provide utility for all of your Moments. This feature will be added to the Top Shot ecosystem in the next few months that'll make collecting even more compelling and dynamic long term.

More details: https://t.co/yrQFCtvdqk https://t.co/cfQHcd09I7
Wait, what's a trade ticket? Each moment on the platform will be assigned a value of one trade ticket. Have a bunch of junky moments you don't care about? Turning them in for tickets could make you eligible for a queue — with a pack of Series 1 moments as the reward.
That is a simple explanation, but it's a bit more nuanced — check out the blog above for the full details. While many have hoped that the 'burning' of moments would eventually be a feature, this is a somewhat similar move that provides some extra utility to the least desirable moments on the platform.
We have no word yet on how many trade tickets will be needed to be eligible for the queue, only that it would 'not be a small number' (via Dapper Labs' @AlanFalcon in Discord). The implementation is also 'months' away, and that the release of Series 1 moments would happen over an 18-month timetable.
Have questions? So did we. Check out this thread with some more information on the trade tickets, and the latest podcast that gathered some of the most pressing questions we had on the new system.
Want more information on the Series 1 moments? We've got you.
Around The First Mint 🗣
🎧 NEW Podcast — How Much For A Trade Ticket?
The news we've all been waiting for has arrived: Outstanding Series 1 Moments will be available in packs that are accessible with Trade Tickets that you trade your Moments for. We have The First Mint friends Snipes, Quadzilla, and OG Collector Arsonic on for a rapid fire reaction to today's news, during which we discover important questions like: Will we be able to buy, sell, and trade the Trade Tickets?
🎧 He Sold A $35,000 Video You Can Find On The Internet (FEAT NONFUNGERBILS)
📝 What's Up With the @NBATopShot Account on Top Shot?
📝 LaMelo Ball Master Challenge 101
Thanks for reading! — Zach @ The First Mint
Not Subscribed to The First Mint Newsletter? Let's change that.
Follow The First Mint on Twitter at @TheFirstMint.
Follow Zach on Twitter at @GhostOfGregOden.
In order to unsubscribe, click here.
If you were forwarded this newsletter and you like it, you can subscribe here.
Created with Revue by Twitter.
Vancouver, British Columbia, Canada