Moment Auctions Are Here 🤯
The First Mint
Featuring LiveToken Auctions, First Mint Fest Hype, NYC Recap and More

Good Morning, NBA Top Shot Summer Stars! Happy weekend, and happy (maybe?) start of Series 2 Summer! Let's get into all the action from the last few days: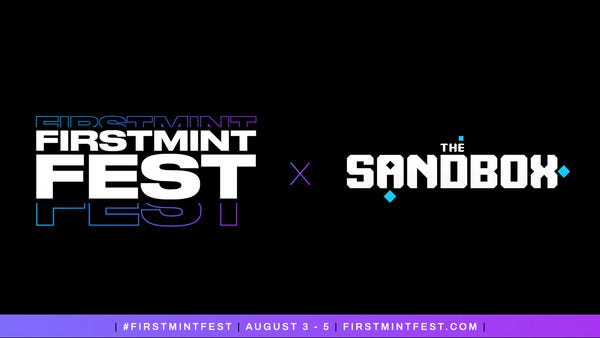 First Mint Fest Featured Sponsor: The Sandbox
Ready to dive into the metaverse?
The Sandbox is a virtual world where players can build, own, and monetize their gaming experiences in the Ethereum blockchain using SAND, the platform's utility token.

First Mint Fest Schedule Release 🚨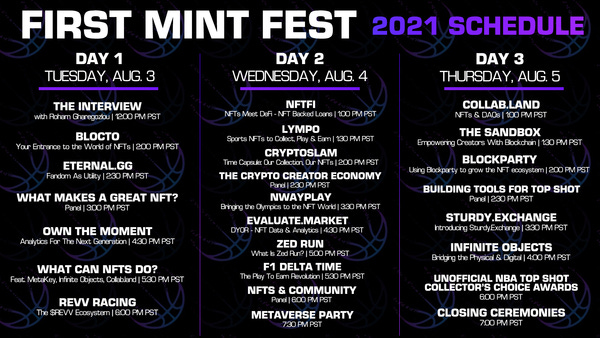 First Mint Fest is just days away, and we've got an outstanding lineup of projects and experts ready to take you on a deep-dive through the NFT world.
Check out the full schedule above, and hop over to our festival website for a full look at the list of speakers, projects, ambassadors and more. And if you haven't already (what are you waiting for?!), RSVP below. See you Tuesday!



Together With Evaluate.Market
Ready to take your collection to the next level? The Evaluate platform features tools for Challenge Tracking, Account Valuation, and the ability to shape Top Shot Sales Data as you please.

Quick Hits 👊
🔹 Going once, going twice, sold! The ability to auction moments directly on the Top Shot platform has been something users have clamored for all year — and LiveToken has introduced a new feature matching buyers with sellers in a bidding format.
Check out the thread below for full details:
LiveToken Auctions, launching now, is a community service from LiveToken that matches sellers with buyers in a "highest bid wins" auction format.
I've said it before, but one of the most amazing things about NBA Top Shot is the constant innovation by the community and third-parties tools.
The structure of the current marketplace (painful listing/de-listing process, system dominated by 'low-asks') has a direct effect on the perceived value of moments. Having a way to stimulate bids helps alleviate the race to the bottom. From LiveToken's FAQ on the auction feature:
We believe that auctions are the most efficient way to set prices for collectibles. In fact, many sellers on the Top Shot Marketplace painstakingly list, delist, list, delist ad nauseum to simulate an auction to garner the best price. In contrast, other sellers desire a sure, quick sale and undercut all other prices, thereby driving down the market. Auctions can help address both those problems. The downsides to buying in an auction system is that bidding comes with the uncertainty of winning, and makes it harder to get instant gratification, especially for long-running auctions. That's part of the reason we offer Flash Auctions that end quickly yet use the auction format to garner best prices.
Extremely excited to see the results of this new feature — and hopefully we see Top Shot directly integrate it into the platform sooner rather than later.
🔹 The NBA Draft has come and gone — and Top Shot gave us an in-depth look at their NYC Experience. And for basketball fans, it doesn't get much cooler: dinner with some of the top players in the draft, playing knockout with Obi Toppin, a VIP/front-row seat at an awesome event, and plenty more. Full thread of the behind-the-scenes footage below: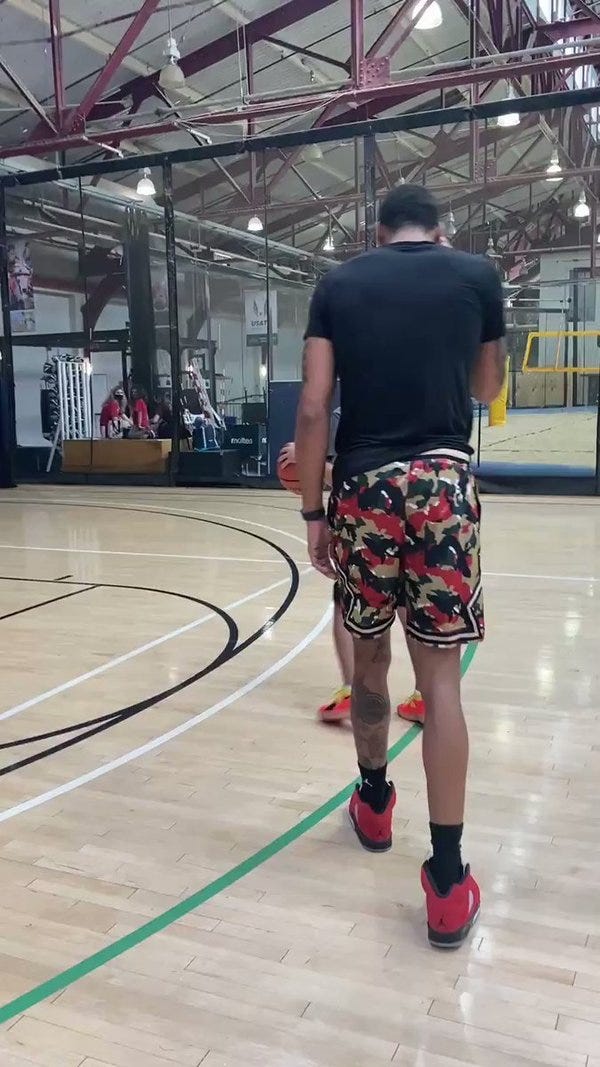 So, @shinto272005 won knockout…and got to toss an alley-oop up to @obitoppin1 🔥 https://t.co/AMskfVXIN8
How I imagine most of the basketball-themed activities looked with a bunch of random fans:
🔹 Did you get lucky with the Quavo Quest? The timer on the promotional tie-in expired yesterday, with winners notified later in the afternoon. While most of us got hit with the dreaded 'loser' email, others just have that special luck: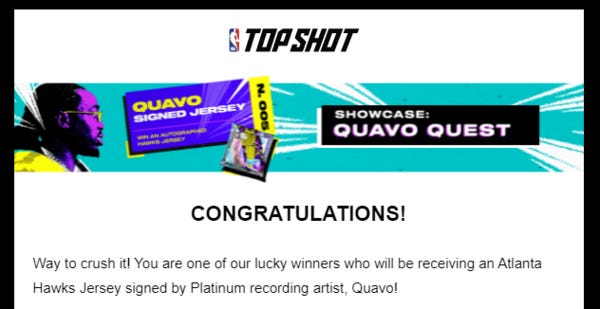 lets go! Legendary Pack and a @QuavoStuntin
jersey in the same week?!? i need to buy a lotto ticket🔥

been on the Migos wave since Versace, this is forsure appreciated🙏 https://t.co/I6NYTsrXQ7
🔹 Miss 'Office Hours' on Friday? Community Lead Jacob Eisenberg recapped a busy week in the Top Shot world, answering questions on many pressing questions from collectors. Our full live-thread:
July 30 Office Hours Live Thread With @Eisenberg43 and @rudem00se 💼

On @cryptoslamio numbers 📉
🔹 Smart contract update led to inaccurate sales data on site

On User Concerns 😨
🔹 Believe the way to stabilize market is to provide great collector experience

🔻 Cont'd

Around The First Mint 🗣
🎉 First Mint Fest — Register Now
🏆 The Unofficial Top Shot Collector's Choice Awards
☕️ Club Cold Brew — Legendary Drop, Playoff Common Drop
There is no live show this week; rather, there are 3+ hours of Club Cold Brew, recorded over FOUR different sessions on July 29-30. These feature George Wrighster, Corporate Trash, Arsonic, The Worm, Lorax1984, and various members from around the community.
🎧A Brief History of NFT Drops (Feat. Ronin The Collector)
🎧 What Happens In August? (Feat. PlungeFather)
📰 Miss an earlier edition of The First Mint Newsletter? Check out the archive here.
Thanks for reading! — Zach @ The First Mint
Not Subscribed to The First Mint Newsletter? Let's change that.
Follow The First Mint on Twitter at @TheFirstMint.
Follow Zach on Twitter at @GhostOfGregOden.
In order to unsubscribe, click here.
If you were forwarded this newsletter and you like it, you can subscribe here.
Created with Revue by Twitter.
Vancouver, British Columbia, Canada