Morey Buying Simmons Stock? 👀
The First Mint
Featuring Upcoming Content, A Morey Purchase, New Challenges, Market Movers and More

Good Morning, NBA Top Shot party people! Hope your holiday hangover isn't too rough, and that you had an excellent weekend! Let's get into all the action from the past few days!
New to Top Shot? Check out our Top Shot 101 page for all the info needed to get your collection started!


Together with Evaluate.Market
Ready to take your collection to the next level? The Evaluate platform features tools for Challenge Tracking, Account Valuation, and the ability to shape Top Shot Sales Data as you please.

Quick Hits 👊
🔹It's been pretty quiet on the Top Shot front lately… But with the NBA Finals starting today, we'll likely see some new content in the near future. A thread on what could be coming up this week: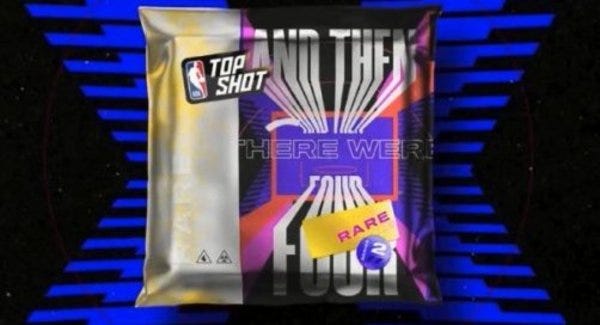 This Week on @NBATopShot

*POTENTIAL* Drops
⚔️2021 Playoffs Release 3
💎Conference Finals RARE

Challenge Rewards
🛡️Gobert
🛡️Leonard
🧊Embiid

New Challenges
🛡️Playoffs R2 #7-8 (Embiid + Collins)

🔻Conference Finals Theories🔻 https://t.co/WrC5o8oDlB
🔹Speaking of quiet… Did Top Shot get boring? That's the question LG asks on the latest TFM podcast — with some different perspectives on what might be plaguing the platform right now.
Ep. 70 of @TheFirstMint🎙️

Did Top Shot Get Boring?🥱

Strange question to ask for a pod that's all about it. Listen for:

📌Small Market NBA Finals
🐌Low Market Volume
🗺️Too Much Roadmap?
🔮Optimism for 2021-22

Apple➡️ https://t.co/rFCknV0phn
Spotify⬇️ https://t.co/mRofRaDYZU
Some of LG's comments fostered some dialogue in the community, with some disagreement over the sentiment around this year's Finals matchup.
Whatsssupppp everybody!

I love The First Mint podcast but I disagree with LG's take that this year's NBA Finals matchup lacks real storylines and narrative.

Giannis or CP3 winning their first title is more significant than another LBJ title.

https://t.co/4xTckTWOHm
As a pretty hardcore NBA fan, I definitely agree with the above take regarding storylines — but the problem is, how much of the current userbase falls into the 'hardcore NBA fan' category?
Collectors with limited NBA knowledge might not be aware of the nuanced narratives — but they definitely know who players like LeBron James and Kevin Durant are.
Personally, I think hardcore fans are overestimating the NBA fandom of the average Top Shot consumer right now — and for many of those less-rabid fans, this version of Chris Paul might be more memorable: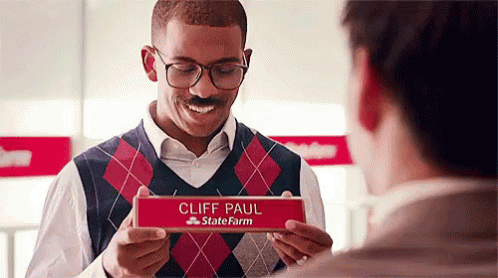 🔹Well, we know there's at least one Ben Simmons fan out there right now…. Check out the buyer on this #18 Holo sale yesterday:
Holo Icon Ben Simmons purchased by TS:daryl_morey from TS:scorbles for $4,444 USD

Player: Ben Simmons
Set: Holo Icon
Category: Dunk
Serial #: 18
Price USD: $4,444

#NBA #NBATopShot $FLOW #basketball #NFT
Honestly, given all the Simmons slander over the last few weeks, it's pretty interesting to see Philadelphia 76ers President of Basketball Operations (and TFM Podcast guest) Daryl Morey making this purchase. Is he doubling down on his star? Or grabbing stock before he changes jerseys?
🔹In other Ben Simmons news… Users who pulled him as their playoff moment, your time has come! Playoff Challenges 7 & 8 were released yesterday, with John Collins and Joel Embiid as the available rewards.
The two rewards are any interesting pairing, considering the Collins moment is him dunking Embiid into oblivion (later memorialized on his petty/amazing postgame press conference outfit):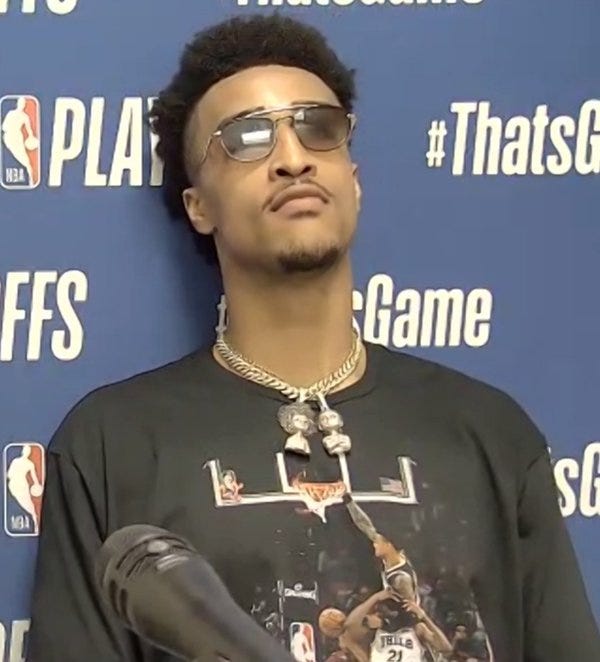 Legendary. https://t.co/wByshvZ6Fb

Market Movers 📊
Your post-holiday market update, via @SteefCrypto: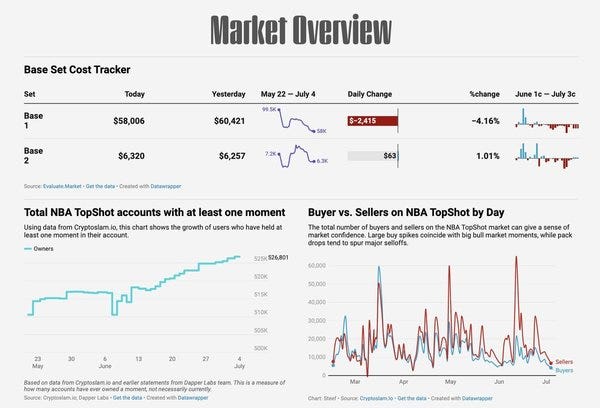 Your daily #NBATopShot market report:

🏀 +1,250 users w/ moment over weekend
🏀 Volume lowest since early June
🏀 S1 continues to fall in price while s2 holding steady https://t.co/AJ8OfYC3Sd
And here is a snapshot of the market over the last month (this is the playoffs!?!), via Evaluate.Market: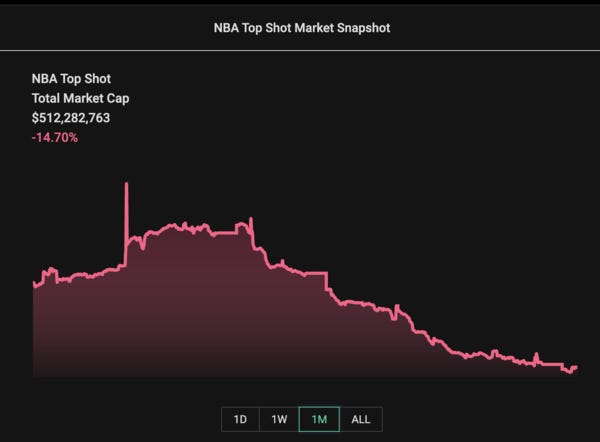 It's sad to see the low volume and negative sentiment around the community during the most exciting time in the NBA season. It's the Finals! This is supposed to be the pantheon, the top of the mountain that we've built to all year!
This question by our Club Top Shot friend Jack Settleman is certainly a valid one:
The fact that @nbatopshot doesn't have an announced presence at the NBA Finals…

Why not?! https://t.co/1XFhKrRZ6e
After hyping up playoff marketing for much of the late-regular season, the lack of a visible presence in these playoffs has been concerning. Are we officially packing things in for next season? Because it's starting to feel that way.
A live look at me waiting for the Top Shot market to rebound: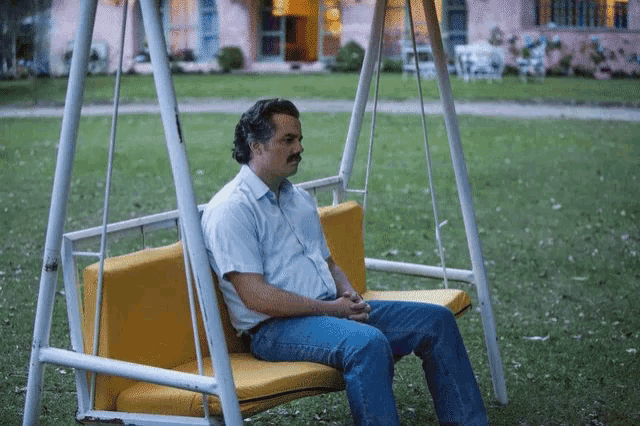 Around The First Mint 🗣
 The NBA Finals start tomorrow, yet Top Shot feels pretty underwhelming. Why? And is that a good or bad sign of things to come? LG continues his conversation from last week around the current market slump and the general lack of hype in the Top Shot space. We also take a look at some major hints of NBA integrations to come in the very near future.
🎧 A Star Is Born (Feat. Pete Overzet)
📰 Miss an earlier edition of The First Mint Newsletter? Check out the archive here.
Thanks for reading! — Zach @ The First Mint
Not Subscribed to The First Mint Newsletter? Let's change that.
Follow The First Mint on Twitter at @TheFirstMint.
Follow Zach on Twitter at @GhostOfGregOden.
In order to unsubscribe, click here.
If you were forwarded this newsletter and you like it, you can subscribe here.
Created with Revue by Twitter.
Vancouver, British Columbia, Canada