New Metallic Gold Moments Coming Soon 🏅
The First Mint
Featuring New MGLEs, Top Shot Marketing, LaMelo Hype & More

Good morning, NBA Top Shot community! Happy Tuesday — hope you had an excellent weekend! Let's get into all the action from the last few days ⬇️
Coming Soon — The First Mint Mailbag 📫
Have a question you want to ask the team? Shoot an email to mailbag@thefirstmint.com and we'll answer the best of the bunch in a recurring Mailbag feature! 📫
Quick Hits 👊
🔹 New moments were minted on Monday night! The 30 are part of the MGLE set, which means we could see a rare pack drop coming in the near future. Check the thread below for full details ⬇️
These will be 🪙Metallic Gold🪙 Moments.

🔹30x new Moments
🔹499 LE each (likely)
🔹Rare Type
🔹Potentially coming out in Premium Packs

Will bring the total Series 2 MGLE to x107 Moments. For reference, there were 181 in Series 1.

No timeline! @nbatopshot https://t.co/kwQnstNhTI
Full List of players with New Moments
@nbatopshot

No Set confirmed yet.

♦️Clint Capela
♦️Joe Harris
♦️Jaylen Brown
♦️Gordon Hayward
♦️Coby White
♦️Isaac Okoro
♦️Jalen Brunson
♦️Facundo Campazzo
♦️Josh Jackson
♦️James Wiseman
♦️Eric Gordon
♦️Malcolm Brogdon
♦️Patrick Beverley
🔹 Some fun developments over this weekend, including Top Shot featured on the NBA tickets page! Is the Dapper/NBA marketing machine revving its engines?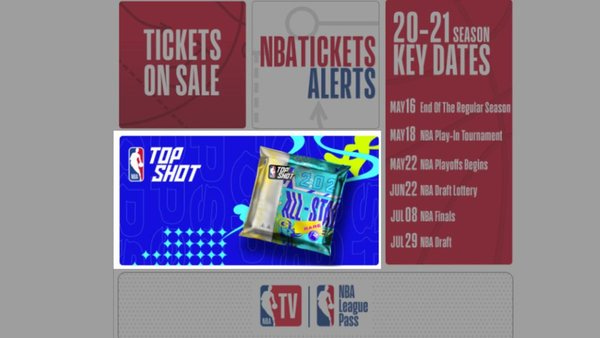 Think @nbatopshot is getting 😴? Lots going on the last 4 days:

◾️ Trickle of new users 👋
◾️ Top Shot on NBA tickets page 🎟
◾️ Dapper valued at $7.5B (new funding round) 💰
◾️ Record off-market $387k sale🥇
◾️ 49k more users got withdrawal access (106k total) 💵

What's next? https://t.co/XbRISBpO3F
Market Movers 📊
Wondering how the Cool Cats 4 drop impacted the market over the past week? Check out this thread, with charts from _GregMurray: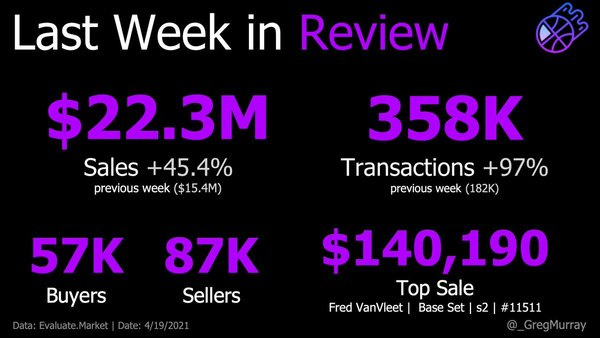 📋Marketplace Report📋

Last week on @nbatopshot a total 94,923 Packs📦 hit the Marketplace. This resulted in:

🔹45% Increase in Sales Volume
🔹97% Increase in Transactions
🔹1:1.66 Buyer/Seller Ratio

Continued🔻 https://t.co/JrFzNIFUK1
In other news… A #ShamsBomb sent some ripples across the Top Shot market:
Hornets say LaMelo Ball's fractured right wrist has healed and he has been cleared to return to individual basketball activity.
After what looked like a season-ending injury (and an end to Ball's potential Rookie of the Year campaign), his early return puts him right back into the conversation for the award. With many speculating that Rookie of the Year badges will eventually come to the platform, the news led to a surge of transactions on his three moments.
LaMelo Ball bag holders re-entering the chat:
P.S. — Don't forget who the Cool Cats Master Challenge reward is… 👀
Full details on the LaMelo Master Challenge here. 
Around The First Mint 🗣
🎧 The First Mint Podcast — Can Trading Cards Survive the NFT Hype? (FEAT. DJ SKEE)
📝 LG Doucet  — What are Ultimate Moments on Top Shot?
🎧 The First Mint Podcast — What's Next For NFTs? (FEAT J1MMY)
Thanks for reading! — Zach @ The First Mint
Not Subscribed to The First Mint Newsletter? Let's change that.
Follow The First Mint on Twitter at @TheFirstMint.
Follow Zach on Twitter at @GhostOfGregOden.
In order to unsubscribe, click here.
If you were forwarded this newsletter and you like it, you can subscribe here.
Created with Revue by Twitter.
Vancouver, British Columbia, Canada