Opening The Series 1 Reserve ⛏
The First Mint
Featuring An Upcoming Drop, Series 1 Reserve Packs, Curry + Rumble Kongz and More

GM, NBA Top Shot Friends — happy Saturday! It's the weekend! We had a busy Friday, and should have some more news out of Roham's morning chat TODAY (we'll be live tweeting it @TheFirstMint) — let's get into all the action from the last few days:
Top Shot dropping news on a Saturday when I'm trying to enjoy my weekend:

Opening the Series 1 Reserve 🚨
We got some major news on Friday afternoon, with Top Shot announcing that the hotly anticipated Series 1 Reserve packs would be rolled out on Nov. 30: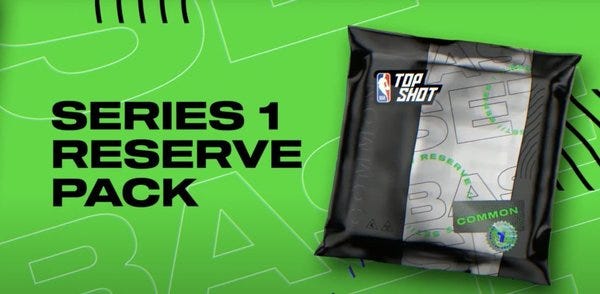 📜 Series 1 Reserve Pack Details 📜

Packs will contain:
🔹1x S1 Moment minted to 1,000
🔹3x S1 Moments minted 1,240 - 3,999

🎟 Cost: 350 Trade Tickets
📦 # Of Packs: 500
⏰ Nov. 30 @ 11 AM PST

Total supply of S1 Reserve Packs (10,425) to be released over next 18 months 🗓 https://t.co/zQMpktSvF9
The 350 tickets looks steep at a glance, but falls in line with the expectations the Top Shot team had set over the past few months. We're about to get an interesting look at how the Trade Ticket ecosystem will affect the Marketplace, with S1 packs likely drumming up much more demand than the previous S2 tests.
Wondering if these packs will be worth the 350 Trade Ticket price? Some good data from @JonBoyBeats: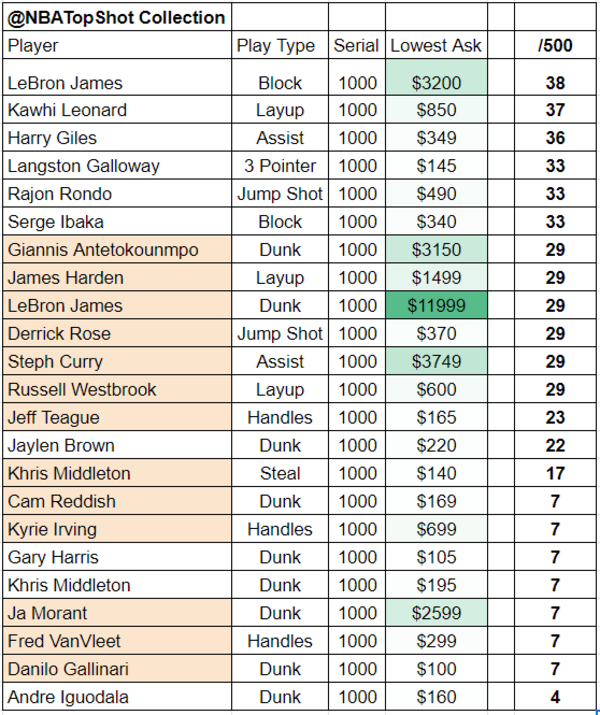 If all things are equal, here is what the distribution of the /1000 moments could be for the 1st S1 packs

Not confirmed, assumes all remaining moments have an equal shot

It's Friday, I'm not doing a thread...
Here's my advice (it's supported by numbers):

$2 TT👍
$3 or $4 TT👎 https://t.co/jvEl0Q055E

A Scottie Barnes Debut 🍼
Speaking of Trade Tickets…
Top Shot released the information for the next upcoming Series 3 base packs, which will be headlined by arguably the hottest rookie in the class, Toronto Raptors forward Scottie Barnes: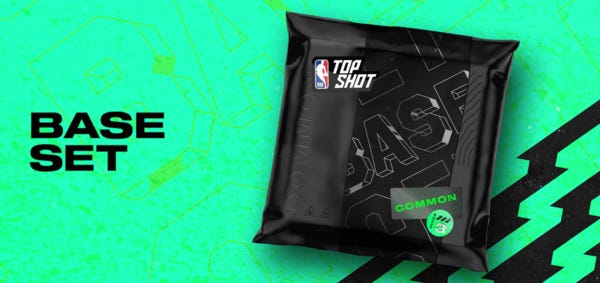 📦 @nbatopshot S3 R3 BASE DROP 📦

🗓 Tuesday, Nov. 23 @ 11 AM PST
📦 Packs: 240,000 (5x Limit / Transaction)
💵 $9/ Pack

Featuring the Rookie Debut of:
🍼 Scottie Barnes 🍼

And S3 Moments For:
⭐️ Ja Morant
⭐️ Bam Adabayo
⭐️ Trae Young
⭐️ Damian Lillard
⭐️ Draymond Green https://t.co/iOWDFr5IXM
While the community has been clamoring for a Barnes moment, these packs should also be desirable on the heels of the Series 1 Reserve Pack news above.
These packs are a cost-effective way of racking up trade tickets, with the off-chance at hitting a nice serial, rookie or TS Debut — and will be even more in-demand with collectors now in accumulation mode for their 350 tickets.

Wen Moment Utility 🛠
'Wen Moment Utility' has been a constant concern for the community — and Top Shot took two steps in the right direction this week on the providing additional value for collectors.
We saw the first Flash Showcase Challenge of the series on Thursday night, which rewarded users with a guaranteed S2 base pack. After seemingly very positive feedback from the community, Top Shot ran it back on Friday with another Flash Showcase (deadline is TODAY):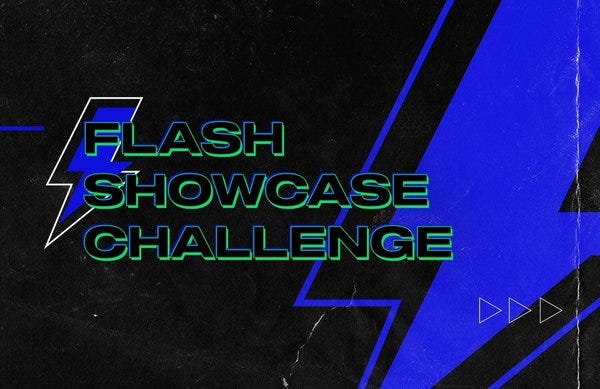 ⚡️ FRIDAY FLASH CHALLENGE ⚡️

🏅 Reward: GUARANTEED Series 2 Base Pack

What's Needed:
🤝 Moments from the 6 players w/ the most ASSISTS in tonight's @NBA games

⚠️ Challenge Builder will go live shortly after all games conclude
⏰ Deadline: Saturday, November 20 @ 1 PM PST https://t.co/wutZQYqyZx
Additionally, MomentRanks Play announced Thursday that their daily prize pools will now be in Dapper Balance, instead of the previous packs or moments.
Both are great ways to provide users a free way to utilize their moments — and just the tip of the iceberg on where things could head in the future.
One thought — the flash challenges would be fun if you had to submit your guesses BEFORE the action — creating more competition and less winners for a higher prize. But, baby steps!

A Rumbling Press Conference 👀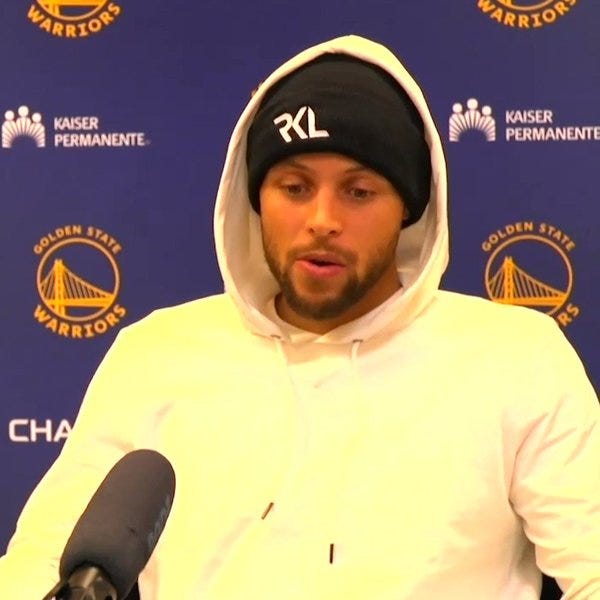 "It is very reminiscent of like '14-'18"

Steph on hearing MVP chants on the road: https://t.co/jY6olhKPn1
Did you catch Stephen Curry's post-game press conference on Thursday night? Allow me to call your attention to his black hat, with the RKL logo. Ring a bell?
For some in the NFT space, it will! The hat is part of an exclusive merchandise drop from the Rumble Kong League, a collection of 10,000 NFTs that will be part of an upcoming play-to-earn basketball game. Via Ja Rule (lol):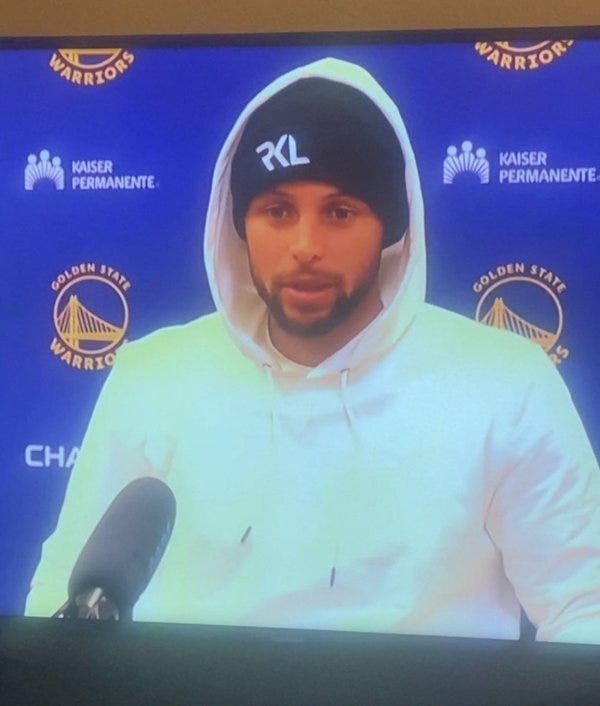 Steph Drops 40 then does his press conference real casual in his @RumbleKongs hat… lol gotta love it!!! #LFG #ICONN $gm @StephenCurry30 #MVP https://t.co/mFn3V71ECV

Around The First Mint 🗣
📹 TFM Live: Ballerz + Buying A Basketball Team
The First Mint Live is back for another wild Thursday night, November 18th, 2021. Tonight we're talking all things Ballerz with NFT Genius Marketing Director Becca Brown, community member Angie Yarbrough, and Flex Chapman from the Krause House DAO.
🎧 Long Term Strategy on Top Shot
🎧 Opensea & Building For A Web3 Future (Feat. Alex Atallah)
Thanks for reading! — Zach @ The First Mint
Not Subscribed to The First Mint Newsletter? Let's change that.
Follow The First Mint on Twitter at @TheFirstMint.
Follow Zach on Twitter at @GhostOfGregOden.
In order to unsubscribe, click here.
If you were forwarded this newsletter and you like it, you can subscribe here.
Created with Revue by Twitter.
Vancouver, British Columbia, Canada