Discover more from The First Mint
a web3 sports community: podcast. newsletter. events.
Over 6,000 subscribers
Packs Are Back 📦
The First Mint
Featuring the First Playoff Pack Drop, Adam Silver Talking Crypto, The Otherside Drop & More

Good Morning, NFT Squad! Hope you all had an excellent weekend!
It's been a fun NBA Playoffs so far, and the matchups in the second round are even more intriguing. It truly feels like we don't have a clear favorite this year, which is the perfect recipe for excitement!
My Finals prediction: Bucks vs. Warriors, with Giannis going back-to-back and ending the discussion of the current best in the league.
Let's get into all the action from the last few days:

Packs Are Back 📦
For the first time in what feels like forever (though it's probably been like 2 weeks), packs are back.
The first playoff packs are coming this Thursday, with a modest 45,000 packs available for $19 or 10 Trade Tickets: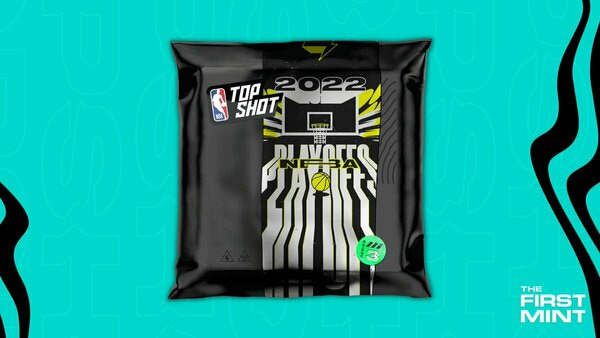 🏀 TOP SHOT | PLAYOFF PACKS 🏀

⏰Release: May 5 @ 6:00pm ET

📦45,000 packs
💵$19 per pack
✨2 Limited Edition moments per pack
💰22,500 packs for sale
🎫22,500 packs for 10 Trade Tickets

👀Moments to look for:

🍀Tatum Buzzer Beater
☀️CP3 14-14
🔥Butler 45 point night https://t.co/wwXczpvyYb
A 3 pack airdrop is also incoming for holders of the S2 2021 NBA Playoffs and S1 First Round Sets.
Some fun moments should be in there — give me that ridiculous Ja dunk, please! Plus a Tee Morant celebration in the highlight!
Ja's dad was all over the spotlight in Round 1, including this hilarious moment: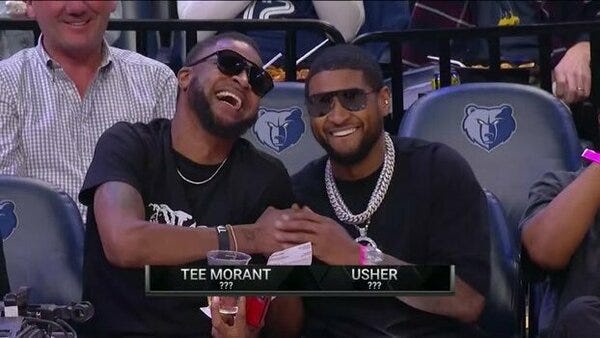 NBA Coin? 🪙
The NBA is known as a forward-thinking league, and has become even more proactive since Adam Silver took over as commissioner in 2014. In a recent interview with Kevin Garnett for 'Showtime Basketball', we got a glimpse into Silver's stance on crypto and digital collectibles — with an interesting comment regarding an 'NBA Coin':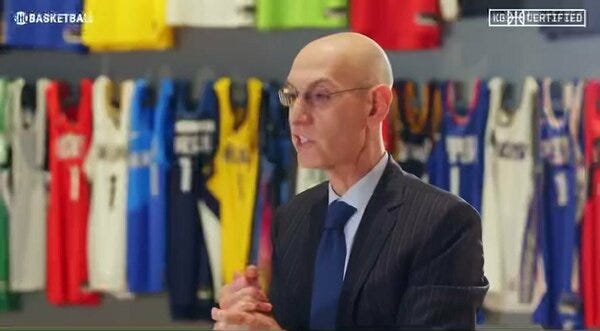 NBA commissioner Adam Silver on the potential of an NBA cryptocurrency 👀 https://t.co/nGUnmsQ2CE
But Adam, I thought Top Shot was already the currency of fandom!?!?!
Jokes aside, it's cool to hear vocal support from one of the most influential people in sports — especially referencing Top Shot right off the bat (I'll give KG a pass for calling it 'Pop Shot'). The Association NFT must have slipped his mind!
Speaking of The Association…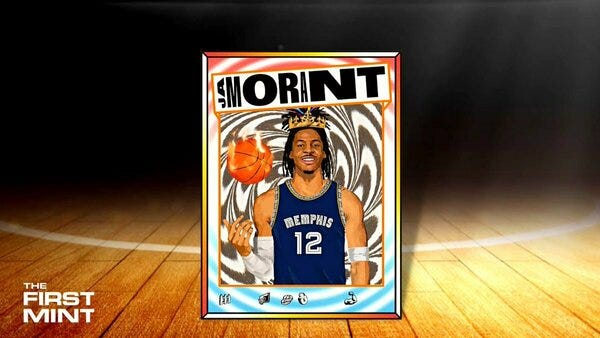 💰 NBAxNFT | MORANT MONSTER SALE💰

🐻 Ja Morant #7573 has sold for $14,164.60 (Ξ5.0)

📈 Before reveals, this NFT sold for $750.72 (Ξ0.265)

Have you grabbed any @NBAxNFT NFTs since the reveal? https://t.co/xvAgJ2HV7m

Ghost's Corner: Otherside Edition 👻
It was an exhausting weekend in the NFT world, with the focus solely on Yuga Labs and the 'OtherDeed' land drop.
We saw an entire week of speculation leading up to Saturday around the number of KYC'd wallets, who held enough APE to mint, etc. — and although the numbers continued to grow, it didn't seem SUPER concerning.
But Saturday night brought a perfect storm of factors for a gas war, with the end result being over $140M (!) in ETH burned and most users paying upwards of 2 ETH in fees alone.
It was a horrible experience for all, and one of the first times we've really seen some poor execution from the Yuga team. It's even more frustrating because it was seemingly so avoidable. Several other major NFT projects have already executed extremely effective ways of avoiding what went down on Saturday:

Options that would've been 1000x better than this gas war:

💥 @pixelvault_ 's Mint Pass / Claims / Elite Ape Queue
👨‍🌾 @AzukiOfficial's gas-efficient erc721A contract
🦉 @moonbirds / @PREMINT_NFT Raffle + claim

So much $ sucked out of the ecosystem for absolutely no reason. https://t.co/gT09gw9kIb
Even worse was the response from Yuga, a super strange half-apology that seemed cold and calculated, blaming the Ethereum network and preaching the need to create an 'ApeChain':
We wanted to say a few words about the mint tonight. 🧵
As a holder of many Yuga items, it was the first time I've felt uneasy about things in the swamp — an unexpected bummer on a day that we've been looking forward to for so long.
And while the NFT market's memory is short, this feeling right now is a very different vibe from the usual euphoric sentiment we usually see surrounding Bored Apes.
The land, Kodas and website all look great and exciting — and I am still bullish long-term. But a common tweet I see is "Yuga doesn't miss", and this weekend was a MAJOR one — the first we've seen since they took the space by storm a year ago.

Around The First Mint 🗣
Many NFT projects claim to be the "best" at something, but its often just marketing puff talk. So how do we breakthrough that Marketing 101 speak and dig deeper into both marketable aspects of the NFTs, but also how those aspects are sold.
Yes, this is a pod about how NFT market themselves to us, and what we as consumers expect and demand from them.
🎧 From WoW Raids to Rumble Kongs (Feat. Marcus Blasche)
Thanks for reading! — Zach @ The First Mint
Not Subscribed to The First Mint Newsletter? Let's change that.
Follow The First Mint on Twitter at @TheFirstMint.
Follow Zach on Twitter at @GhostOfGregOden.
In order to unsubscribe, click here.
If you were forwarded this newsletter and you like it, you can subscribe here.
Created with Revue by Twitter.
Vancouver, British Columbia, Canada