Ready to Run (It Back) ⏮
The First Mint

Good Morning, NBA Top Shot Team! Happy Thursday! Hope you're having a great week, and are all ready for the first Top Shot Rare drop in what feels like years! Let's get into all the action from the last few days: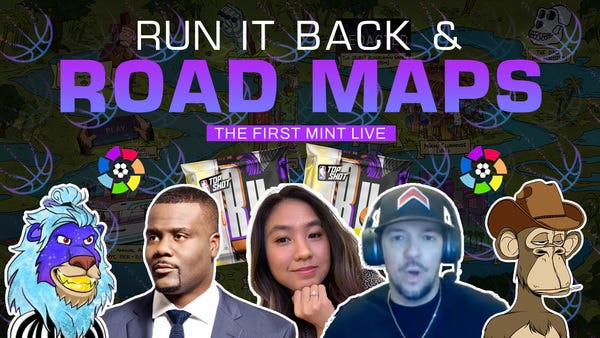 P.S. — Thursday means we've got another The First Mint Live Show tonight! LG is away in the woods (again), but we've got Lil' Noobie filling in alongside Phil D!
Guests include former NFL TE George Wrighster, NFT God (@topshotfanatic), and Producer Quad. See you at 8 PM EST/ 5 PM PST on our Twitch channel.


Together With Evaluate.Market
Maintaining an NBA Top Shot portfolio and researching new NFTs can be a challenging task. Evaluate.Market makes it easy to monitor your account value, discover market trends, and analyze NFT collections including NBA Top Shot, Bored Ape Yacht Club, Cool Cats, and more. Try it for yourself at Evaluate.Market!

Run It Back Drop Details ⏮
We've got a fun one tomorrow, with 15,000 WNBA Run It Back Rare packs dropping across two queues. The deets: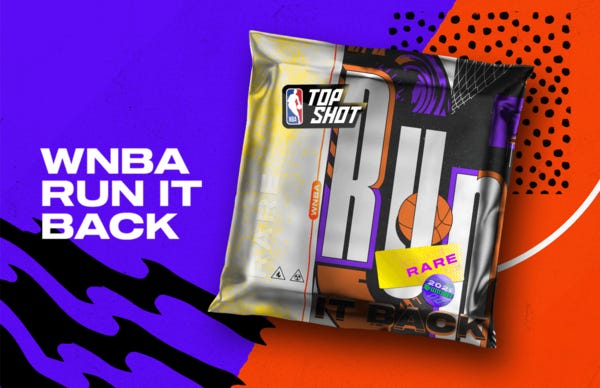 🚨@WNBA PACK DROP THIS FRIDAY🚨

🏀Set: WNBA RUN IT BACK
💎Total Moments: 25
💎Mint Count: 879 LE
💎Cost: $79

Queue #1 - 10am PT
📦Packs: 8,000
🔢Collector Score: 4,000

Queue #2 - 12pm PT
📦Packs: 7,000
🔢Collector Score: 100

In Each Pack
♦️1x Rare RIB
♦️3x Best of 2021 https://t.co/UBWjGnBQTW
Of note — WNBA moments will have a one-time 10x Collector Score multiplier as a drop bonus for this one!
There are some really interesting moments up for grabs across the 25-year history of the WNBA, but "The Dunk" from Lisa Leslie will likely be the hottest commodity: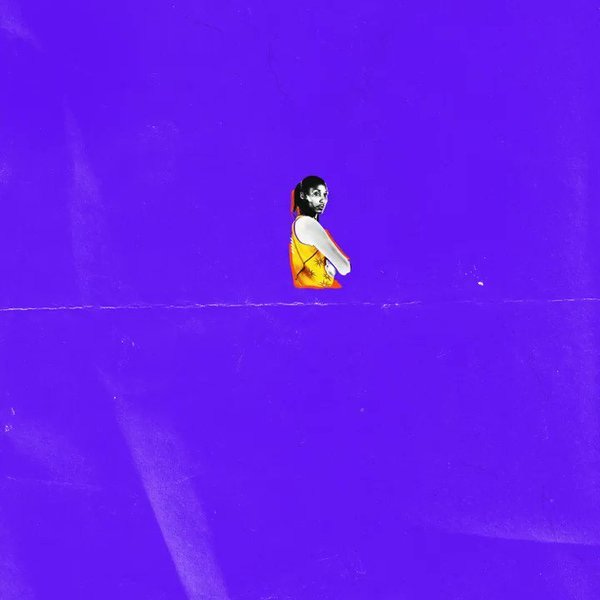 This Friday, THE DUNK is coming to Top Shot. 💥@lisaleslie

What other Moments from the last 25 years you looking to see in the 1st @WNBA Rare Packs? #WNBATopShotThis https://t.co/KbXqtLId5e
On a side note, a curious ending note on the Top Shot Blog caught my eye:
Please note: this is the first of two Run It Back drops in Summer 2021, with the second being a Run It Back for a specific NBA season that will be announced at a later date.
Glad to hear the NBA Run It Back is still coming… But this Summer? Definitely starting to feel like Fall — maybe this is the reverse of the grocery stores that put out Halloween candy 3 months early?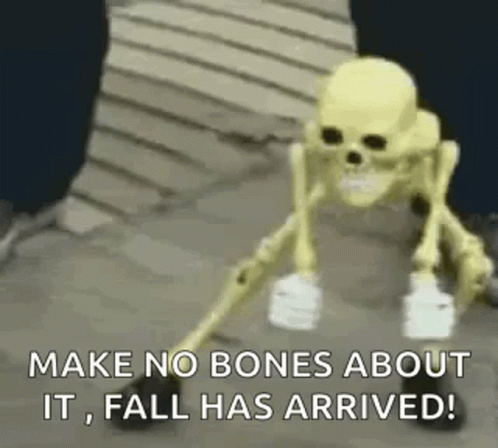 News From The Lab 🧪
A few major announcements from the Dapper mothership today, including a new round of funding (at a 7.5 BILLION valuation) and another sports league hopping onto Flow.
Thread on the future of Dapper, Via CEO Roham Gharegozlou:
We @dapperlabs just announced a massive partnership with @LaLiga plus $250M in new capital from an incredible group: @Coatue @A16Z Mary Meeker @bondcap @GVteam and the Government of Singapore Investment Corporation (GIC) among others

Thread time 🧵👇

https://t.co/o68LTVdc7F
And for those who don't click into the thread, a few Top Shot -related notes:
"If you're part of @nbatopshot, expect to see accelerated product development at every step – we want to get out of beta ASAP: mobile app, non-custodial wallets, and of course –– the best content –Including the first-ever #WNBA rare packs dropping Friday!"
Out of beta? Hardcourt? Moving moments off of the platform? Be still, my heart!
More Roham:
As @dapperlabs expands to other sports, our #NFT rarity framework will be very clear: – Rare and Legendary-tier content will always be incredibly scarce – Common and "Fandom"-tier content will be accessible to new collectors –– while still preserving scarcity in the long term
If you were unsure if Top Shot would continue printing Common/Fandom moments at a high rate, they've been extremely clear that those mint counts are going to keep escalating. It'll be interesting to see just how high things go in S3.

Around The First Mint 🗣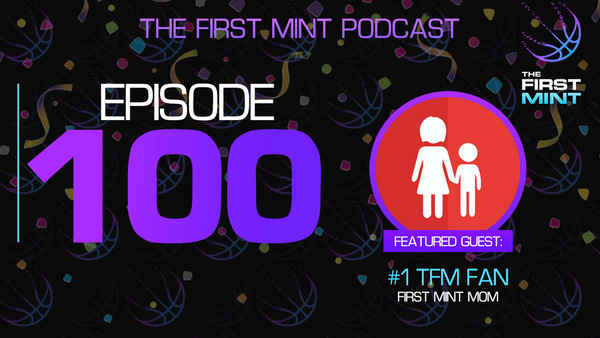 🎧Episode 100 (Feat. Mama Doucet)
Please meet, for her The First Mint debut: Mama Doucet! To celebrate 100 episodes of TFM, there was no better guest than the person who has known LG his entire life. Mom comes on to talk NBA Top Shot, Cryptokitties (yes really), and how NFTs compare to other leaps in technology.
🎧 Rep The Community (Feat. El Dumbo)
📹TFM Live: A Phil D Birthday Extravaganza
🎧The Future of the Marketplace (Feat. Jon Jackson)
Thanks for reading! — Zach @ The First Mint
Not Subscribed to The First Mint Newsletter? Let's change that.
Follow The First Mint on Twitter at @TheFirstMint.
Follow Zach on Twitter at @GhostOfGregOden.
In order to unsubscribe, click here.
If you were forwarded this newsletter and you like it, you can subscribe here.
Created with Revue by Twitter.
Vancouver, British Columbia, Canada