Shaqtin' An NFT 🤯
The First Mint
Featuring Market Movers, A Cool Cats Conundrum, Shaq Creature and More

Good Morning, NBA Top Shot Squad! Hope you had an excellent weekend! Fall is in the air, pumpkin spice lattes are back, and I'm sure we'll be seeing a million new Halloween/monster/pumpkin-themed NFTs launching over the next few weeks! Let's get into all the action from the last few days:


Together With Evaluate.Market
Maintaining an NBA Top Shot portfolio and researching new NFTs can be a challenging task. Evaluate.Market makes it easy to monitor your account value, discover market trends, and analyze NFT collections including NBA Top Shot, Bored Ape Yacht Club, Cool Cats, and more. Try it for yourself at Evaluate.Market!

Market Movers 📈
All quiet before the Series 3 storm? Your weekly market update, via @SteefCrypto: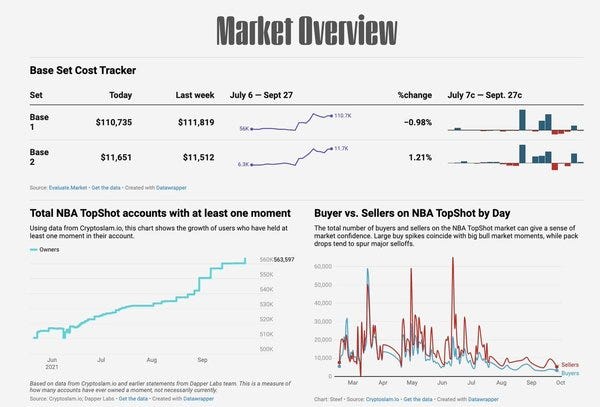 GM. Your @nbatopshot weekly market update:

Quiet!

🏀 added about 3,500 new users w/ 1 moment, bringing monthly total to around 15K
🏀 Both base sets relatively unchanged
🏀 3 weeks til season start! https://t.co/uu37s74eJG
Taking a look at the WNBA Run It Back moments from last week's drop, the set has continued to see a slow upward climb. Via Evaluate.Market: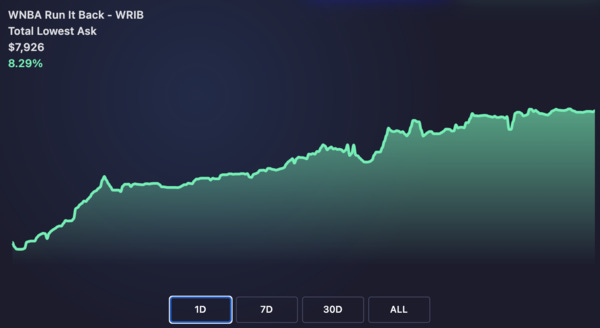 The two big winners include Lisa Leslie's dunk, which has held steady at around $1400, and Maya Moore's layup at $675. Certainly some massive gains to be had from this pack for those that got that queue luck!

The Big NFT 😜
Diesel. Superman. Shaq-Fu. The Big Shamrock. The Big NFT?
Shaquille O'Neal has entered our little corner of the internet, folks. And all 15 Million of his Twitter followers are probably wondering what the heck his profile picture is (Creature World, a recent avatar project from artist Danny Cole):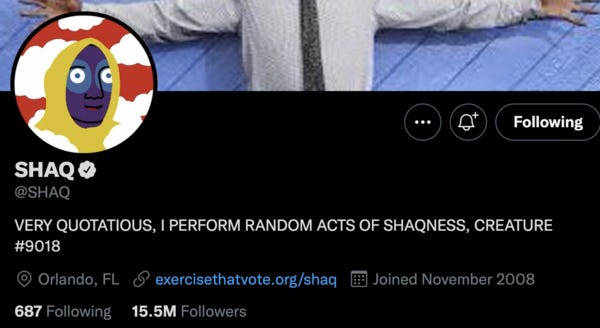 In addition to snagging some Creatures, O'Neal also looks to have bought into several Mutants from the Bored Ape Yacht Club.
If you've ever watched a second of television, you've likely seen Shaq promoting something — from Papa Johns, The General, Icy Hot, Oreo, Taco Bell — the man is the king of hyping up products. Honestly, you could probably make a 10,000 PFP NFT using only things Shaq has promoted!
I have a hunch that his marketing skills might prove lucrative in our NFT world. Also, wen Shaq RIB moment?!?

A Cool Cats Conundrum 🐈
The Nine Lives Lounge, AKA the 'SoHo House' of Top Shot, has been one of the more polarizing aspects of the platform since it's launch. Expectations are high, promises were made, and yet there is still plenty of mystery surrounding the direction that this exclusive group takes into future Series.
There was a good discussion on Twitter last night regarding the future value and utility of the set. The bull case, via @staystacced:
Just want to know - why have you not aped into a NLL @nbatopshot membership yet? Floor is 3 eth. I'm sure I'll make that back by apeing into just one project, @DrSeuss.

Can you imagine if you get early access to their future partnerships and projects?

This is FA.
The more bearish approach, via MBL (among others):
@FaronLE @topshotfund @genies Someone will be disappointed:

1) NLL -> if endless, unfathomable utility isn't granted
2) everyone else -> if NLL gets endless, unfathomable utility

The open ended "early access to Dapper projects" was a bit of an oversight imho. Set a timeframe. A number of projects. Anything
I tend to side more with MBL on this one — and I feel like the uncertainty and lack of clarity regarding what exactly the #NLL benefits are, how long they last, etc. lead to a slippery slope for both collectors and Dapper.
I'm also scorned by Cool Cats, as I hopped off the roller coaster at the last stop (right before LaMelo Ball Master Challenge). So maybe I'm just bitter?

Around The First Mint 🗣
🎧The Value of WNBA Run It Back
The WNBA Run-It-Back Set is HOT right now, and for good reason. On this episode, LG breaks down the future implications of the WNBA RIB set, its potential short term pullback, and when he plans to collect it. Plus, a look at the weeks to come on NBA Top Shot.
📹 TFM Live: Run It Back & Roadmaps
🎧Episode 100 (Feat. Mama Doucet)
🎧 Rep The Community (Feat. El Dumbo)
Thanks for reading! — Zach @ The First Mint
Not Subscribed to The First Mint Newsletter? Let's change that.
Follow The First Mint on Twitter at @TheFirstMint.
Follow Zach on Twitter at @GhostOfGregOden. 
In order to unsubscribe, click here.
If you were forwarded this newsletter and you like it, you can subscribe here.
Created with Revue by Twitter.
Vancouver, British Columbia, Canada