Spice Up Your Top Shot Collection 🌶
The First Mint
Featuring The Slap, A Spicy New Set, Challenge Corner, Series 1 Reserve Drop & More

Good morning, NFT Squad — hope you had an awesome weekend!
This might diverge from my normal topics of conversation, but I can't NOT mention the slap heard around the world.
Watching the Will Smith/Chris Rock fiasco unfold in front of millions of viewers on live TV was quite the cultural moment — and my Twitter timeline was immediately flooded with jokes, takes, reactions and more. And the first thing that popped in my head was the popular phrase from one of the best follows in NFT/crypto Twitter:
SEIZE THE MEMES OF PRODUCTION!!!!
The speed at which cultural phenomenons spread in today's age is staggering — and memes are the primary highway in which they travel.
A few that had me laughing, among many: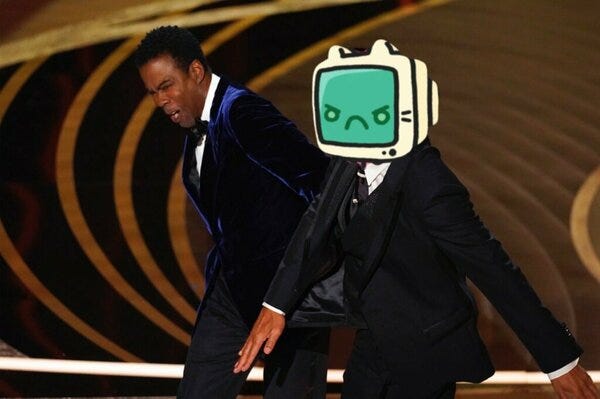 This is what I'm doing next time y'all try to FUD Cool Cats. https://t.co/qb5flWFYLy
had doubts about this new will smith nft drop but tbh it kinda slaps
I have a feeling we'll see that slap image for a long time to come — to the point where people using it probably forget what it originated from. Culture!
Also, holy cow can Chris Rock take a slap! Keeping your composure on live TV after being surprise-whacked is no small feat.
Anyways — let's get into all the action from the last few days:

A Spicy New Set 🌶
Ready for something new and spicy in your Top Shot life? The team announced a brand new common set on Monday, called 'Extra Spicy' — featuring 'the kind of plays you'd see on the playground, courtesy of some of the biggest personalities on earth'.
In an interesting move, the moments will also be minted to just 6,500 — making it the lowest minted common set in Series 3. Scarcity for the win!
The new packs drop on Thursday, with 100,000 available at $19 a pop. No collector score required!
As someone who has been kinda over the common moment scene, this mint count is an attractive spot. Personally, I wish this was the new standard until we see new user growth and the need to scale up the moment count!
The players in the set include:
🌶️Extra Spice Set🌶️

Extra Celebrations
🎉Oubre Jr
🎉Lonzo Ball
🎉Jarrett Allen
🎉Payton II
🎉Steph
🎉Lance
🎉Bam
🎉Bobby Portis
🎉Jalen Suggs

Spicy Plays
🌶️Trae
🌶️LaMelo
🌶️Miles Bridges
🌶️Luka
🌶️Campazzo
🌶️Igoudala
🌶️Paul
🌶️FVV
🌶️Mitchell

Rewards
🏆LeBron James
🏆Ja Morant
My two favorite inclusions here are Bobby Portis (aka Crazy Eyes, a former Bull and gigantic personality), and Lance Stephenson. Give us a Run It Back spicy moment of this highlight: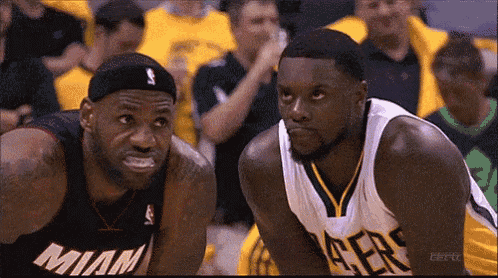 Top Shot also hopped on the March Madness bracket trend, letting users vote on the 'spiciest' moment for a chance at packs/Dapper balance.

Challenge Corner 🎡
The weekend Flash Challenge was a doozy, requiring over 20 moments to earn the Ja Morant MSFE, which ended at 1,361 completions (around $1,200 cost to complete at the peak). There has been a bunch of speculation that the MSFE will be needed for the rumored crafting challenge coming soon — so that could get spicy (not extra spicy though)!
The WHEEL was also back in action last night (still love that name), with a wide range of moments needed to earn a Cade Cunningham MSFE: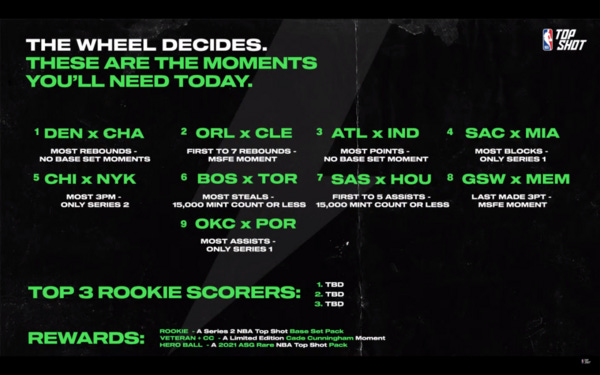 Full list of Active Challenges:
Reward: Russell Westbrook Throwdowns

Deadline: Tuesday, March 29 @ 10 AM PST
Flash Challenge: Rookie Rotation
Deadline: Tuesday, March 29 @ 1 PM PST
Also, if you have some spare Trade Tickets laying around (350 of them to be exact), the next Series 1 Reserve drop is TODAY at 10 AM PST. Good luck to those hoping for a lotto ticket!

TFM x BookMate 💸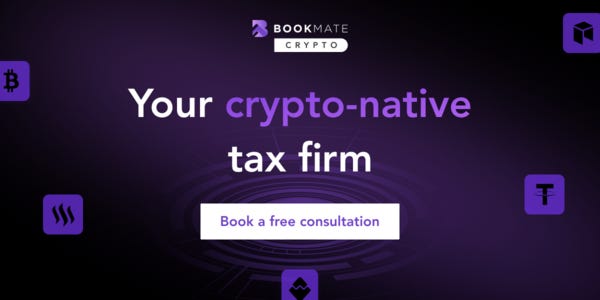 Trade NFTs? Bookmate is a full-service crypto tax firm that can help you file taxes. From DeFi, to trading, to NFTs, Bookmate can help you accurately report your crypto to the IRS (as well as any real estate, stock trading, or business income you have) while minimizing your tax burden. 
Bookmate is offering readers of The First Mint Newsletter a free 30-minute tax consultation to discuss your tax situation. Book a call today!

Around The First Mint 🗣
🎧 The DC Comics Multiverse Comes to NFTs
Batman has entered the chat, and he is not messing around. Warner Brothers is launching Digital-Physical Hybrid NFTs, marking the DC Multiverse's entrance to web3. The First Mint (and very much LG) is proud to partner with Hro, the platform launching these NFTs with WB, to bring you all the info, drop details, and excitement of this massive step forward in NFTs.
On the show, we have Josh Hackbarth (Head of NFT Development at Warner Brothers) and Mark Evans (Marketing Lead at Hro), to dive into their personal fandom and what's to come.
***This podcast is part of a paid partnership with Hro***
🎧 The Future of Web3 Access (Featuring Recur)
Thanks for reading! — Zach @ The First Mint
Not Subscribed to The First Mint Newsletter? Let's change that.
Follow The First Mint on Twitter at @TheFirstMint.
Follow Zach on Twitter at @GhostOfGregOden.
In order to unsubscribe, click here.
If you were forwarded this newsletter and you like it, you can subscribe here.
Created with Revue by Twitter.
Vancouver, British Columbia, Canada