The Day One NFT Drops TODAY 🚨
The First Mint
Including Drop Details, Top Shot Utility, Challenges and more

Good Morning, NBA Top Shot Team! Happy Tuesday, and happy drop day for The First Mint: Day One NFT! More on that below, but let's get into all the action from the last few days:

Together With Evaluate.Market
Ready to take your collection to the next level? The Evaluate platform features tools for Challenge Tracking, Account Valuation, and the ability to shape Top Shot Sales Data as you please.

The First Mint Day One NFT
It's been a wild ride. For many of us, the introduction into NBA Top Shot was an on-ramp into the wide world of NFTS — and the soothing voice of LG Doucet has been there to guide us each step of the way.
As NBA Top Shot and the NFT landscape continues to grow, this Day One drop is both a transition point for The First Mint, as well as an ode to the community that has been there with us every step of the way.
Full details on the drop below:
The First Mint 🧊DAY ONE🧊 drops tomorrow.

You've got questions and we've got answers about:
✅Price
✅Platform
✅Distribution
✅Two Versions

Read all the details below⬇️
https://t.co/n2a9VfqkHW
Additionally, LG wrote a great thread on The First Mint's journey to this point, and his vision for the future: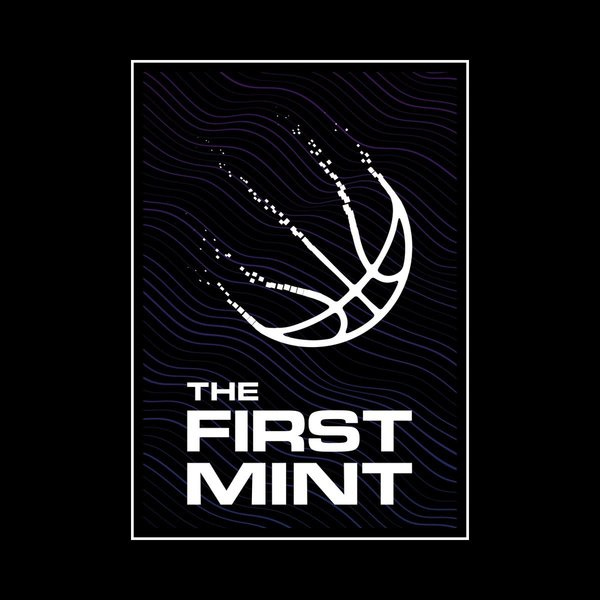 Tomorrow, @TheFirstMint drops its NFT🧊

🚀It's the start of our new brand.
👟And the first step before many others.

If you love what The First Mint has done, and you want to tokenize your fandom...

This NFT is for you.

Thread⬇️ https://t.co/v42Wdd9Xbm
Finally, if you want EVEN MORE, here is the original newsletter with a full note from LG on the NFT and our community.
Exciting times. If this were a physical launch, I'd expect nothing less than a sweaty LG-version of Steve Ballmer at the Windows debut in the 90's. But alas, this will have to do:


Quick Hits
🔹More utility? Yes please. We saw several innovations from the Top Shot team this weekend, with some great examples of rewarding fandom and bringing utility to moments. First up? A chance to win a trip to Game 5 of the NBA Finals: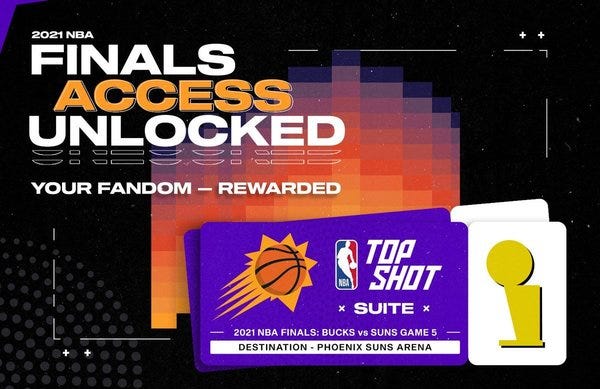 🏅FANDOM REWARDED🏅

We finally got a glimpse of how @nbatopshot integration into the league/teams🏀

This week, we'll find out which EIGHT lucky collectors are heading to Phoenix for Game 5🌞

We'll also get to see what type of private party Top Shot throws🎉 https://t.co/3QCpsvElEp
The winners will be selected TODAY via a live show featuring Community Lead Jacob Eisenberg and former Phoenix Suns star Shawn Marion.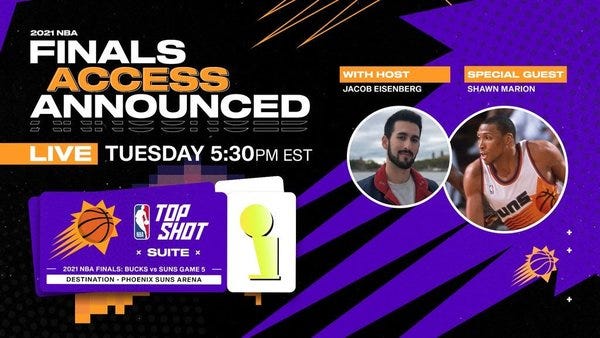 TOP SHOT SUITE WINNERS REVEALED

Join @Suns legend @matrix31 & our own @Eisenberg43 Tuesday at 2:30 pm PDT / 5:30 pm EDT to find out the 8 collectors going to Phoenix for Game 5!

🔴 Twitch, Twitter & YT

#NBATopShotThis #RallyTheValley https://t.co/k6RCgb1eEl https://t.co/e1kfoMJMgL
Additionally, we also saw Top Shot wade into the AR/VR waters, incorporating moments into real life via your phone. Pretty cool.
🔹 Wondering what else is coming up this week in Top Shot? Luckily, so were we: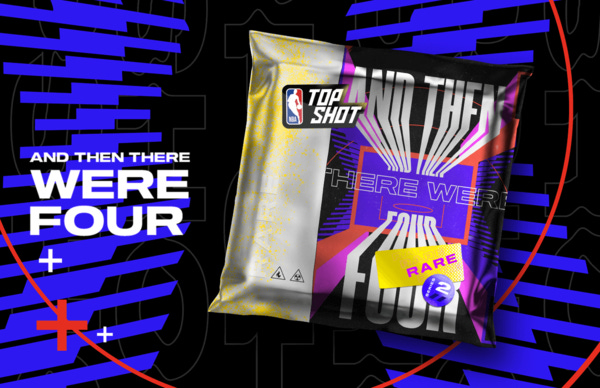 This Week on @NBATopShot

*Confirmed* Drop:
⚔️Conf. Finals RARE (6,000 packs)

Challenge Rewards:
🛡️John Collins
🛡️Chris Paul

New Challenges :
🛡️R3 Playoffs #3-4
⚔️Conf. Finals RARE (maybe)

Quests:
🐉Finals #3-4-5

Contests:
👔🌭Suns Finals Suite

🔻Queues, Market, Snapshots🔻 https://t.co/wmvJqVjTol
🔹 The Wizards have entered the NFT space. H/T to Top Shot OG and Club Top Shot legend @andy8056 for catching this drop from the Washington Wizards, which comes with game tickets and a jersey:
Anyone else notice that the @WashWizards are doing NFTs now? https://t.co/7oXA8wVhrL
With new teams and companies dipping their toes in the NFT waters every day, we're still at just the tip of the iceberg. It's hard to fathom what innovations we'll see 1, 5, 10 years down the road!

Around The First Mint
This is a LOADED episode. The First Mint DAY ONE NFT drops this Tuesday with only 500 available. LG recaps the long road it took to get to the drop, and what the future may involve for those who hold this rare NFT. We also dive into the coming week on Top Shot, implications of the RARE Conference Finals Set, and the MASSIVE promo going on with Top Shot and the Phoenix Suns. 
🎧The Pundits Pick The Finals (Feat. Taylor Stein, Steef, & Chugs)
📰 Miss an earlier edition of The First Mint Newsletter? Check out the archive here.
Thanks for reading! — Zach @ The First Mint
Not Subscribed to The First Mint Newsletter? Let's change that.
Follow The First Mint on Twitter at @TheFirstMint.
Follow Zach on Twitter at @GhostOfGregOden.
In order to unsubscribe, click here.
If you were forwarded this newsletter and you like it, you can subscribe here.
Created with Revue by Twitter.
Vancouver, British Columbia, Canada