The "Economic Fix" 💵
The First Mint
Featuring LaMelo Day, Holo Delays, Economic Fixes, Utility and More

Good Morning, NBA Top Shot Big Ballers! Happy Cool Cats LaMelo day! Ciao, Adios, Arrivederci, Sayonara — users all around the world unite today for the sendoff. We won't miss you!
Let's get into all the action from a quiet last few days:
New to Top Shot? Check out our Top Shot 101 section!

Together with Evaluate.Market
We're proud announce a Partnership with our friends at Evaluate.Market. The Evaluate platform features tools for Challenge Tracking, Account Valuation, and the ability to shape Top Shot Sales Data as you please.
Evaluate has helped thousands of collectors on Top Shot, and we're proud to have them power our newsletter. From here on, you'll see some of their charts and data sprinkled in. -LG
Quick Hits 👊
🔹 Today is LaMelo Cool Cats Day! That's right — 121 days after it was announced, the Cool Cats Master Challenge ends todays at 1 PM ET. As of late Monday night and as per Evaluate.Market, there were close to 2,750 completions of the challenge, with a low-ask cost of $1,750.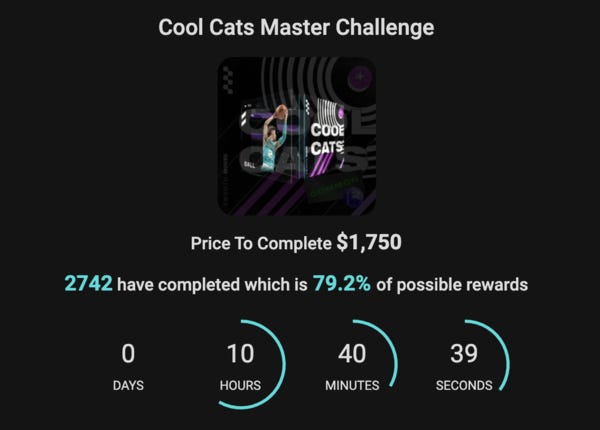 Cool Cats holders in January/February:

Cool Cats holders in June: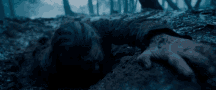 🔹 The final S2 Legendary Holo Icon drop was pushed back indefinitely, per updates to the most recent NBA Top Shot blog. The next LE drop will now likely be a Premium Pack, tentatively coming some time this week.
🔹 The next Rare Throwdowns Challenge is up, with Anfernee Simons as the reward. Here's what you'll need (low-ask to complete the challenge is currently around $620: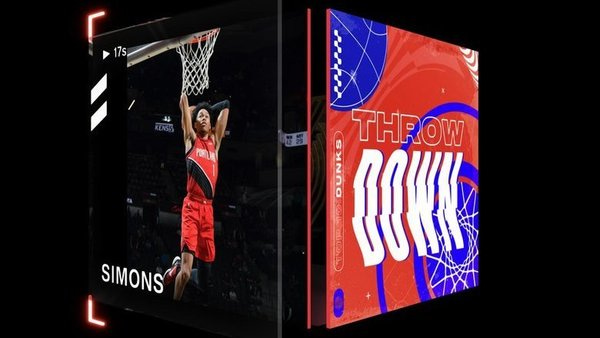 💥THROWDOWNS CHALLENGE #4💥

🎖️Reward: Anfernee Simons

Moments Needed (all 1,800 LE):
💣 Miles Bridges
💣 Terry Rozier
💣 Kelly Oubre Jr
💣 Kawhi Leonard
💣 Brandon Clarke
💣 Victor Oladipo
💣 Naz Reid
💣 Joel Embiid
💣 Deandre Ayton

Deadline⚠️June 7, 2021 https://t.co/JY5CgSWiRB
Who isn't amped for an Anfernee Simons reward. Right guys? Right? *Ducks*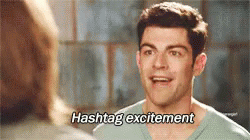 Market Movers 📊
Prices remained relatively stable (but low) after a quiet weekend in Top Shot. The data viz, via @SteefCrypto: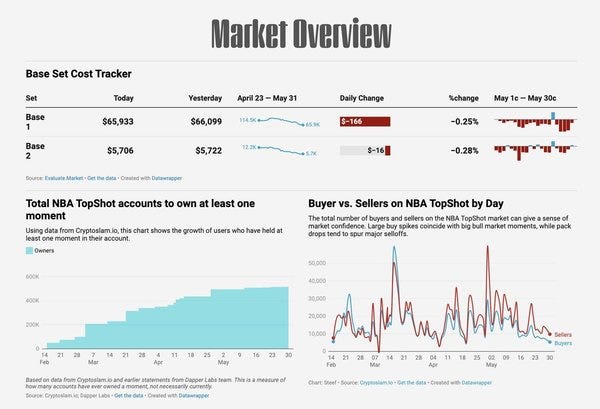 Your #NBATopShot daily market update:

All's quiet on the American holiday weekend. Volume low, prices stable. Enjoy the day! https://t.co/QNVm6pWz02
So when can we expect any change to the current bearish trends we see on the marketplace?
'Economic fixes' was one of the top-listed priorities for the next 45-60 days, according to a tweet from Dapper Labs CEO Roham Gharegozlou:
@EverydayInvest_ @topshotfund 😇 it's an awesome future idea

priority next 45-60 days is 1/ economic fixes / improvements to drops, challenges, and quests --> includes content roadmap etc. and 2/ new user experience and funnel testing: from first pack -> first market buy -> collector score -> more packs
No idea what these 'fixes' refer to, but hopefully the Top Shot team will have some interesting implementations down the road to drive value and give buyers incentive to hit the marketplace again.
Speaking of implementations — we've heard the word 'utility' both throughout the NFT landscape and for NBA Top Shot in the form of the future mobile game 'Hardcourt'. Check out this awesome thread from our fearless leader LG Doucet on the future utility of moments on the platform:
Is Top Shot about to go 🛠️FULL UTILITY🛠️?

☑️Yes, market is down (a lot)
☑️Yes, Top Shot is testing new features
☑️Yes, Utility is NEEDED

But there's a misconception about WHERE it will come from:

⭕️It won't come from the App
🟢It will come from you, the User

Yes, a thread🔻
Around The First Mint 🗣
With so many features in Top Shot (Badges, Tickets, Baller Status) and so little Utility (so far), it's becoming clear that Top Shot's final form will take years to develop. We dive into what that might look like, and the hint at the first integration through an app called Collab Land. Plus, we preview the week ahead, including the potential release of Playoff Moments.
🎧 Where is the Value on Top Shot?
📰 Miss an earlier edition of The First Mint Newsletter? Check out the archive here.
Thanks for reading! — Zach @ The First Mint
Not Subscribed to The First Mint Newsletter? Let's change that.
Follow The First Mint on Twitter at @TheFirstMint.
Follow Zach on Twitter at @GhostOfGregOden.
In order to unsubscribe, click here.
If you were forwarded this newsletter and you like it, you can subscribe here.
Created with Revue by Twitter.
Vancouver, British Columbia, Canada