The End of Cool Cats Is Almost Here 😻
The First Mint
Featuring Cool Cats Talk, DFS with Moments, Hustle & Show and More

Good Morning, NBA Top Shot Cool Cats! Hope you've got your cold brew ready for the drop today, and wishing you all good luck in the queue! Let's get into all the action from the past few days:
Quick Hits 👊
🔹 Get your caffeine-based, cold-temperature beverage of choice ready for Hustle & Show Round 2. 140,000 packs will be available to collectors, and the queue will open today at 2 PM PST.
Full details via the NBA Top Shot blog. As for what you'll need for the second challenge: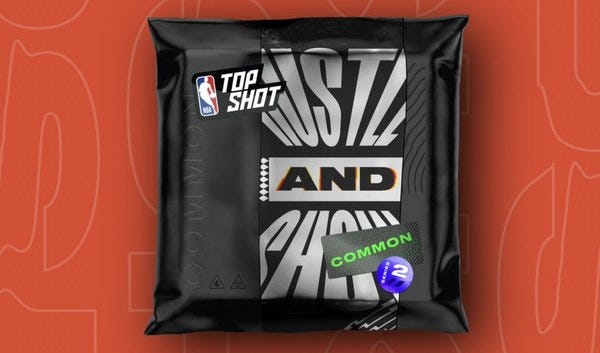 👟HUSTLE & SHOW 2👟

Players:
💦Trae Young
💦Facundo Campazzo
💦Juan Toscano-Anderson
💦Karl-Anthony Towns
💦Matisse Thybulle
💦Damian Lillard
💦Dejounte Murray
💦OG Anunoby

🎖️Reward: Ja Morant

Drop *likely* tomorrow as mentioned by @nbatopshot https://t.co/lO6bYjnpdf
🔹 Have you checked out MomentRanks new play feature? The game brings DFS and your NBA Top Shot moments together, adding some fun utility to collections. Compete head-to-head or join the daily contest for a chance at prizes (all free to play as of now!). The scoring system and breakdown of how moment tiers/play-types factor into the game are important, so check out the FAQ for all the details.
🔹 We've got our next live show today! LG & Phil D will be talking Cool Cats, Hustle & Show, and NFTs with Preston Johnson and other special guests from the community. More details to come tomorrow, along with Club Cold Brew for the pack drop!
🔹 We had more 35k base moments retired on Tuesday, with several big names getting new 40k common moments soon. Check out the full list of what is turning LE here. For several of the players not advancing to the playoffs, like Zion Williamson, Trae Young, Karl Anthony-Towns & Kyle Lowry, the new mints will likely be their last base moment of Series 2.
🔹 More packs — with a twist! Another reservation pack (Series 2, Release 37) is now on the site, but with some interesting new restrictions listed: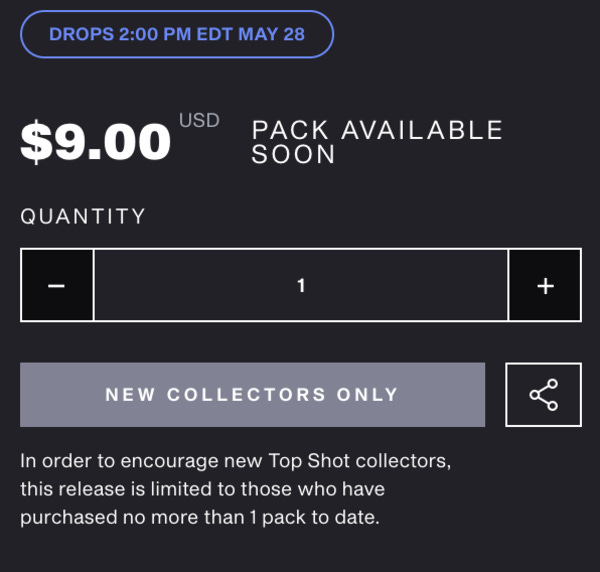 While the overflow of base packs and common moments on the platform has become a sore subject for many collectors, this is a welcome addition. The best possible experience for a new collector is to get the feeling of receiving and cracking open a pack. And maybe this slows down the flow of base moments as base packs become more exclusively used for newer collectors?
A Wild Cool Cat Appears 🙀
We got a new blog from NBA Top Shot on Wednesday, detailing the plan for the release of the 28th (and final) Cool Cat needed in the endless Master Challenge odyssey.
Steph Curry will be the final Cool Cat moment, a layup on April 12 that moved him past Wilt Chamberlain on the Golden State Warriors' all-time scoring list.
17,784 (the number of points that broke Wilt's record) of Steph Curry Cool Cats moment have been minted, and will be distributed as follows:
To celebrate Steph Curry's growing legacy, we've minted 17,784 editions of his record-breaking bucket to be distributed to NBA Top Shot collectors who've helped us redefine our own expectations. It never hurts to appreciate history as it happens.
This layup from April 12, 2021 will be minted as a Cool Cats Moment, the 29th of its kind, and will be automatically gifted to the 3,000 Cool Cats collectors with the greatest volume of Cool Cats Moments in their collection, as well as any other NBA Top Shot collector who has ever completed any challenge and who simultaneously possesses at least two Cool Cats Moments.
Eligibility for this Cool Cats Moment was based on a snapshot taken on Wednesday, May 19, 2021 at 10:45 AM PDT.
Also appearing on Topshot Explorer? The LaMelo Ball Master Challenge moment. The end is in sight, folks!
Hopefully we don't need this much longer, but everything you need to know about the LaMelo Ball Cool Cats Master Challenge can be found in our comprehensive primer.
Around The First Mint 🗣
🎧 NEW Podcast — Top Shot Goes to the Playoffs (Feat. J.E. Skeets)
It's Episode #50 of TFM. That's right. We've made 50 of these. Thank you for sticking with us. There's plenty more to come. We got J.E. Skeets from No Dunks on today to talk playoffs. 
🎧  The WNBA On The Blockchain [FEAT. ROS GOLD]
📰 Miss an earlier edition of The First Mint Newsletter? Check out the archive here.
Thanks for reading! — Zach @ The First Mint
Not Subscribed to The First Mint Newsletter? Let's change that.
Follow The First Mint on Twitter at @TheFirstMint.
Follow Zach on Twitter at @GhostOfGregOden.
In order to unsubscribe, click here.
If you were forwarded this newsletter and you like it, you can subscribe here.
Created with Revue by Twitter.
Vancouver, British Columbia, Canada