The First Year 🏆
The First Mint
Yo it's me again, LG Doucet. It's a new year and new dawn, and this is my last newsletter takeover before Zach comes back. Please enjoy!

People of The First Mint.
What. a. year.
It was literally a year ago today that the idea for The First Mint was born. I was in love with NBA Top Shot and finally, after months of screaming it from the rooftops, new people had started to take notice.
Those same people were DM'ing me constantly, asking questions about which sets to buy, what utility was coming, and why the hell they couldn't withdraw. I was posting analytics to my Twitter account to help people follow the market, but after a few days I realized we needed a deeper dive.
I had dabbled in podcasts in years before, but I was pretty damn nervous about putting my voice out there in web3. After all, my IRL friends just didn't really get it, and I would have to rely on the few pals I had in Top Shot to listen to my hot takes on the pod.
It wasn't until literally this week last year that I floated the idea by Usman Patel, the former Community Manager (and absolute fucking legend) of NBA Top Shot.
And that interaction is proof that sometimes all you need is a little push from a friend to take that leap.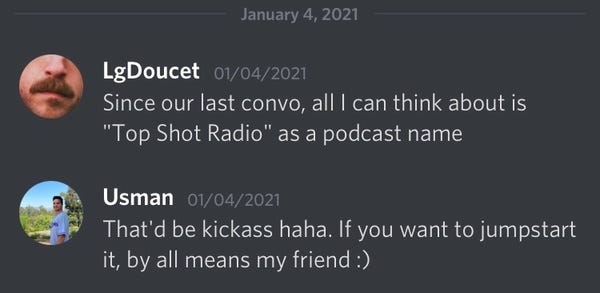 As you can see, I did not stick with "Top Shot Radio". Rather, The First Mint was born, and in the first quarter of 2021 became the go-to for Top Shot news, alpha, and interviews with the likes of WhaleShark, Ros Gold, andDingaling. Heck, we even got President of Basketball Operations for the Philadelphia 76ers, Daryl Morey.
A year later, I'm proud to report that The First Mint podcast has crossed over 500,000 downloads, and has spawned web3 media brand partnering with the likes of Flow, Nifty's, and Candy Digital.
And we could not have done it without you all. Your passion, your dedication, and your curiosity has fuelled the space and made it possible for concepts like The First Mint to thrive.
And I'm very excited to continue this journey together as we work with new partners, create hilarious content, and connect with the thousands of people entering NFTs every day.

The Second Year.
Its hard to predict whats coming for us in 2022. After all, last January 1st there was no way to know that 2021 would be the year.
Rather than post epic predictions, I'd like to share my mindset heading into a new year. Each day in NFTs is absolutely crazy, and I could use some grounding every now and then.
Avoid FOMO
NFTs are all about that FOMO! But man, some of my biggest losses and blunders this year came when trying to ape into something for a quick profit. If a project has legs, it will be there tomorrow, and if it has longevity, chances are it will provide many great entry points along the way.
This year, I'll be more purposeful with my ETH, Dapper, and Flow balances, and do my best to take a breath before splurging like an idiot. But when I do get a good feeling about a project (especially after maybe sleeping on it for a night), I'll make an effort to properly ape in.
Prepare For Battle
This year took an exceptional toll on me, both physically and mentally. I wouldn't trade it for anything else, but man staying up until 3am for stress tests and Moto GP drops really messed me up at times.
Inevitably, I'm willing to accept that the 24/7/365 cycle comes with the territory in web3, and I think I can be OK with that long term.
But this year, to sustain my degen lifestyle, I'll carve out more offline-time and stay committed to a healthy lifestyle (shout out Jimmy's Run Club in the TFM Discord!). I know its easy to say shit like "I'll workout more" on January 1st, but even just making sure to spend 30+ minutes outside every day is a good first step.
Be Kind
We have a lot of fun in NFTs. But we also spew a lot of venom. Although the venom is normal for web2, it doesn't need to be in web3. And that change will be up to us.
As new people enter the space, its our responsibility to show them that this is the online community the internet was always meant to be.
This year, I'll be more patient with my IRL friends who don't get it yet. And I'll definitely be more patient with my digital colleagues and acquaintances who are doing their best to navigate this world.
And like Usman did for me, I'll give others the push they need to go out and pursue their passions in web3.

That's it for me. Next week, we'll back to our regularly scheduled programming all about NFTs, Top Shot, Ballerz, NFL, and whatever else may come this year.
From myself and the team at The First Mint, we wish you all a very happy, safe, and healthy 2022.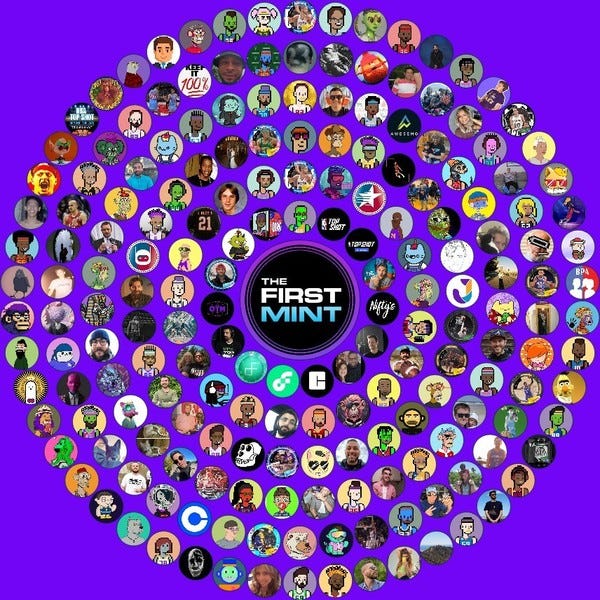 We. Are. Community.
We. Are. Family.
We. Are. Web3.

Happy New Year everyone! https://t.co/s85t0svHaE
In order to unsubscribe, click here.
If you were forwarded this newsletter and you like it, you can subscribe here.
Created with Revue by Twitter.
Vancouver, British Columbia, Canada