The Multi-Account War Wages On ⚔️
The First Mint
Featuring Multi-Account Drama, Dr. Seuss NFTs, Fat Finger Fixes and More

Good Morning, NBA Top Shot Weekend Warriors! Happy Saturday! Not a whole lot to report on the platform right now. One might say it almost feels like an… Offseason? (*ducks*).
The clock is ticking on the Summer roadmap, so we'll see what the Top Shot team has up their sleeve in the coming weeks. Let's get into all the action from the last few days:


Together With Evaluate.Market
Maintaining an NBA Top Shot portfolio and researching new NFTs can be a challenging task. Evaluate.Market makes it easy to monitor your account value, discover market trends, and analyze NFT collections including NBA Top Shot, Bored Ape Yacht Club, Cool Cats, and more. Try it for yourself at Evaluate.Market!

Multi-Accounting Mayhem 😡
I have long banged the drum that everyone who signs up for NBA Top Shot should have to KYC (identity check) before being able to enter queues.
If you weren't around the platform in January-February, multi-accounting was a MAJOR issue. And while a battle was waged (Dapper's revoking of several notable bots/multi-accounts, pledged efforts to curb them), it appears the war was never fully won. Via @Veerman:

Just casually opened up "Latest Sales", and this jumped out at me. 20min later, and it seems this 1 account has at least 26 other accounts. Before we get Trade Tickets, RIB, Rake Back, etc, can we please get some clearer anti-multi-accounting efforts? https://t.co/ehOBPS3nRX https://t.co/NDLOYuVDYw
Credit to Dapper Labs CEO Roham Gharegozlou (who is always engaging with users on Twitter/Discord) for addressing the matter in the thread: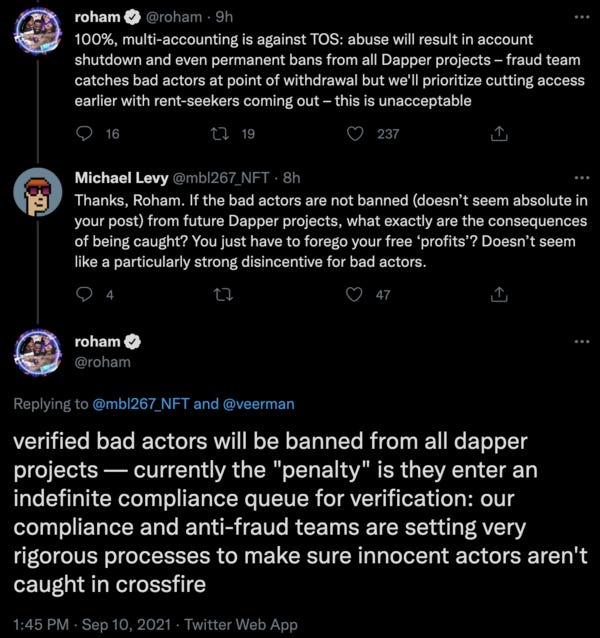 I also appreciated MBL's question — getting some much needed clarity on what the true downside is for bad actors, which hasn't really been concretely addressed previously.
Again, I still believe immediate KYC before doing anything on the platform that could earn you profit (entering queues/buying packs, being gifted moments, etc.) is an absolute necessity. And with Dapper seemingly staffing up over the last six months, I'd hope it becomes a requirement soon. In the meantime… Roham to his compliance team: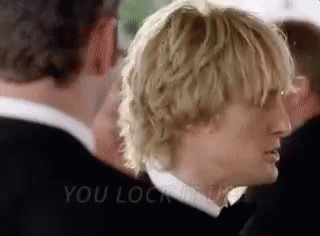 Another WNBA Challenge 😐
Every user: "Wen Run It Back? Wen Rake Back?"
Top Shot: "Hey guys, who's excited for another WNBA challenge!"
I've been an ardent supporter of the WNBA rollout, and nothing wrong with another challenge. But just not the exciting content we're looking for with so much left on the summer roadmap. The rundown, including what moments are eligible to use: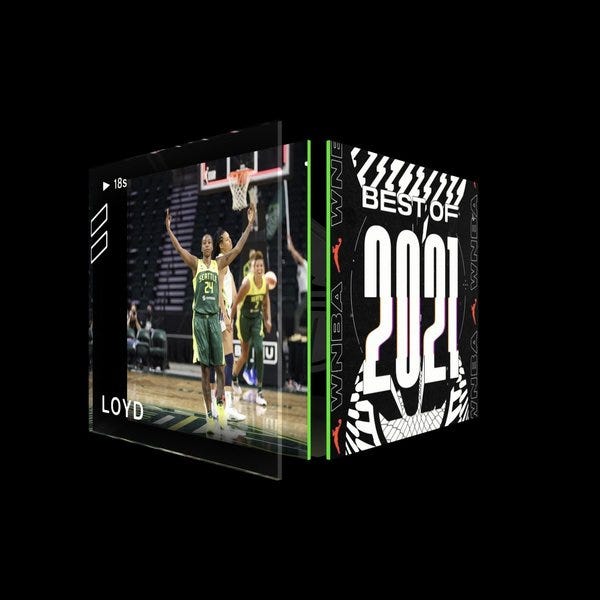 🏆WNBA SHOWCASE CHALLENGE 3🏆

🎁Reward: Jewell Loyd (FANDOM)

📦5x Moments needed. Must be previous ROTY winners

Moment Options:
🏀Crystal Dangerfield
🏀A'ja Wilson
🏀Breanna Stewart
🏀Nneka Ogwumike
🏀Tina Charles
🏀Candace Parker
🏀Diana Taurasi

Deadline⚠️Sep 14, 2021 https://t.co/hgKUg73Ccx
Full details in the latest Top Shot blog.

Seuss On Flow 📖
A much-anticipated release hit the Flow blockchain on Friday — Dr. Seuss collectibles!
The details, via LG: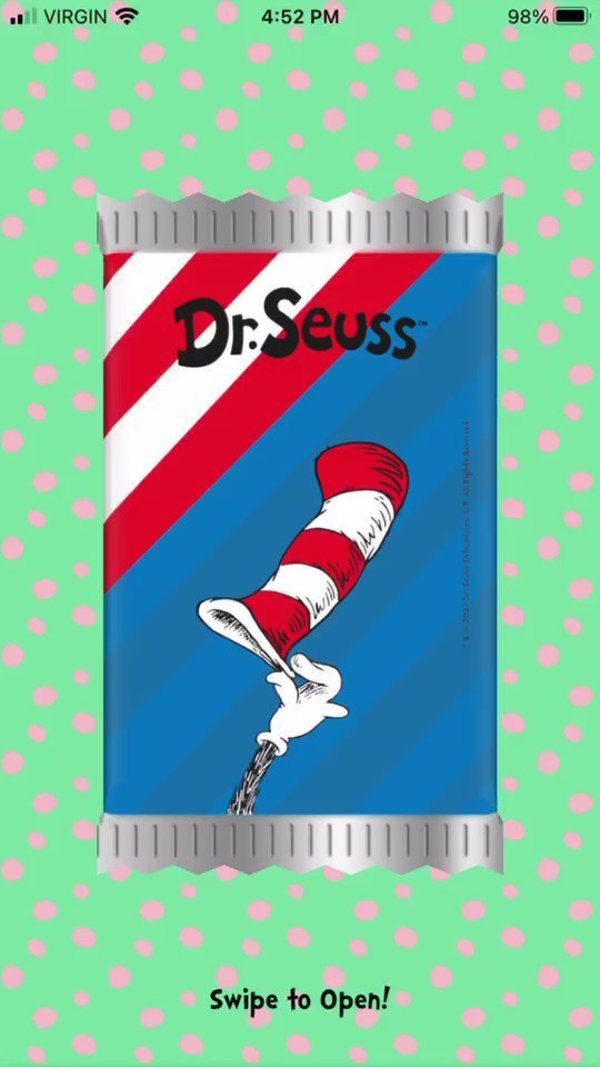 🎩More details on Dr Seuss🎩

💸$5 packs (x5 cards)
💳Unlimited CC purchases

📦12x Stickers
📦4x Sets (Base, Buttons, Patches, Pins)
📒Sticker Book Completion (Collect all 48x)

🖥️In-App Chatroom "Clubhouse"
↔️In-App Trade Feature

✨Pack Purchase/Opening is flawless

More🔻 https://t.co/8qHvu4TKlz
Roham also chimed in on Twitter, with an interesting note for Top Shot collectors:
"Oh the things you can find, if you don't stay behind"

Something new is cooking #onFlow @flow_blockchain 😇

Sign up on https://t.co/lssJFaCRjn and you just might get selected for early access

Hint for @nbatopshot collector score heavyweights: use your @hellodapper email 😼 https://t.co/wv5JaBFHB0
Fat-Finger Fixes ⚙️
Ever see a moment put up for WAY lower than the low ask? Maybe the user missed a comma, or forgot a zero, or just rushed — it happens much more frequently than you'd expect.
Hopefully (or sorry, if you're a sniper who somehow snags those deals), this new UI change will help reduce the 'fat-fingers', with a new secondary opt in flagging the user that they are listing far below price. Full thread, via Top Shot Content Lead Austin Kent: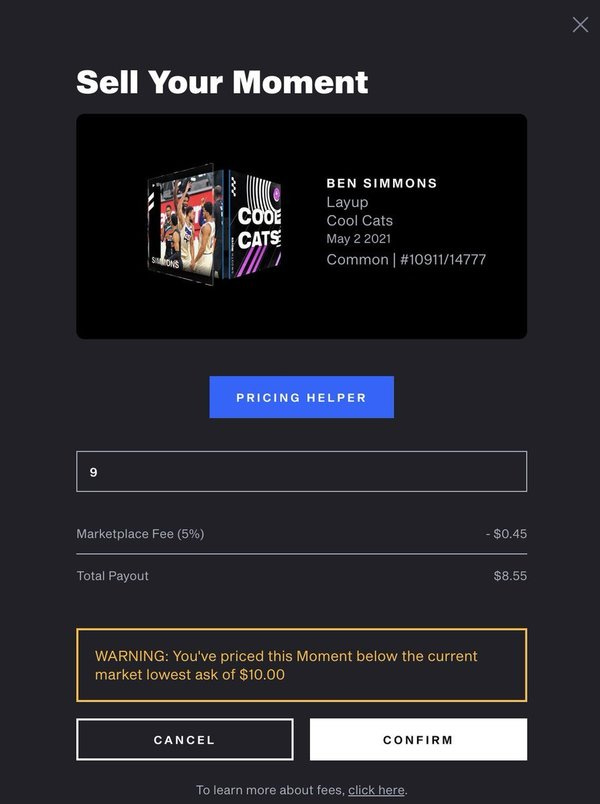 I live vicariously through you all, so when we saw one of our collectors down bad after accidentally forgetting a digit in their listing price, we talked about how we could prevent it in the future. 1/3 https://t.co/InX4DNXM2m

Around The First Mint 🗣️
The First Mint Live is back for another wild Thursday night, September 9th, 2021. Tonight we're talking to TJ from Own The Moment about Top Shot, Fantasy Football including the Owners Club, their new NFT. We're also voting off the Series 2 Sets that we don't want to see in Series 3!
🎧 The Run It Back Archive (Feat. MBL)
Thanks for reading! — Zach @ The First Mint
Not Subscribed to The First Mint Newsletter? Let's change that.
Follow The First Mint on Twitter at @TheFirstMint.
Follow Zach on Twitter at @GhostOfGregOden.
In order to unsubscribe, click here.
If you were forwarded this newsletter and you like it, you can subscribe here.
Created with Revue by Twitter.
Vancouver, British Columbia, Canada