The Next Batch Of Moments Being Retired 👴🏻
The First Mint
Featuring retired moments, whale perspectives, market movers, & more.

Good Morning, all you #NBATopShot Cool Cats and Kittens! (Doesn't Tiger King feel like a century ago? The simulation is broken.)
Hope you had some luck in the drop on Thursday (I know I didn't!), and happy weekend! Let's get into all the news from the past few days.
New to Top Shot? Check out our Top Shot 101 section!
Quick Hits 👊
🔹 Several Series 2 35K minted Moments were retired on Friday night (CC+ to LE). These were players moved during the trade deadline a few weeks ago who had current 35K CC moments still on the market.
🚨 Limited Edition ALERT🚨

Moments now retired at 35,000 LE:
🔒Terence Davis
🔒Evan Fournier
🔒Aaron Gordon
🔒George Hill
🔒P.J. Tucker
🔒Delon Wright
🔒Gary Harris
🔒JaVale McGee
🔒Victor Oladipo (35,125k LE)

Might be more incoming.
@nbatopshot
🔹 The Shots For Shots Auction is running through Monday, April 19! If you missed the stream on Thursday, the NBA Top Shot community came together to rip packs and donate moments for a great cause. Check out the auction page, where the sales from all purchased moments will go towards providing PPE & vaccine access to marginalized communities through the C19 Coalition.
🔹Check out our live thread from Friday's 'Office Hours'. Some highlights included future legendary drop info, Karl Anthony-Towns joining the platform, info on marketplace cooldown timers, and potential future badges.
🔹 Per NBA Top Shot, nearly 50,000 collectors gained withdrawal access this past week. This brings the total up to 106,792 users able to withdraw, which is a positive development on a big pain-point within the community.
Whale Watching 🐳
When a whale speaks, you listen.
Great thread from @mbl267_NFT (owner of the third largest account on the platform by account value) on why the 'free money' nature of packs is drastically hurting the NBA Top Shot ecosystem.
P.S. — wondering who the other two top accounts are on the platform? #1 is the NBA Top Shot collection (more on that here), and the second is our friend @WhaleShark_Pro (interview here).
Extremely +EV Packs Are The Reason Your Top Shot Account Value is 📉

Are extremely +EV packs fun? Sure
Are they partially responsible for the explosive growth of Top Shot? Probably
Are they extremely damaging to the ecosystem and the marketplace? Absolutely

Here's why:

(1/25)
A 25-tweet thread may seem daunting (though well worth it), but I'll do my best to summarize some of the bigger points:
— 📊 'Rent-Seekers' (he defines as those who are exclusively playing the pack lottery and instantly sell moments for profit) account for 57% (his estimate) of accounts on NBA Top Shot.
— 💸 These users are only here for free money (a by-product of how EV+ packs are), and add supply to the market but no demand — just extracting profits from the system. This is a problem.
— 📉 The pack lottery has disincentivized even true collectors (why buy from the market in its current state?). If you were a collector over the last few months and held/bought moments, you are probably down significantly. if you just flipped packs, you're in the green.
— 🟢 Potential Solutions include:
Raising pack prices to narrow the gap in EV and discourage 'rent-seekers'

Reduce # of moments in packs

Increase edition sizes to make new moments less valuable
While the 'free-money' nature of packs has definitely been a factor in the viral nature of the platform, it isn't sustainable — and the people who truly love the product are the ones hurt the most in the long-run.
Dapper Labs has made efforts to curb multi-accounters and bots (two often extreme examples of 'rent-seekers'), but how they handle the overarching problem this thread highlights will be a pivotal decision for the future of platform.
Market Movers — Retirement Edition 📊
The surprising Thursday retirement announcement of LaMarcus Aldridge was a unique situation to watch on the NBA Top Shot market. It's rare a player of Aldridge's caliber leaves the league abruptly, and real-life news has an immediate impact on corresponding moments.
Looking at the data, it appears the flippers were out in full-force to try and capitalize on the breaking news, with varying success. Via @_GregMurray: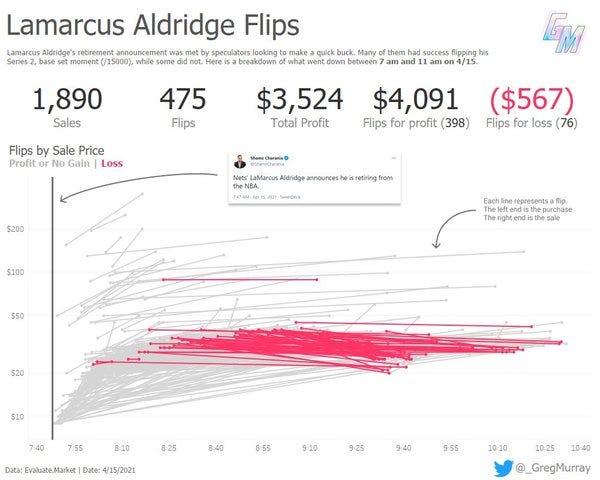 🐬 @aldridge_12 Flip Review 🐬
*S2 base set /15k only

🎣LA's retirement announcement was crashed by flippers
🐬 x475 flips in a 4 hour window
🤝SN #13067 was flipped 5 times yesterday (all but once for a profit)

Data: @EvaluateMarket https://t.co/tpLNZReQCh
Around The First Mint 🗣
🎧 NEW Podcast — What's Next For NFTs? (FEAT J1MMY)
📝 Taylor Stein  — Are Challenges Actually Worth It?
ICYMI: Previous Podcasts to Catch Up On:
🎧 LG bought his own NFT [FEAT. DEAN, REX, PHIL D]
🎧 The Moment Designs [FEAT. TYLER HAYES]
🎧 The Top Shot Reboot is Coming
Thanks for reading! — Zach @ The First Mint
Not Subscribed to The First Mint Newsletter? Let's change that.
Follow The First Mint on Twitter at @TheFirstMint.
Follow Zach on Twitter at @GhostOfGregOden.
In order to unsubscribe, click here.
If you were forwarded this newsletter and you like it, you can subscribe here.
Created with Revue by Twitter.
Vancouver, British Columbia, Canada