The Roham Bounce 📈
The First Mint
Featuring a Roham Recap, Throwdowns Incoming, Challenge Corner & More

Good morning, NFT Squad! Happy Tuesday — hope you had an excellent weekend!
I've been down bad this past week with the flu, but am finally turning a corner in the last few days (like the Top Shot market, maybe? Maybe?!?). Roham's calming words cure all!
Let's get into all the action from the last few days:

A Roham Recap 📜
The highly-anticipated Q&A with Dapper Labs CEO Roham Gharegozlou made for an exciting Saturday morning — and we got plenty of information regarding the state of the platform and future plans.
A rundown of the more notable announcements, which also came out via Blog Post prior to the Twitter Spaces (recording available here if you want to listen), via @Clegainz:
Tl;dr @roham @nbatopshot AMA

No more 60Ks
"Traditional" Pack Drops
"Blended" Trade Ticket Packs
Profile customization
Offers/Bids
Staking
$FLOW
Access unlocked: NBA Playoffs
NBA Legends in TS Discord
NBA League Pass for Collectors
Spend-based Rewards
Top Shot Convention https://t.co/jP2LzvAWKF
A few of my reactions/observations to the various announcements:
No more 60k mints is a good first step. Let's keep going — do we need 30ks? The more scarce, the better!!!
Busting Team Bottlenecks — If you hadn't heard, the historical moments (Run It Back, Vintage Vibes, Archive), will no longer be required for Complete Team Sets, but will get other bonuses. From a personal standpoint, I love that my Bulls set is now attainable again, and like the move to open up the "Team Set" ecosystem to more people. However, I do think it's another example of a tightrope that Dapper continues to walk — making market-changing moves frequently. If I HAD purchased that Derrick Rose Deck The Hoops (or for those that purchased the Vince Carter), I'd feel jaded at the announcement, barring some significant incentives for holding that type of moment.
Offers/Bid system coming is great news for the ecosystem, as a more efficient market benefits everyone. Although, as Phil D mentioned on the TFM spaces, prepare for a large amount of $1 bot-style offers when that's implemented.
$FLOW — we all want moment staking. But maybe that's not out of the realm of possibility? From the blog: "There will also be ways for the Dapper community to earn FLOW for contributing to the ecosystem."
NBA League Pass + Spend-based Rewards — this is the type of cool perks I've been hoping for. League Pass in particular is a great one (though from past experience, the digital product is truly awful), with a perfect tie-in to fandom and driving collectors to watch more games. Would love the ability to spend trade tickets in the NBA store, get promo codes unique to my Top Shot CS, etc. We are really scratching the surface of what the NBA x Dapper can do.
All in all, a positive weekend from the Top Shot crew. And the market seems to agree with that sentiment, at least momentarily: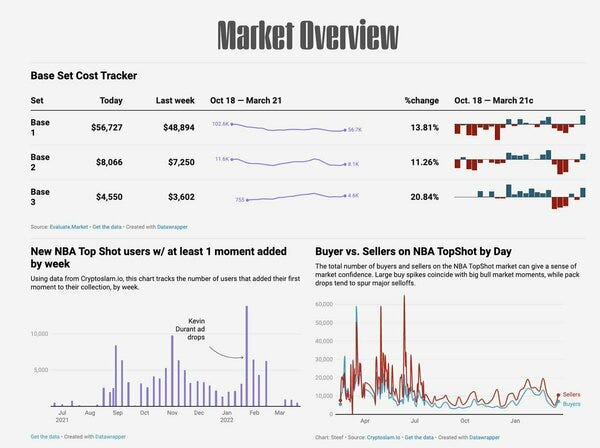 Your weekly NBA Top Shot market update.

The @roham bump.

🏀 Markets, per usual, jump 10%+ after Q&A
🏀 Engagement comes up off the floor but remains on lower end for 2022.
🏀 New users flat for 3rd week

Data via @EvaluateMarket & @cryptoslamio https://t.co/dZMF0OdUWR
Are we back? Not yet. But when times are dark, Roham knows how to bring us back from the depths of despair.

Throwdowns Are Back ☄️
We've got the next rare drop this week, with a fan-favorite set returning for Series 3.
Top Shot announced that the Throwdowns drop is coming on Thursday, with. 17,000 packs available at $89 across two queues.
We're definitely seeing the scarcity element pushed by Dapper more since the public backlash, and graphics like these go a long way to show the mint progression of the set (via the blog):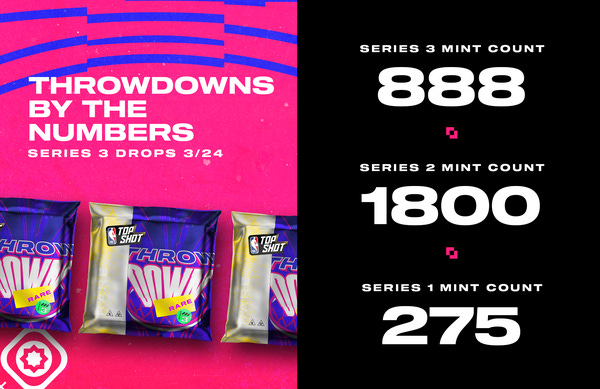 Though, it wouldn't be the worrrrrrst thing if we just went back to Series 1 mint counts all together. Alas!
There's also an interesting nugget about the challenge rewards:
3 new Throwdowns Moments will be available as Challenge Rewards and 1 Throwdowns Moment will be available in a format that will give collectors a unique new choice to make.
Speaking of Rare moments, it looks like there is a fun new UI/UX feature for those who hated having pack reveals spoiled from the shadow type under your moments: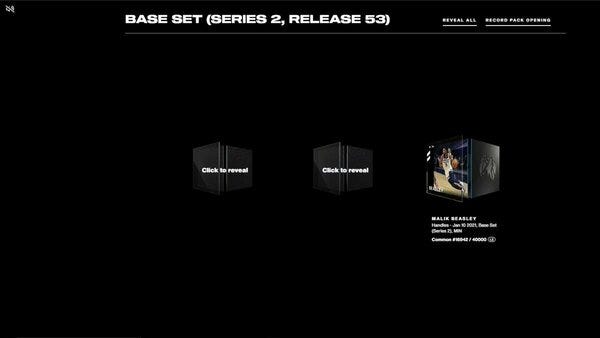 SHADOW 2.0!!!! 🔥🔥🔥🔥

There is now a delay on the moment's shadow, allowing you to reveal the moment without knowing what type of moment is it if you want. Check it out! https://t.co/d0uJN9GNmH

Challenge Corner 🎡
The WHEEL was back for another Flash Challenge last night, with an Anthony Edwards MSFE up for grabs. I actually really like The Wheel — it creates chaos and makes for some fun bottlenecks that are hard to plan around!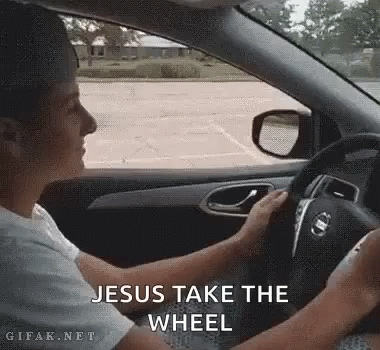 In addition to the Flash, we've got a full list of challenges expiring TODAY:
Reward: James Harden Fresh Threads

Deadline: Tuesday, March 22 @ 11 AM PST
Reward: LaMelo Ball Holo Icon

Deadline: Tuesday, March 22 @ 12 PM PST
Reward: Scottie Barnes MGLE

Deadline: Tuesday, March 22 @ 1 PM PST

Around The First Mint 🗣
🎧 The Future of Web3 Access (Featuring Recur)
Thanks for reading! — Zach @ The First Mint
Not Subscribed to The First Mint Newsletter? Let's change that.
Follow The First Mint on Twitter at @TheFirstMint.
Follow Zach on Twitter at @GhostOfGregOden.
In order to unsubscribe, click here.
If you were forwarded this newsletter and you like it, you can subscribe here.
Created with Revue by Twitter.
Vancouver, British Columbia, Canada