The TFM Newsletter Turns 1 🎂
The First Mint
Featuring Our 1 Year Anniversary, Pat Beverley Love, NBA Web3 Weirdness, Pack Drop Day, Challenge Corner & More

Good Morning, NFT Friends! Hope you've had a great week! The NBA Play-In Tournament has been a fun one to watch, with that March Madness sense of urgency for teams with their back against the wall.
The Timberwolves game, in particular, was a wild one — largely due to the endless energy of the one and only Patrick Beverley: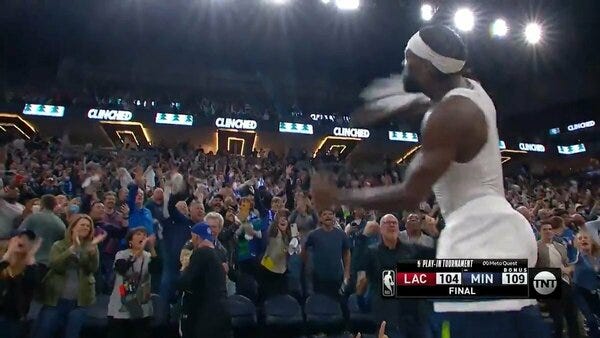 Patrick Beverley just won the NBA Finals 😂 https://t.co/DiR2prLcm2
For all the joking about Beverley's celebrating, that's the type of energy guy you want on your team. His chaos and attitude played a HUGE factor in that game, and he's a first-ballot "guy you hate until he's on your squad" (Draymond Green and Joakim Noah are two others that immediately come to mind).
Also, let the guy celebrate! We always see a lot of criticism about NBA players not caring enough, or loafing through games — so appreciate the all-out energy when it happens!
With my Pat Bev soapbox out of the way, it's also a Newsletter for celebration — our one year anniversary:
Happy Anniversary @TheFirstMint Newsletter🥳

A year ago, @GhostOfGregOden came on to write 3x issues per week.

The Data:
☑️5k+ Subs
📰154x Issues
😱55% OpenRate

To all our readers - thank you!❤️

Love hot takes and spicy Dapper drama? This is for you⬇️

https://t.co/eSaTXZez5u
Thank you so much for all of you who take the time to read my musings several times a week — and a special shoutout to those that have been around since the start! We've certainly rode quite the rollercoaster, from the ebbs and flows of Top Shot to the absolute explosion in the broader NFT space. Here's to many years to come!
Now, let's get into all the action from the last few days:

NBA x Web3 Weirdness 🤨
I meant to touch on this in Tuesday's Newsletter, but got a bit long-winded with the Economist drama (I guess I should make better trading writing decisions).
We got some curious information on Monday, with the NBA filing a trademark for "The Association" — with plans to include all things Web3 under that umbrella (and several that would seem to overlap with NBA Top Shot):
🌐NBA METAVERSE PLANS🌐

The @nba has filled a trademark for "The Association" that will include:

🏀NFTs
🏀jerseys
🏀uniforms
🏀collectibles
🏀game tickets
🏀trading cards
🏀video games
🏀autographs
🏀virtual consumer merchandise

Read on @boardroom⬇️

https://t.co/ChdIu4tdIb
While the trademark itself caused some confusion amongst the TS community, I'd imagine Dapper is involved in some way (the Twitter account below is only following NBA Top Shot and the Top Shot community account).
However, the weirdness began on Tuesday, with a series of head-scratching moves detailed nicely by LG: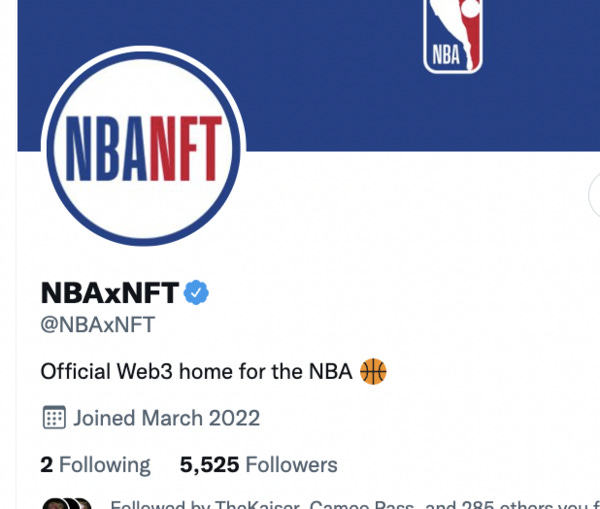 Noticed that many people today missed the bizarre saga of the @NBAxNFT launch.

So to preserve this strange tale, I've documented the experience in thread form.

/1 https://t.co/4cPQTrrC2u
TDLR:
NBAxNFT tweets out a cryptic tweet with 4 PM EST

Nothing happens at the time, and after about 30 minutes the tweet is deleted

A new tweet is shared, with a link that displays the Doggi Krazy (?!?) Discord

That tweet is also deleted
Things seem to have normalized a bit, but what a day of chaos and uncertainty for a group of collectors already in a strange space given the state of Top Shot. And still TBD what this new NBAxNFT means for Top Shot or what the NBA has planned going forward.
Apparently Doggi Krazy is a rapper:
Listen to Doggi Krazy on Spotify. Artist · 44.9K monthly listeners.

Drop Day 📦
We've got two major drops today, which would under normal circumstances be a cause for excitement. Given the current sentiment, it feels like it could be quite a polarizing one on the platform. I broke down the main details on Tuesday's Newsletter, and the action kicks off with the 9 AM PST Priority Queue for those participating.
Will I be lining up for a $999 pack?
Will there be some winners in these packs? Let's check in with JonBoyBeats:
Tomorrow's pack drops will both be slightly +EV

However, there will be a lot of "loser packs" which we've never seen at the $999 price point

Let's see some supply/demand metrics.
Let's see some innovative distribution mechanics.

Until then, I'm sitting out the drops
The negative JonBoy sentiment reminds me of my recollection of US history class, with Lyndon B. Johnson losing the support of honorable and respected journalist Walter Cronkite during the Vietnam War.
President Johnson was deflated by Cronkite's report, saying, "If I've lost Cronkite, I've lost Middle America."
If you've lost JonBoy, you've lost the common collector!

Challenge Corner 🏆
Currently active challenges —  including some new WNBA content, a Play-In Flash Challenge, and the first MSFE Challenge:
Reward: S3 All-Star Standard Pack

Deadline: Friday, April 15 @ 10 AM PST
Flash Challenge: Earn Your Spot
Reward: S2 AND S3 Base Pack

Deadline: Monday, April 18 @ 1 PM PST
A'Ja Wilson WNBA Player's Choice Challenge
Reward: A'Ja Wilson Player's Choice Moment

Deadline: Tuesday, April 19 @ 2 PM PST
WNBA Starter Challenge (New Users Only)
Reward: WNBA Best of 2021 Pack

Deadline: Tuesday, April 19 @ 2 PM PST
Speaking of MSFEs… There was some big drama with the final challenge (delivered by The Wheel) to round out the set.
Many users spent a lot of time (and money) throughout the season grinding the Flash Challenge scene to complete the full set — only to have a series of questionable moves and poor planning from Top Shot create a bottleneck that put a dark cloud over the entire experience.
A full detail of what transpired from avid TS collector, Dapper VIP and longtime professional poker player @efropoker:
In the wake of feeling absolutely rugged once again by @nbatopshot, I've quickly written up WAY too many of my thoughts on this latest chapter. Happy to have further discussions with others if interested and feel free to share if you're so inclined:

https://t.co/A1X0CaO0yB
This quote stood out to me:
Trust has been destroyed for me. And not that they "owed" me anything for having been such a loyalist and completionist, but I will never trust that they will make decisions in the interest of me and my fellow users again.
It's a story we've seen time and time again — the most loyal people on the platform getting burned, because of head-scratching decisions that show a lack of synergy between those running the show and their consumer base.
When you have an overwhelmingly negative sentiment from the general population, and are STILL making decisions that hurt your most loyal base, it ain't a recipe for success.
And just like last year — at what should be the most exciting time for 'the currency of fandom', Top Shot feels like it has lost the community.

Around The First Mint 🗣
🐦 This Week in NFTs | NFL | NBA | Flunks | Alpha
🎧 The DC Comics Multiverse Comes to NFTs
Thanks for reading! — Zach @ The First Mint
Not Subscribed to The First Mint Newsletter? Let's change that.
Follow The First Mint on Twitter at @TheFirstMint.
Follow Zach on Twitter at @GhostOfGregOden.
In order to unsubscribe, click here.
If you were forwarded this newsletter and you like it, you can subscribe here.
Created with Revue by Twitter.
Vancouver, British Columbia, Canada