Top Shot — Hot Or Not? 🌶
The First Mint
Featuring Playoff Packs, Moment Tracker, MGLE Talk and More

Good Morning, NBA Top Shot Squad! Happy Thursday — getting excited for that playoff reservation pack? Maybe trying to snag a horse or two tonight in the Zed.Run drop? Exciting times! Let's get into all the action from the last few days:
New to Top Shot? Check out our Top Shot 101 section!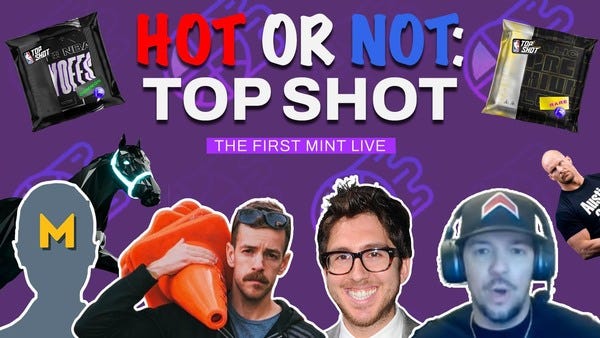 It's Thursday — which means a new The First Mint Live Show! Join us tonight to chop it up with comedian Amir Blumenfeld, The Moment Nerd and other members of the community. We'll be talking Top Shot, horses, ripping packs and plenty more.

Together with Evaluate.Market
Ready to take your collection to the next level? The Evaluate platform features tools for Challenge Tracking, Account Valuation, and the ability to shape Top Shot Sales Data as you please.

Quick Hits 👊
🔹The first Series 2 Playoff Common Packs will be available to those who reserved a spot starting Friday at 11 AM PST. Each $14 pack features one common-tier playoff moment and two base moments.
These are the first-ever playoff commons on the platform, with Series 1 featuring exclusively rare or legendary-tier moments for the postseason action. Like previous reservation packs, you'll have a large window of time (until Monday, June 14) to hop in the queue!
We've seen some of the playoff moments trickling out on social media, including LeBron James, Giannis Antetokoumnpo, Joel Embiid, Khris Middleton & Obi Toppin. Peep the full list of 32 First Round moments (plus 8 'earnable' moments, TBD on challenge/format), via last night's blog:
🚨New Moments🚨

x32 Moment from The First Round incoming this Friday on @nbatopshot

🔻Full blog🔻

https://t.co/m8BLSZS83l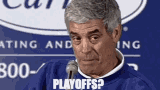 🔹Did you see NBA Top Shot's new 'Moment Tracker'? The team released a fresh UI change this week to help collectors better understand the distribution of individual moments. Check out this Bol Bol moment page as an example: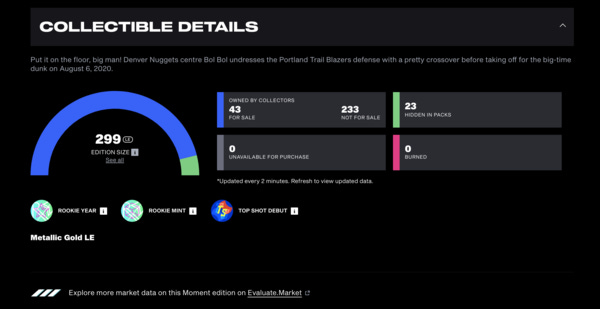 The change allows users to clearly see how many of a certain moment is available for purchase / still in packs / held for future distribution (promos, older moments that didn't sell initially, etc.). There is also notably a 'BURNED' section — which strongly hints that we'll see burning incorporated further in the future. Full details in the NBA Top Shot blog.
🔹Want to secure a loan in exchange for your NBA Top Shot moments? With a new platform, Flowty, you'll be able to get short-term loans using your Flow-based NFTs as collateral.
Created by Top Shot whales and friends of TFM Michael Levy (@mbl267_NFT) and Guillaume "G" Huot (@Ars0nic), Flowty continues to expand on what future utility for moments could look like. We've heard Dapper Labs CEO Roham Gharegozlou mention use cases such as the future staking and burning of moments, Hardcourt, etc. — collateralizing is another step forward towards being able to use your moments in a variety of ways.
🔹How hot is your moment? We saw a fun community-built game come out this week from MomentNerd (might remember them from the Showcase Challenge Checker) called 'Shot or Not'.
The page has users watch a particular moment and grade it 1 through 5 — sourcing community opinions on random highlights throughout the Top Shot platform. It's a true representation of collecting moments you like — users aren't shown tier, mint #, set, etc. It's an awesome way to experience the moments for what they are — amazing basketball highlights.

Market Movers 📊
Your market update, via @SteefCrypto. Things are quiet, but stable: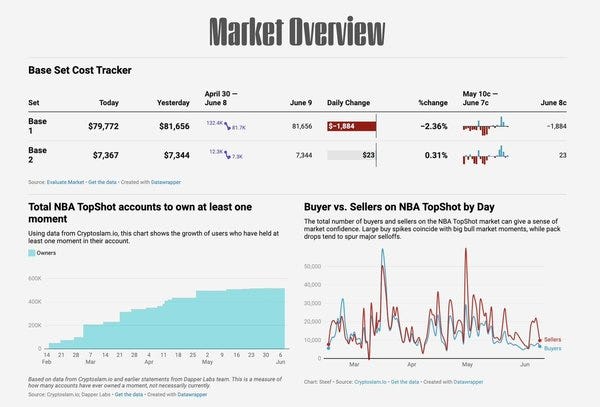 Your #NBATopShot daily market update:

The rally has sputtered, but we still haven't seen a major selloff now commonplace with pack drops. Volume down, new users stable.

Data via @EvaluateMarket & @cryptoslamio https://t.co/UVNMtVXzC3
Not seeing a sell-off post-MGLE drop was good to see — especially given the low pack price point (could've encouraged even more undercutting).
Especially spicy? That Kevin Durant rare moment, currently checking in at a $2,300 low-ask as of this writing. Nice return on a $24 pack!
Data Via Evaluate.Market: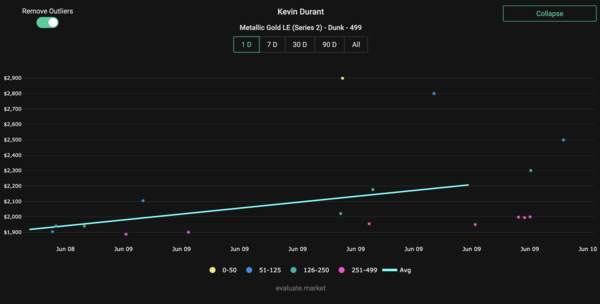 Around The First Mint 🗣
🎧The Best Sets On Top Shot (FEAT. GIRLDAD)
Infamous Twitter personality GirlDad joins The First Mint to talk about his favorite sets to collect and how he approaches a market from a financial management background. He also dishes on his history in Top Shot and current strategies for the market.
🎧 How to Pick Your Next NFT (FEAT. SCALYNELSON)
📰 Miss an earlier edition of The First Mint Newsletter? Check out the archive here.
Thanks for reading! — Zach @ The First Mint
Not Subscribed to The First Mint Newsletter? Let's change that.
Follow The First Mint on Twitter at @TheFirstMint.
Follow Zach on Twitter at @GhostOfGregOden.
In order to unsubscribe, click here.
If you were forwarded this newsletter and you like it, you can subscribe here.
Created with Revue by Twitter.
Vancouver, British Columbia, Canada