Top Shot Is Running Hot ☄️
The First Mint
Featuring KD x Top Shot, WNBA Finals Experience, Challenge Corner, Run It Back Hype and More

Good Morning, NBA Top Shot Squad! The day is upon us — Run It Back is here! It's an exciting day, so make sure to grab a cold brew, grab your lucky charm (mine is a Jimmy Butler bobblehead) and get ready for a big day! Let's get into all the action from the last few days: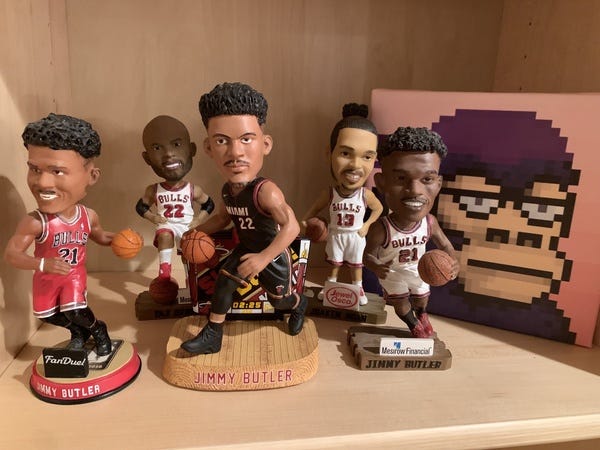 My good luck shelf (Feat. Jimmy Buckets x3, Taj Gibson, Joakim Noah and my Kong)


Together With Evaluate.Market
Maintaining an NBA Top Shot portfolio and researching new NFTs can be a challenging task. Evaluate.Market makes it easy to monitor your account value, discover market trends, and analyze NFT collections including NBA Top Shot, Bored Ape Yacht Club, Cool Cats, and more. Try it for yourself at Evaluate.Market!

Programming Notes 🗓
Sit back, relax, and enjoy a jam-packed few days of TFM content:
An exciting next few days ahead...
Mark those calendars 🗓

Thursday, Oct. 14 — @nbatopshot Run It Back 📦
☕️ 10 AM PST — Club Cold Brew for PQ1
📦 12 PM PST — PQ2
📹 2 PM PST — TFM Live for GQ

Friday, Oct. 15 — @flowverse_ Fest 🎉
🔮 7 AM PST — Mystery Pack Reveal #onFlow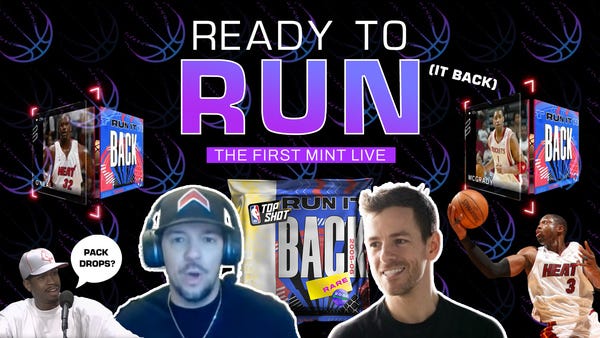 We'll be moving TFM Live up a few hours to coincide with the Run It Back general queue — tune in for a good time (and hopefully some lucky queue numbers + pack pulls). See you around 2 PM PST on our Twitch channel.

KD x Top Shot 🤩
NBA Top Shot just got a bit more star power.
While we knew Kevin Durant was an investor in the platform and his venture 'The Boardroom' had previously had some Top Shot involvement, there hadn't been a significant public endorsement… Until Wednesday.
Top Shot announced that Durant and 'The Boardroom' had joined the NBA Top Shot family, with a blog post that cements the Slim Reaper as the potential face of Series 3. Via the blog:
Which is why we're beyond proud to announce that we're joining forces with Durant & Rich Kleiman's Boardroom to take NBA Top Shot to a whole new level this season. In a landmark partnership, Durant will take on a starring role across Top Shot – including a first-of-its-kind creative development collab that'll see KD curate and create NBA Top Shot Moments, video content, and more. 
No disrespect to Tyler Herro… But hot damn!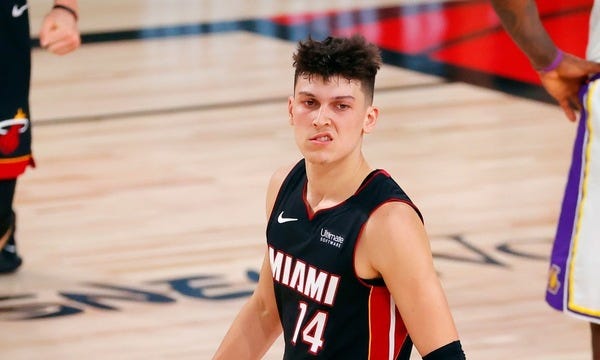 You vs. the guy she told you not to worry about https://t.co/2gKLE9iu4g https://t.co/sr242BFIBk
With the recent Dwyane Wade Run It Back promo, and now Durant, Top Shot has come a long way from the days of Alexa G Instagram posts (IYKYK). I wrote a few weeks ago about how cool it was to see WNBA legends interacting with the platform, and how we had yet to see that upper echelon of NBA players really gravitate to Top Shot. It appears my wishes were granted!

WNBA Finals Experience ✈️
If you thought the next Top Shot Suite/Experience was next week at NBA Opening Night… You were wrong! Wednesday saw the announcement of a WNBA Finals Experience, with Top Shot sending four collectors to Game 3 in Chicago on Friday. Details:
🎟 @WNBA FINALS EXPERIENCE 🎟

✈️ Airfare, accommodations, merch, activities, watch Game 3 of WNBA Finals in @nbatopshot Suite, + more

📸 Four collectors chosen from two snapshots taken on Oct. 4

🏆 Winners revealed tomorrow

Full Details 🔻

https://t.co/5HUQozUfqs
I especially like the unannounced snapshot aspect of this drawing — surprise and delight! Winners will be drawn from the pools of collectors that own the full WNBA RIB set (two winners) and the full WNBA base set (two winners). A very cool way to reward those who invested in those sets!

🏆 Challenge Corner
Top Shot, go home, you're drunk (with content)!
We got not one, but TWO Showcase Challenges dropped on Wednesday, with WNBA Challenge #6 and this very random Rookie Showcase hitting the platform: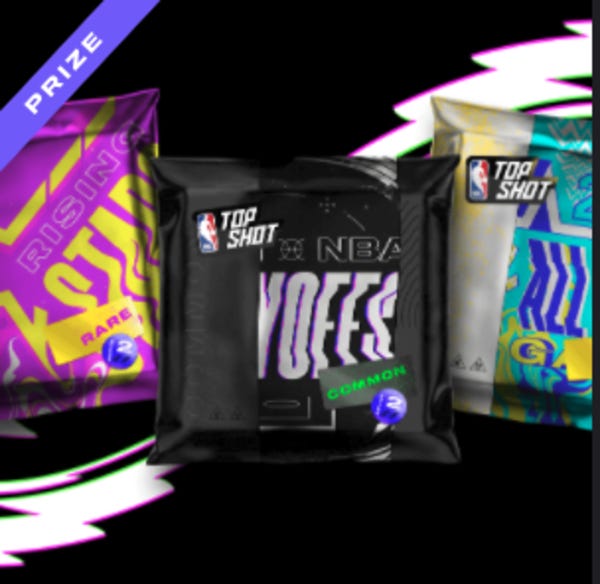 ⭐️ROOKIE SHOWCASE CHALLENGE⭐️

Prize Packs:
📦3000x 2021 Playoffs
📦300x Rising Stars
📦300x All Star Game

How to enter:
☑️Make a showcase with 10x Moments
☑️All Moments must have Rookie badge
☑️Stacking allowed

Deadline⚠️Oct 19, 10 AM PDT https://t.co/y3xJfVh48Q
I saw tweets from the community earlier this week mentioning the lack of active challenges. Well, you've got em' now! Top Shot, probably:
What a week of content! My brain right now: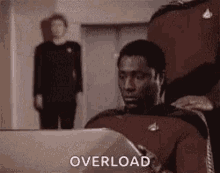 Around The First Mint 🗣
📹Live Show: Tools of Rock, Christian Petracca
🎧The Fate of Top Shot Experiences
Thanks for reading! — Zach @ The First Mint
Not Subscribed to The First Mint Newsletter? Let's change that.
Follow The First Mint on Twitter at @TheFirstMint.
Follow Zach on Twitter at @GhostOfGregOden.
In order to unsubscribe, click here.
If you were forwarded this newsletter and you like it, you can subscribe here.
Created with Revue by Twitter.
Vancouver, British Columbia, Canada