Top Shot Takes Over 🗽
The First Mint
Featuring Showcase Challenges Galore, NFT NYC, POAP Treasure Hunt, Quavo, Market Movers & More

Good Morning, NBA Top Shot City Slickers! Hope you had an excellent weekend! To those of you who are currently in / heading to the Big Apple for NFT NYC, have fun! I won't be attending this year, but our main man LG Doucet is on the premises. Keep an eye out for him!
Let's get into all the action from the last few days:
Catch My POAP If You Can
What's up everyone, its LG here writing to you live from NYC. This week, we're sponsoring the POAP Treasure Hunt, where you can earn POAPs by finding your way to different locations around NYC.
There are over 15 POAPs in total to claim, and all POAPs count as an entry ticket to the grand draw. To claim The First Mint POAP, you'll have to find me in person during the event and scan a code that's either on my T-shirt or my hat.
Keep your eyes on Twitter for my next location!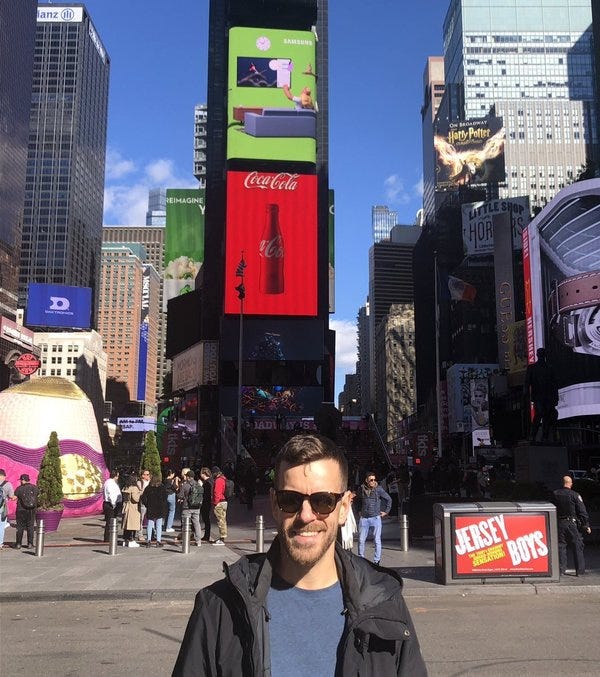 ✨Vibes High
✨Expectations High

Can't fucking wait to meet everyone https://t.co/G8WfyZ2tbP

The Return of Quavo 🎤
Did you think Top Shot was done with Quavo after last year's legendary collab / quest? Think again!
The rapper is back for a new Showcase Challenge, celebrating this week's NFT NYC festivities: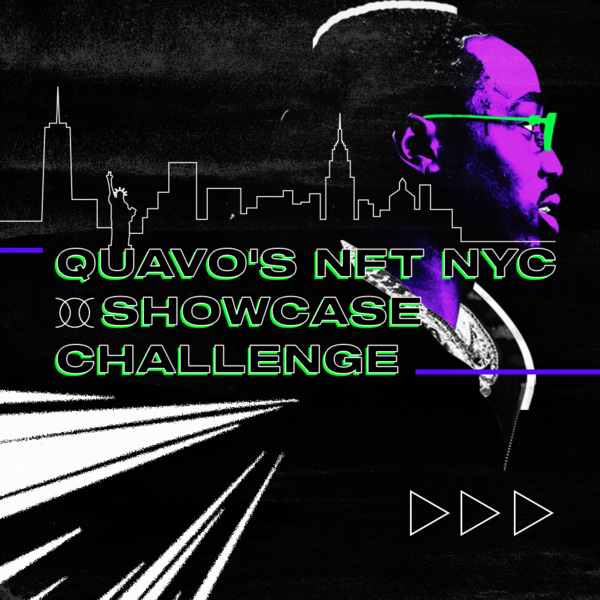 🗽 QUAVO #NFT NYC SHOWCASE CHALLENGE 🗽

Possible Rewards:
🎟 2x Courtside Seats
🧊 10x Holo Icon S2 Legendary Packs
📦 25x Premium S2 Rare Packs

5 Moments Needed:
🔹 1x Knicks HANDLES
🔹 1x Nets
🔹 1x Hawks
🔹 1x Liberty
🔹 1x Dream

⏰ Deadline: Friday, Nov. 5 @ 9 AM PDT https://t.co/cBxL6nYWYD
But the Showcase announcement wasn't all — those in NYC also got a Quavo performance at the NBA Top Shot Takeover event: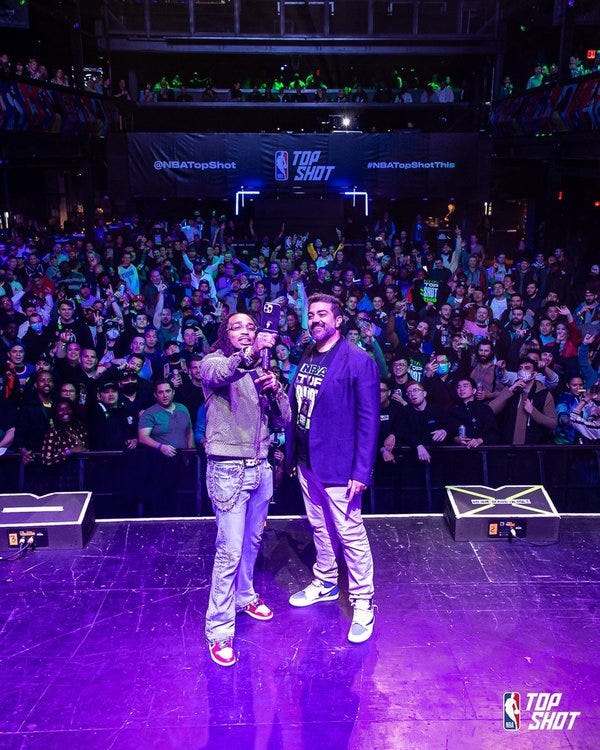 Two 🐐's stuntin

@roham x @QuavoStuntin #NBATopShotThis https://t.co/zBIsqgP6i1
Gotta tip your hat to the Top Shot events crew — they know how to create some pretty awesome-looking experiences. Look at that Legendary cube!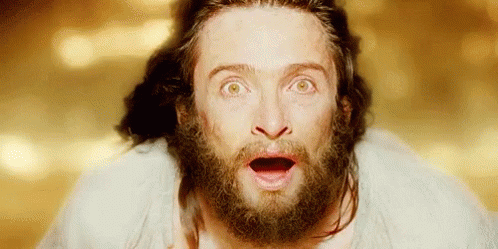 More Vintage Vibes 👴🏻
Prior to the Quavo announcement, we also got our third Vintage Vibes Showcase Challenge — with a Miami Heat Chris Bosh moment as the reward. What you'll need: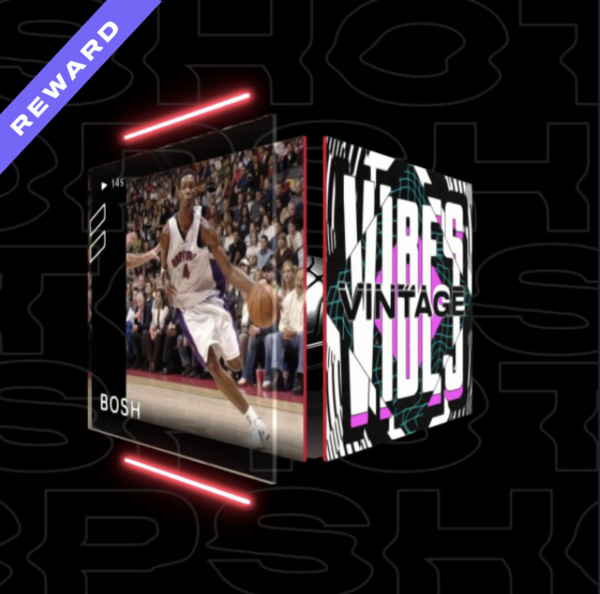 🏆 VINTAGE VIBES SHOWCASE CHALLENGE #3 🏆

🥇 Reward: Chris Bosh Fandom Moment

5 Moments Needed:
🔹 1x @DwyaneWade Fandom
🔹 2x @MiamiHEAT
🔹 2x @Raptors

⏰ Deadline: Friday, Nov. 5 at 10 AM PDT https://t.co/ESUkZJJCWD
You wanted utility for your precious D-Wade #272,000 serial? You got it!
With easy challenge requirements, this one should have a significant number of mints as well. Scarcity!

Market Movers 📊
We haven't featured a classic Marketplace update in a while, so let's take a look at the numbers! Via @steefcrypto: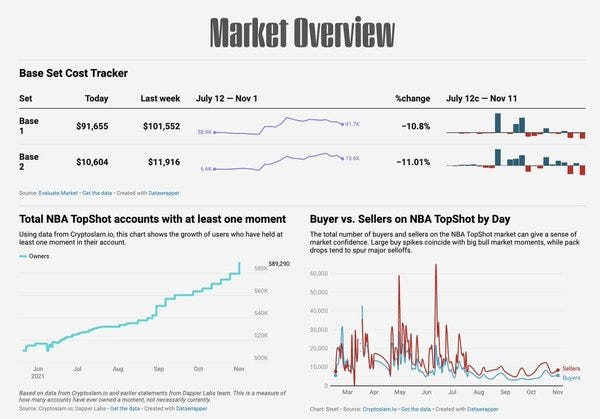 gm. your weekly @nbatopshot market update:

A rollercoaster!

🏀 Both sets see more than 10% drop in price
🏀 10K new users w/ at least 1 moment; highest one week total in months

🤝 Come say hi at Terminal 5 tonight!

Data via @EvaluateMarket & @cryptoslamio https://t.co/HSxJSM76Ck
While I'm a little concerned with the usual Top Shot supply issues and Series 3 looming, one moment that has held value is the Klay Thompson TS Debut: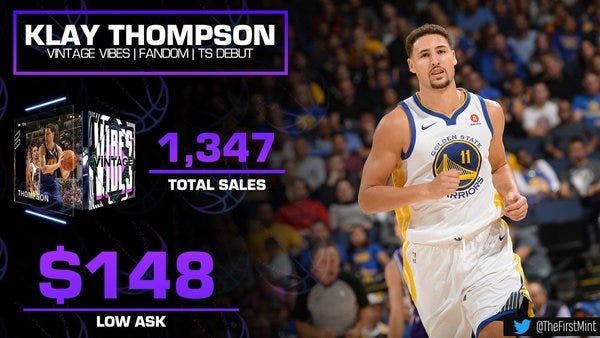 Top Shot Collectors 🤝 @KlayThompson

A look at the @nbatopshot Marketplace data on the Klay TS Debut, after a weekend of activity:

📊 $148 Low Ask
📊 1,347 Total Sales
📊 Top Sale - $10,500 (#1 Serial) https://t.co/V1GbXdz43F
People LOVE Klay, and this is also his first moment on the platform — so it's understandable that the price has held steady for a common/Fandom. As long as it remains as his only moment, it'll be an interesting case study to see where the price heads!
Around The First Mint 🗣
🎧 The Future Of Attendance ( Feat. POAP)
Its NFT.NYC and the crypto world is in for a wild week. People will meet. People will laugh. Some may cry. TFM has partnered with POAP (Proof Of Attendance Protocol) to sponsor the NYC Treasure Hunt. To celebrate, we invited POAP's Founder and CEO, Patricio Worthalter, on the show to reveal how the protocol got started and where its going next.
📹 TFM Live: Pack Cracking Mania
🎧 From Top Shot to DAOs (Feat. Kyloren)
🎧 A Big Week in Sports NFTs (Feat. Shane Small) 
Thanks for reading! — Zach @ The First Mint
Not Subscribed to The First Mint Newsletter? Let's change that.
Follow The First Mint on Twitter at @TheFirstMint.
Follow Zach on Twitter at @GhostOfGregOden.
In order to unsubscribe, click here.
If you were forwarded this newsletter and you like it, you can subscribe here.
Created with Revue by Twitter.
Vancouver, British Columbia, Canada