Discover more from The First Mint
a web3 sports community: podcast. newsletter. events.
Over 5,000 subscribers
Wade-ing Through A Wild Week 🎢
The First Mint

GM, NBA Top Shot Friends! Happy Weekend! Hope you all had some luck in the Run It Back Drop these past two days — let's get into all the action from a busy week in Top Shot (this is a long one, strap in!):

A Run It Back Rundown ⏮
It was quite a few days for the Top Shot community, with the massively hyped Run It Back drop rolling out over the last two days.
Yes, two days — which was a rough patch in what felt like a really bright week for the platform. After a lengthy Priority Queue 1 that experienced some technical issues, Priority Queue 2 and the General Queue were postponed until Friday morning: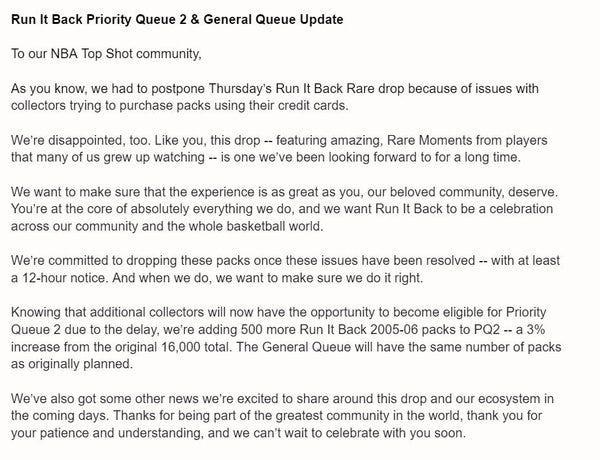 Run It Back Priority Queue 2 & General Queue Update: https://t.co/iSvm0xiGu4
It was a tough speed bump for a community fatigued by the 'beta' tag, but Friday's queues went off slowly but without major issues. The community can have a short memory on issues like that, and the positivity seemed back in the air after a testy Thursday on Twitter that looked something like this:
Heading over to the marketplace (which also saw its share of technical problems as it re-opened post drop), we had four clear big winners that were lucrative pulls: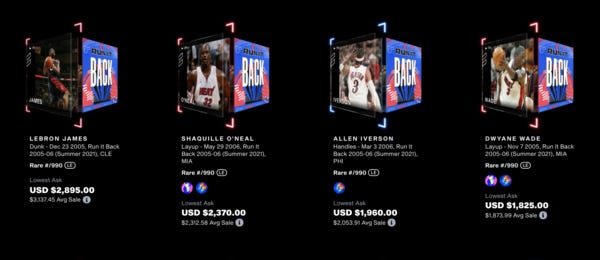 The lowest moments in the Run It Back Set were hovering around $135 as of this writing (much lower than I anticipated seeing). Some of the top market sales so far: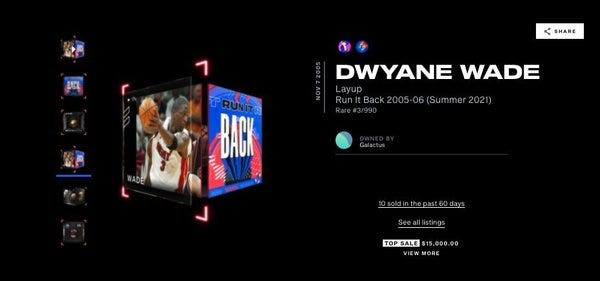 The @NBATopShot MP is back in maintenance🚧

Top RIB⏳ sales while open:

🥇$15,000 / Wade / #3 (jersey)
🥈$5,233 / Iverson / #76
🥉$5,000 / Shaq / #19
4⃣$4,000 / LeBron / #496

Approximate Avg. Sales:

⭐️~$2,500 / Shaq
⭐️~$2,000 / Iverson
⭐️~$2,000 / Wade
⭐️~$1,000 / McGrady https://t.co/4CY8WNklor
Wade Worries 🥴
Speaking of Dwyane Wade…
We got another announcement late Friday, with a Fandom tier D-Wade moment available for all collectors to purchase on Monday:
⚡️ Coming Monday ⚡️

Flash's Fandom Moment™ Collectible

https://t.co/4a2ypz6Gbp
The TLDR —
All new users who purchase a starter pack will receive this free Wade moment

All existing users will also be able to purchase up to 3 of them ($9 a piece)

This is the first moment in the 'Vintage Vibes' Set AKA the historical Fandom tier

Every holder of the Fandom Wade moment will be entered into a raffle to win Wade merch
If you've read this newsletter for a while, you'll probably already be able to guess my feelings on this concept. Scarcity matters — if everyone has something, it's just not that cool anymore.
If I'm a die-hard Wade fan (and I'm not, as he robbed the Chicago Bulls of $50 million in his twilight years 😡) I'd much rather grind my way to eventually get a 'grail' Rare/Legendary moment from Wade, instead of a moment minted into oblivion that everyone on the platform has. But that's just me! It's my same gripe with certain players having both Archive and Run It Back moments — they all just cannibalize the value of each other in my opinion.
Moment Movement 🚪
From the early days of Top Shot, there has been criticism (largely from crypto-natives) on the centralized nature of the platform (i.e. your moments are only available in your NBA Top Shot collection, not in a MetaMask or other wallet.
Well folks, the game has changed!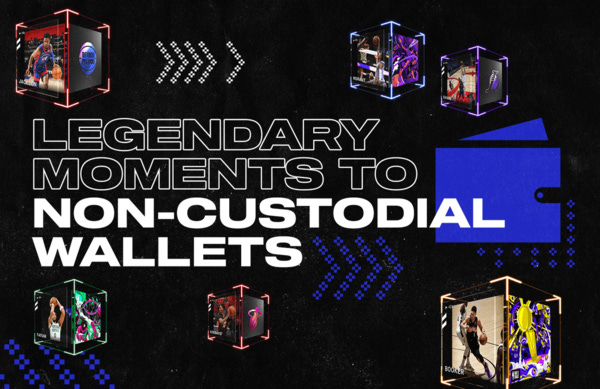 OMG 🤯

🧊Legendary Moments are now non-custodial🧊

You can move them to @VIV3com and @BloctoApp where you can buy + sell NFTs🛒🛍️

📦Rare/Fandom/Common will follow soon (no timeline)

Full Step by Step: ➡️https://t.co/I45eg2ueQn https://t.co/cpDyPCA2ID
There are a lot of implications to this announcement, and a lot of new questions that arise. The news of non-custodial wallet integration was met with a polarizing reaction, so let's break down the potential pros and cons.
THE PROS
Taking moments off platform opens up new avenues for massive sales, trades, and potential fractionalization of moments. I bet we see a new record sale off-platform very soon.
Having the ability to interact with moments off-platform also exposes tons of new people to the NFTs, not just those who have registered and gone through the Top Shot platform.
THE CONS/QUESTIONS
What happens with Collector Score? Will moments held in other wallets be linked somehow to your FLOW address and counted? Or will you only get 'credit' for what's on platform? The latter could really hurt the potential upside that comes with this innovation.
While people love to rag on centralization, the security net that it provides can often be invaluable to newbies that are entering the space. Does the complexity of non-custodial wallets, and the dangers that come with decentralization make things riskier for those who aren't as savvy in NFTs/Crypto?
It will be extremely interesting to see where this one leads, and how the initial test of Legendary moments plays out.
But concerns aside, I have no doubt that there will be some brilliant use cases dreamed up by the innovative Top Shot community. Until then, watch your wallets!
Lost in the excitement of the day was an announcement (a sneaky one, only on the updates Twitter) about the next phase of the Trade Ticket system:
Phase 2 of Trade Tickets is here! 🎟️

⏰ Monday, October 18th at 9AM PDT, the Trade-In feature will be closed.

🗓️ Tuesday, October 19th at 11AM PDT, Locker Packs will return, 10 Trade-In Tickets for a 10 Moment Locker Pack!

Learn more ➡️ https://t.co/PXz74tcpVK

One FLOW, Please 🏷
After long wishing for moments to have prices displayed in ETH, we finally got it fairly recently (a few weeks ago? months? what year is it?). Well now we have a new pricing option… FLOW: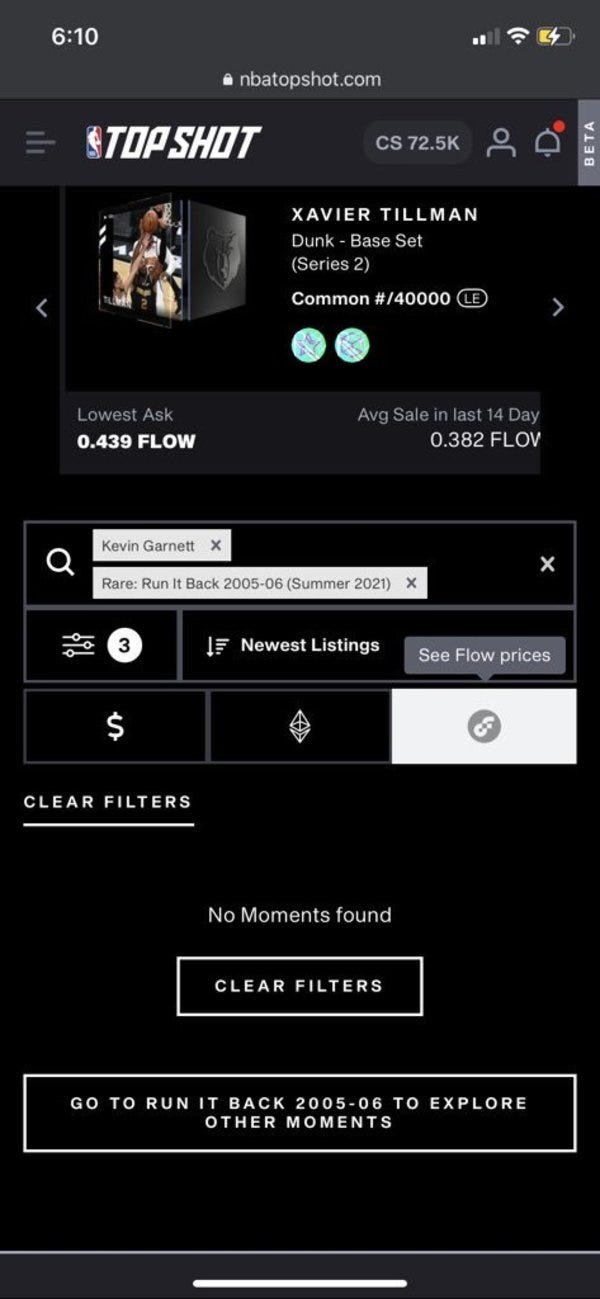 Pricing in FLOW @flow_blockchain YES PLEASSSSSSE!!!! https://t.co/L64rdEG0aP
If you've followed Dapper Labs/ Top Shot at all, FLOW is the underlying blockchain — as well as a tradable cryptocurrency (though not available YET in the US or Canada). Could FLOW pricing be a sneaky hint at what's to come? Will us North Americans finally have a (legal) way to invest? Will all users get some sort of FLOW airdrop for being early adopters (please)? Find out next time!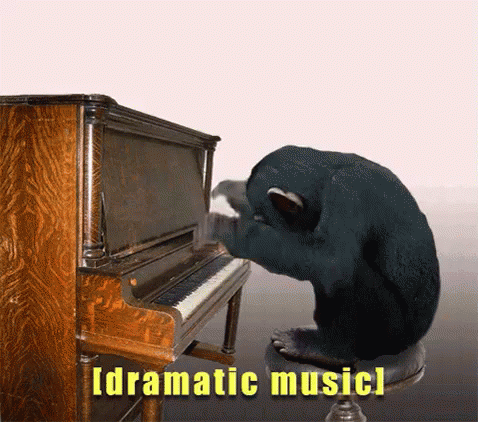 Around The First Mint 🗣
📹 Live Show: Ready To Run (It Back)
We had a fun one on Thursday, with LG, myself and Quad talking all things Run It Back, ripping some packs, and some impromptu M. Night Shyamalan movie talk.
Thanks for reading! — Zach @ The First Mint
Not Subscribed to The First Mint Newsletter? Let's change that.
Follow The First Mint on Twitter at @TheFirstMint.
Follow Zach on Twitter at @GhostOfGregOden.
In order to unsubscribe, click here.
If you were forwarded this newsletter and you like it, you can subscribe here.
Created with Revue by Twitter.
Vancouver, British Columbia, Canada