Will You Buy A $1000 Pack? 🧊
The First Mint
Featuring A Potential Legendary Drop, Playoff Marketing, Market Movers & More

Good Morning, NBA Top Shot fanatics! Hope you all had an excellent weekend — Top Shot aside, what a start to the playoffs! The league is truly in a great place.
Let's get into all the action from the last few days:
New to Top Shot? Check out our Top Shot 101 section, featuring everything you need to get started on the platform.
Last call on the Weekly First Mint Challenge — with a Tyler Herro moment for the winner. Contest closes TODAY at 6 PM PST.
Quick Hits 👊
🔹Could we see the next legendary drop this week? Rumors are swirling that the release of the third and final Holo Icon packs of Series 2 should be coming at some point soon (likely Thursday at the earliest).
It will be interesting to see the number of users that line up for a potentially $999+ pack given the current state of the market.
Wondering what else is on tap in the near future? Wonder no more, friends: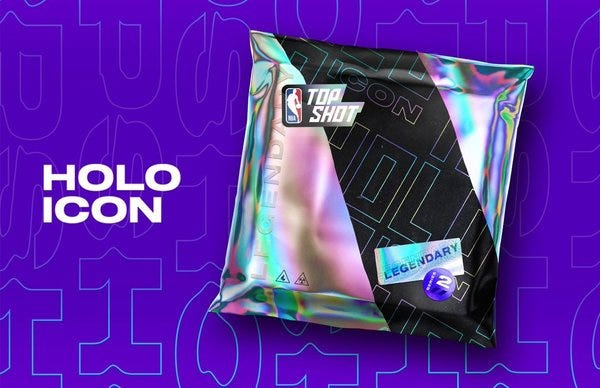 This Week on @NBATopShot🗓️

*Rumoured* Drops:
🧊Holo Icon 3
📦Playoff RSVP Packs (very speculative)

Challenge Rewards:
🐻Ja Morant
🧙‍♂️Cole Anthony
💣DJJ (already out)

New Challenges:
🪙MGLE > Joel Embiid
💥Throwdowns > Challenge 3

⬇️LaMelo Master Challenge? Read on⬇️ https://t.co/pVH03Vc1uC
🔹Wondering where to find the value on Top Shot right now? We had Michael Levy (@mbl267_NFT), an OG Top Shot Whale, Club Top Shot contributor & owner of one of the largest accounts on the platform, on the pod to talk collecting strategy. The man knows his stuff — class is in session.
🎙️ Ep. 52 of TFM Podcast Is With The OG Collector @mbl267_NFT 🎙️

He chats about:
🔢 Collecting Last Mints
📊 The Ups and Downs of Challenges
🙏 His trust in the process
🔭 His Optimistic View of The Future

Spotify: https://t.co/7P8zKePyEY
Apple: https://t.co/FuIeWM9xnz
🔹Miss NBA Top Shot's May 22 announcement? The much-hyped reveal was a marketing push for new users, including a $50 credit to new users who sign up and purchase their first moment. Existing 'early adopters' were also able to earn $16 by tweeting their favorite highlight from this weekend's NBA action.
We also saw some sort of ambassador program launch through Twitter, as well as reports of paid marketing efforts: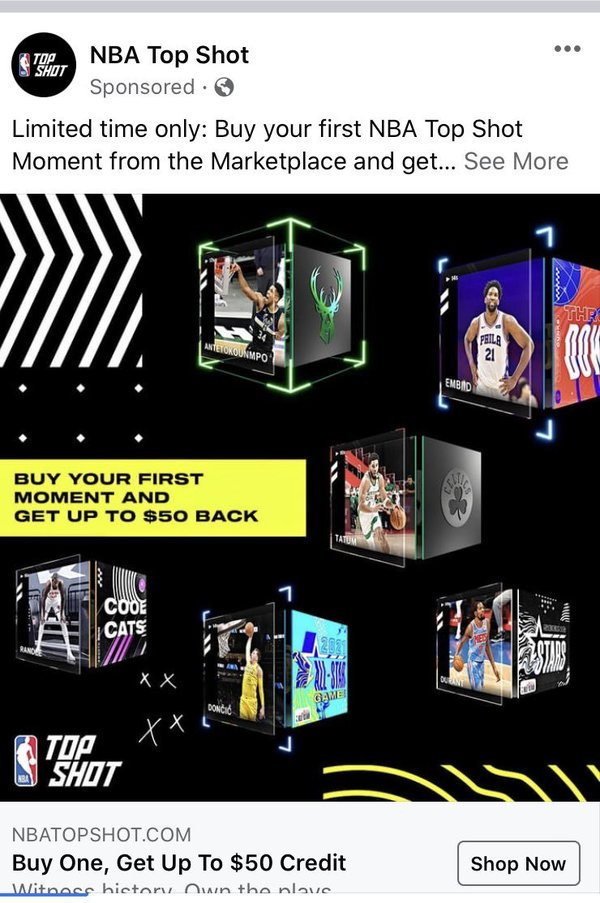 @nbatopshot sponsored ads on Facebook and Instagram are very good signs marketing has been turned on. #NBATopShotThis https://t.co/wJIPOIc5DS
Hopefully these initiatives were just the beginning. But given the hype, the weekend was a bit underwhelming, in this collector's humble opinion.
P.S. — If you need a laugh, check out this Instagram post that seems to be from the ambassador program. What are we doing here?
Market Movers 📊
Wondering if the weekend marketing push made a difference in the market? So were we.
Data, via @_GregMurray & @EvaluateMarket:
⚡️5/22 @nbatopshot Market Recap⚡️

💰$1.2 million in sales (ranked 16th in last 30 days)
💳44k txns
💸10587 buyers
🤑20909 sellers

725 (6%) of yday's buyers had not made a MP purchase or a sale in the prev. 30 days (read: potentially new or returning)

data: @EvaluateMarket
🔻
Despite a positive market trend over the weekend, the bump was short-lived. A Monday update, via @SteefCrypto: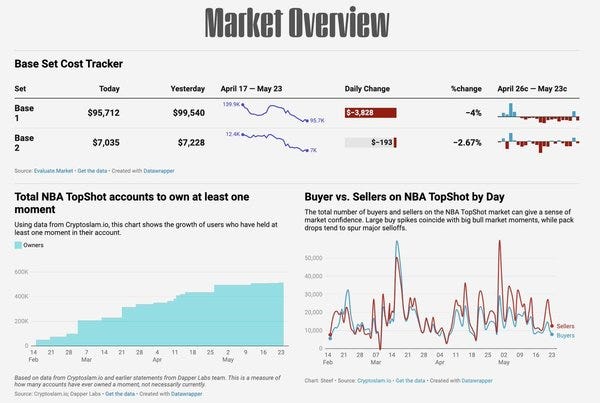 Your daily #NBATopShot market update:

🏓 Ping pong.

Market gives much of yesterday's gain back. A few hundred new accounts with moments but not expecting a bigger boost until reservation packs drop this weekend. https://t.co/dZk5ZCbsp1
If you want a larger zoom-out of the NBA Top Shot ecosystem, check the thread below. It's not all bad out there!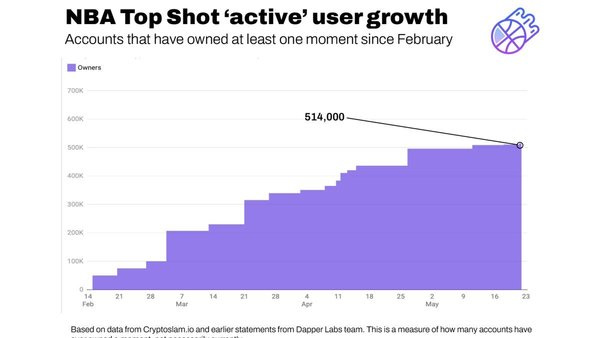 Is Top Shot growing? Yes📈

The Total Accounts that have owned a moment has slowed since mid-March🐌 but DID recently eclipse 500,000🌎

For comparison, Sorare, the #2 sports collectible NFT by sales, has 19,000⚽️

📊Thread/Charts from @SteefCrypto

🔻🔻🔻 https://t.co/WNjvK9r7Qg
Around The First Mint 🗣
🎧Where is the Value on Top Shot?
It's a Holiday in Canada and LG is taking the day off. But luckily he interviewed Michael Levy (MBL) last week about where to find value on Top Shot. We talk through his history approaching Top Shot and his basic strategy principles. This is a great episode for someone who is new to Top Shot, or a good convo between two familiar voices for the veteran collectors
📹 The First Mint Takes Over the Hustle & Show Pack Drop
🎧  Top Shot Goes to the Playoffs (Feat. J.E. Skeets)
📰 Miss an earlier edition of The First Mint Newsletter? Check out the archive here.
Thanks for reading! — Zach @ The First Mint
Not Subscribed to The First Mint Newsletter? Let's change that.
Follow The First Mint on Twitter at @TheFirstMint.
Follow Zach on Twitter at @GhostOfGregOden.
In order to unsubscribe, click here.
If you were forwarded this newsletter and you like it, you can subscribe here.
Created with Revue by Twitter.
Vancouver, British Columbia, Canada