Your Top Shot Avatar is Ready 📸
The First Mint
Featuring Moment Avatars, Triple Double Quests, Top Shot Finals Suite and More

Good Morning, NBA Top Shot Weekend Warriors! Happy Saturday, and happy Game 5 of the NBA Finals! We've got a three game series, and it's anyones ballgame — can't ask for a better finish to the season!
Let's get into all the action from the last few days: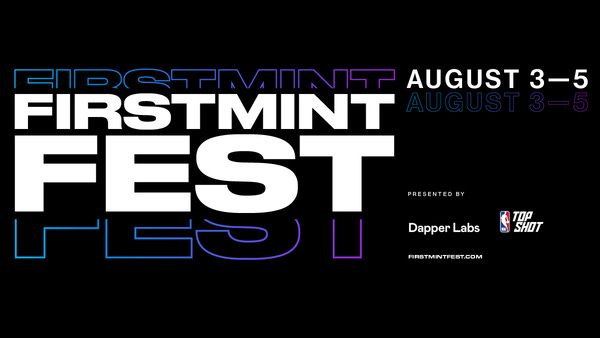 Join us on August 3-5 for First Mint Fest, a 3-day online NFT festival full of streams, panels, and prizes, presented by NBA Top Shot.



Together With Evaluate.Market
Ready to take your collection to the next level? The Evaluate platform features tools for Challenge Tracking, Account Valuation, and the ability to shape Top Shot Sales Data as you please.

Quick Hits 👊
🔹A Triple-Double Quest! We got a late Friday blog from Top Shot announcing the latest quest, with a moment from Russell Westbrook's historic feat (passing Oscar Robertson for the most Triple-Doubles in NBA history) as a reward.
What you'll need is creative — 10 moments where a triple-double appears in the player's Moment stats.
We also got a new interface for Quests, with a built in tracker and ability to sort by eligible moments! It's nice to be able to check eligibility and go right to the marketplace to grab those moments, rather than relying on 3rd party sites. (*MomentNerd shakes his fist in the distance*)
Full thread on the improvements: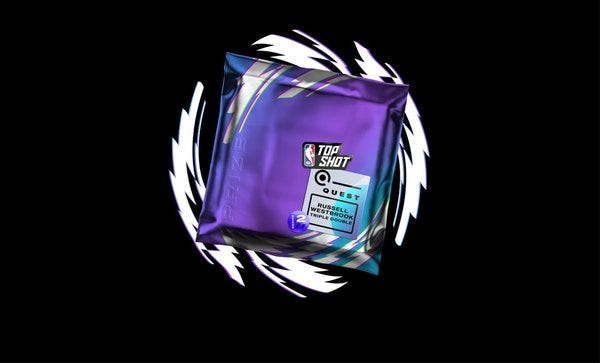 🐉TRIPLE DOUBLE QUEST🐉

🌟Reward: Russell Westbrook
📦Edition Size: Total Quests Complete
📺Will be the moment he tied Oscar Robertson's Triple Double Record

🧊Moments Needed: 10x Triple Doubles
(39x potential moments feature a TD)

Deadline⚠️July 23, 2021 https://t.co/yoKIWOVpZf
This quest is also a great example of unexpected and interesting ways to create new content in the offseason — I expect we'll see a lot of these post-finals to keep users active and interested. Good work, Top Shot team!
🔹Speaking of @MomentNerd… He's crushing it again! This time, we've got a way to display moments as social media avatars, in an amazing collaboration with community UI/UX-master @BayusBrain:
Incredible work from @TheMomentNerd and @bayusBrain https://t.co/vduV4RMrWu
This community never ceases to amaze. Avatars are all the rage in the NFT world, and being able to show off your assets is such a valuable way to get more people into the platform with hype and FOMO. Plus, it's just cool.
🔹Top Shot takes over the Finals. With Game 5 on tap for tonight, we should get some fun content out of the eight lucky users taking in the game from the Top Shot Suite. A little preview last night, via @iRacer77: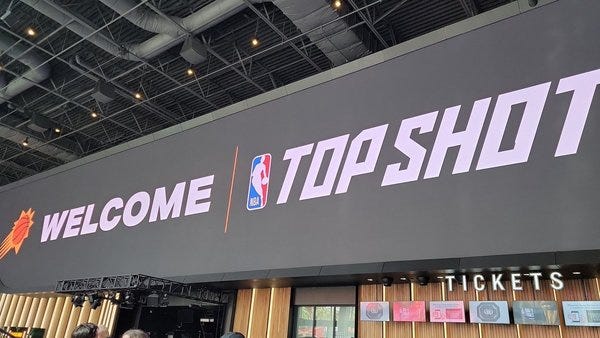 Yoooo https://t.co/azhalLlnwj
I wonder if we'll see an appearance from Roham, Jacob, or anyone else from the team/community — this will be an interesting first crack at rewarding fandom via live experiences for the platform.

Market Movers
Wondering how the market reacted to an influx of rare, playoff and common moments from the latest drop? A post-drop breakdown, via @SteefCrypto: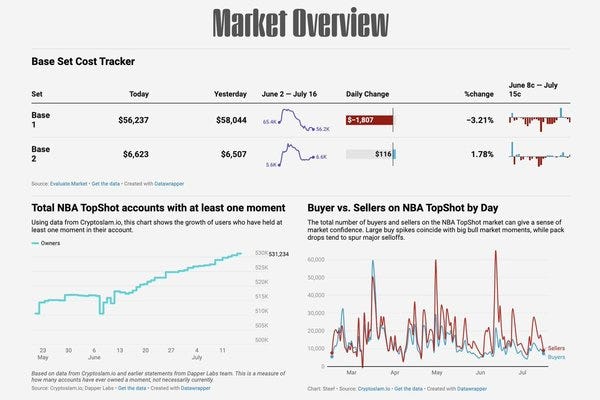 Your daily #NBATopShot market update:

🏀 Set split: S1 down $6,600 in July, while s2 is up slightly.
🏀 Users w/ 1 moment +561 in last two days.
🏀 Volume down after pack drop.

Data via @EvaluateMarket & @cryptoslamio https://t.co/5MMAnhXd6o
With a slow continuing downward trend, it's definitely a valid question to wonder what things will look like in the dog days of summer post-Finals. We've seen Justin, Top Shot's in-house economist, become more visible of late — giving insights into the marketplace and thought process behind minting and pack decisions.
Justin led Friday's 'Office Hours', touching on his background, role and future areas of importance for the team. Our live thread recapping the conversation:
✏️ Office Hours Thread Friday, July 16th

w/ Justin "The Economist"
@TopShotEcon

🏀 Heard about Top Shot In January
😼Cool Cats 1 was his first pack
📅Joined Top Shot Team last week of May

💸Background
📊Spent the last decade+ in finance in market roles

⬇️Continued

Around The First Mint 🗣
🎉 First Mint Fest — Register Now
🎥 TFM Live Show — First Mint Fest Is Coming
🎧 Pay This Athlete In Bitcoin (Feat. Olivier Aubin-Mercier)
📰 Miss an earlier edition of The First Mint Newsletter? Check out the archive here.
Thanks for reading! — Zach @ The First Mint
Not Subscribed to The First Mint Newsletter? Let's change that.
Follow The First Mint on Twitter at @TheFirstMint.
Follow Zach on Twitter at @GhostOfGregOden.
In order to unsubscribe, click here.
If you were forwarded this newsletter and you like it, you can subscribe here.
Created with Revue by Twitter.
Vancouver, British Columbia, Canada